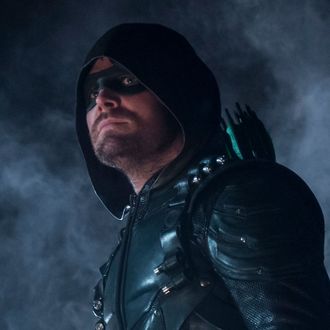 Arr-whoa!
Photo: Diyah Pera/THE CW
Arrow, the series that became the center of a whole DC superhero universe on the CW, will end after its eigth season. Its star Stephen Amell announced the news on Twitter, writing that, "Playing Oliver Queen has been the greatest professional experience of my life… but you can't be a vigilante forever." The series, which premiered in 2012, followed the adventures of Oliver Queen, a.k.a. the Green Arrow, and it birthed and eventually crossed over with other CW shows including The Flash, Supergirl, and Legends of Tomorrow (the network's even planning a Batgirl with Ruby Rose).
"This was a difficult decision to come to, but like every hard decision we've made for the past seven years, it was with the best interests of Arrow in mind," executive producers Greg Berlanti, Marc Guggenheim, and Beth Schwartz said in a statement. "We're heartened by the fact that Arrow has birthed an entire universe of shows that will continue on for many years to come. We're excited about crafting a conclusion that honors the show, its characters and its legacy and are grateful to all the writers, producers, actors, and — more importantly — the incredible crew that has sustained us and the show for over seven years." The show's final season will consist of ten episodes and hopefully ten times as many fitspiration montages of Stephen Amell doing salmon ladders.