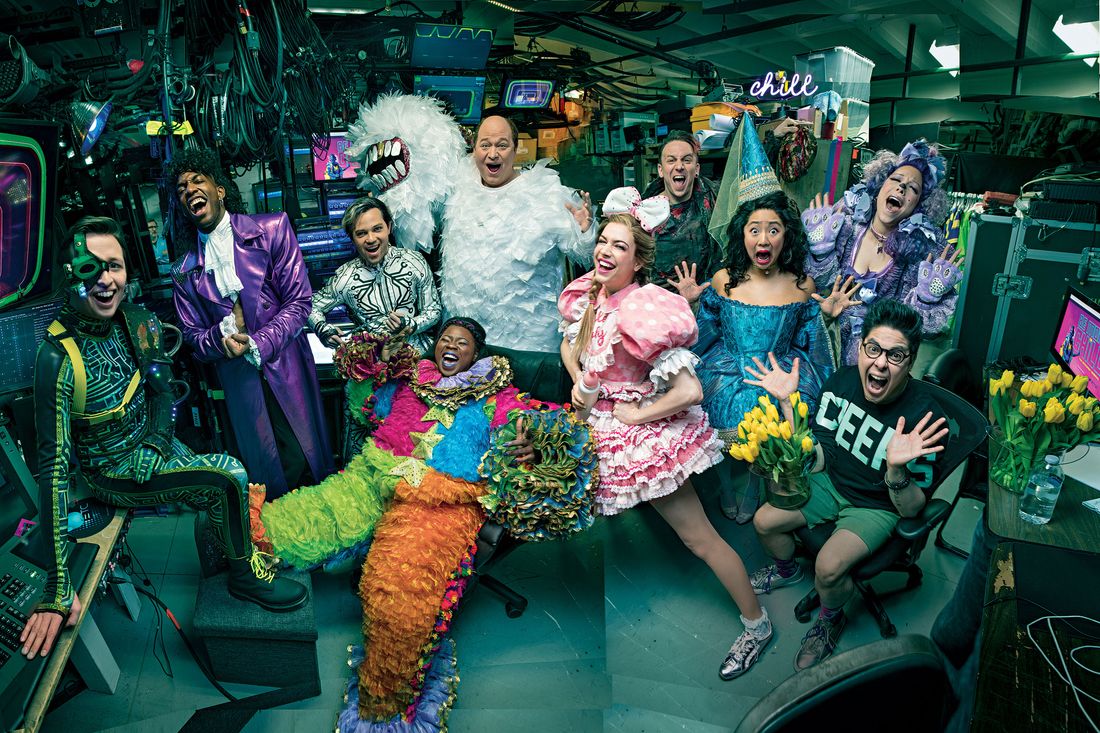 From left,
Will Roland, Britton Smith, Jason Tam, Jason SweetTooth Williams, Gerard Canonico, Lauren Marcus, George Salazar, Stephanie Hsu, Katlyn Carlson, and Tiffany Mann.
Photo: Jonas Fredwall Karlsson
At the center of the Lyceum Theatre, a Broadway house built in 1903, the Be More Chill set protrudes into its filigreed Beaux-Arts surroundings with concentric frames resembling the beveled outlines of an iPhone. The set has the sheen of a giant video screen, rigged with projections that display the circuitry and computer code essential to the musical's plot and themes. You might wonder if a technologically advanced alien race decided to build a headquarters at a historical landmark in midtown, or if the internet itself is made manifest in here. Which, in a way, it has.
Based on Ned Vizzini's novel of teenage suburban sci-fi discontent, Be More Chill first premiered at the Two River Theater in New Jersey in 2015. It ran for four weeks and then closed. But the internet latched on to the show's cast album, which in turn inspired art and fan fiction. The musical's online devotees have rendered the songs, specifically the act two solo "Michael in the Bathroom," in myriad styles of animation, including stop-motion LEGO. The album has since racked up hundreds of millions of streams. Be More Chill was the second-most-popular musical on Tumblr in 2017 and 2018, just behind Hamilton.
That attention propelled Be More Chill to run Off Broadway late last summer, when it sold out, extended its run, and sold out again. On March 10, it opens on Broadway. Along the way, the producers made time for the musical to be retooled and rebooted: The book was tweaked, a new song added, and costumes and set redesigned. They call it Be More Chill 3.0.
On January 30, cast members arrived to see this set for the first time. To their many, primarily-teenage fans online, they're all massive stars, but in the middle of a cold snap, bundled up in hats and scarves, they looked more like college students waiting to see how HGTV had made over their dorm room. The performers entered the theater oohing and aahing, and re-introduced themselves to the creative team and crew, who were already manning desks of sound, video, and lighting equipment that resembled NASA mission control. There was Will Roland, late of Dear Evan Hansen, playing the show's geeky hero; director Stephen Brackett, enthusiastic behind thick glasses and a beard; and "the Joes," book writer Joe Tracz and unassuming composer Joe Iconis, who got the biggest cheers. George Salazar, who plays the fan-favorite Michael, started to tear up. "I'm George," he said, by way of introduction. "I'm just so happy to be here." He was on the lip of the stage, where smartphone abuts dusty old theater.
A few weeks of technical rehearsals were about to begin before the production would start presenting the show to audiences. The hope has been that this Broadway production will appeal not just to those online diehards, but also — inevitably, necessarily for a Broadway run to last — people seeing it for the first time. If the upgrade works, the newcomers will fall in love, too and a new hit will be born.
Here, how it all came to be.
November 2018: A Phenomenon Reimagined
The work on the Broadway version of Be More Chill begins at the rehearsal space in midtown in late November with a several-day workshop. Brackett, Iconis, and Tracz present a new version of the script and ideas for new music and feel out what aspects of the show need reexamining. "Everybody knows that this show is wild and fun and loud and raucous," Brackett explains to the cast, "But we want to make sure that we're finding the moments where the show can breathe."
In the musical's primary storyline, Jeremy Heere, an ordinary kid in New Jersey, discovers and ingests a pill-shaped supercomputer called the Squip, which teaches him how to be cool and try to get the girl, the theater-obsessed Christine (played with exuberance by Stephanie Hsu), with wild, Little Shop of Horrors-style unintended consequences. With the encouragement of the Squip, who acts and talks like Keanu Reeves, Jeremy strikes up a relationship with a more popular girl and destroys his relationship with his best friend Michael — who gets stranded at a party and panics, ergo "Michael in the Bathroom." Near the end of the show, however, Jeremy and Michael unite and defeat the Squip.
Over the course of two productions, and after hearing a lot of questions from fans, the writers have filled in more details about the supporting characters, including Jake, the jock whose parents are now said to have fled the IRS, and cool girls Brooke and Chloe, who are now filled with more insecurities. Iconis has plans to write a new number, replacing a reprise of the introductory song "More Than Survive," that will more clearly explain the side characters' motivations.
As the writers present these ideas, cast members respond with their own questions. Jason Tam, a veteran of Les Miz and Chorus Line who plays the Squip, wonders if they'll clarify the musical's stance on medication, which ties into the question of what the show is saying about technology. Vizzini, who died by suicide in 2013, often spoke about his experiences with depression. Considering the Squip's resemblance to a pill, Tam wonders if the musical's version of the story, in which the Squip indoctrinates an army of followers and tries to convince Jeremy to spread its network across the world, is implying that taking medication is unsafe.
But with their adaptation, the members of Be More Chill's creative team are more interested in telling a cautionary tale about technology. They don't want to tell kids to throw out there phones — the show wouldn't be on Broadway without the internet — but they do want a clearer arc for the Squip that shows it's not evil on its own but that it becomes so because it learns from the decisions Jeremy makes. The best approach, they decide, is to have the Squip resemble an algorithm, like one of those AI bots that start tweeting out racist thoughts after enough input from online trolls. What could contain a worse set of impulses than the mind of a male teenager?
December 2018: A New Look
By mid-December, the production team is meeting to talk through the new set design and implement ideas from the workshop. Tony-winning scenic designer Beowulf Boritt walks everyone through a run-of-show meeting, moving paper cutouts of cast members inside a miniature replica of the Lyceum Theatre.
In terms of square footage, this space is smaller than the stage at the Signature where Be More Chill ran Off Broadway, though there's more room elsewhere, and a larger budget to go with it. Plus, a larger audience: The Lyceum seats more than 900 people per show, more than three times the number that could see it Off Broadway. In this version, the sets will be automated, so the cast members don't have to move the pieces themselves. There's more detailed video design, courtesy of projection designer Alex Basco Koch, who is at work developing the interior logic of both the Squip's operating system and the game Jeremy and Michael play onstage. In keeping with plans to upgrade the Squip, Tam will descend down from the rafters in one scene and, in another, appear above the proscenium controlling the characters like marionettes. Tracz, introducing the image to the cast, mentions that he's seen fan art of that very idea.
January 2019: Rehearsals Begin
By early January, Iconis has developed an improved version of the new song in the first act. It now goes by "Sync Up" and has the Squip explain the hierarchy of the school to Jeremy while the rest of the cast members perform a series of vignettes that explain the show's basic relationships. In a meeting with Iconis, choreographer Chase Brock of Spider-Man: Turn Off the Dark suggests dance breaks in the style of 70's TV like Laugh-In, while Iconis references the sequence in Donnie Darko where the camera speeds through the corridors of Donnie's school.
Once rehearsal starts in mid-January, Brock, Iconis, and Brackett put together the sequence with the actors themselves. Lauren Marcus and Katlyn Carlson, playing Brooke and Chloe, figure out the right timing for a mutual spat. Britton Smith, playing Jake, tries to learn to dribble a basketball. The atmosphere of the room recalls an elaborate game of "Yes, and…," as the ideas flow in from all directions. "Love it," "great," "gorgeous," Brackett often repeats, keeping watch.
By this time in the process, the actors know their characters as well as anyone else, and often offer up suggestions. "I know as performers what they do well and what they can bring off comically," Brock says. There's something exciting, he adds, about being able to hand them an incomplete version of an idea and watch them work out how to play it on their bodies. In the conflict between Brooke and Chloe, Carlson figures out how to act out her frustration in time to the music with petulant stomps. "If you're in the room, you have a place at the table," Iconis says of the show's creative process. Even though the lead creative team — himself, Brock, Brackett, and Tracz — are all white men, he insists, "it never feels like a show that's being made by four white guys."
There's a collaborative ethos in rehearsals that reflects much of the Be More Chill team's approach to the show as a whole. Many cast members, including Hsu and Salazar, have been with the show since its run in New Jersey. Roland and Tam, who both joined Off Broadway, had worked with Joe Iconis on other musicals. In moving to Broadway, Be More Chill retained its entire cast from its run Off Broadway, despite the creative team's worries that theater owners might insist on star casting. "There's an eccentricity, a vibrancy to this cast that feels unique," Brackett says. Be More Chill doesn't have a chorus line of "pristine musical theater performers," but actors who the creative team felt were able to be "completely earnest and heartfelt, and to make the audience feel that."
Often, people refer to the "Joe Iconis family," the collection of artists that have collaborated with him for years, whether in shows like The Black Suits or Bloodsong of Love or his cabaret performances, often at 54 Below, where Jennifer Ashley Tepper, a producer on Be More Chill and unofficial head of the family, serves as creative director. During the shows, he and his friends share anecdotes with the audience, often about their own uncomfortable experiences growing up. After performances, they wait and talk with everyone who lines up outside.
The internet's embrace of Be More Chill spurted out of the fertile ground Iconis and his family of performers laid through that mindset. Everyone has a pet theory about how and why exactly the musical became a hit online — Tepper points to a concert at 54 Below in 2016; Salazar, to one clip of "Michael in the Bathroom" shared on Tumblr; Roland, to YouTube's "related videos" algorithm, which connected fans of content from Dear Evan Hansen and The Lightning Thief to Be More Chill; Stephanie Hsu remembers meeting one girl who said she made it to the first run in New Jersey nine times. The cast album racked up ten thousands of hits. The musical became available to license for amateur productions, and popped up at high schools around the country.
Then came the fans, liking, following, sharing, and re-blogging everything Be More Chill. George Salazar, particularly, has found the positivity of his character Michael, "the best friend that we wish we had," reflected back at him. "They're very lovely, loving people, and I fully embrace them," he says, "and embrace all of their weirdness, too." Though at moments that closeness can become unsettling. Roland, a veteran of another Broadway teen sensation Dear Evan Hansen, prefers to preserve some distance online. "It's interesting to have this population of people, for whom you have so much love and gratitude, but who also sometimes make you feel anxious," he says. "It's like a family in a strange way."
The more fervent the fandom, however, the easier it can seem alienated from the outside. Be More Chill has fans well beyond their teenage years – adults who, years after high school, still nurse wounds inflicted on them back in the day. But in some cases, it has been hard to prove the musical's reach to skeptics, especially when the devotion from younger fans is so loud. "My whole career has been trying to get young people to take interest in a thing," Iconis says. "It's bizarre to be in this place now where we're trying to communicate the message 'It's not just for young people!'"
It doesn't help that that the opposite sentiment was shared by Ben Brantley in the New York Times, who reviewed the show when it opened Off Broadway and, while he complimented several cast members, also delivered the summary judgment that Be More Chill was "the theatrical equivalent of one of those high-pitched dog whistles that only those under 25 can hear."
The Shubert Organization, a landlord that owns several key Broadway theaters including the Lyceum, was able to hear that dog whistle and willing to risk bringing the show to one of its houses on Broadway. But for this run to last, "we need the mainstream theatergoer to understand this is not a show that's for younger people," producer Gerard Goehring says. While he assumes Be More Chill's core audience might not read the Times, others will. "We're trying to make it better," he adds, because they want the story to feel true to what it is. "Not because we want the Times to love us," he says. "Though wouldn't that be great?"
Though Be More Chill's advertising focuses heavily on social media, where it thrives, they've also had success with some traditional advertising, including a direct mail program. One strategy that didn't work: a recent marketing push on Facebook. Goehring worried it felt like they were trying to manufacture something, instead of letting the attention to the show develop organically, as it had at first. Another wrinkle: "Facebook is for old people now."
February 2019: Meeting the Public
The night before Valentine's Day, Be More Chill starts preview performances for the general public. In this period, before the show officially opens and before critics and members of the press are invited, Broadway productions gauge the reactions of audiences each night and try out changes at rehearsal during the day. It is a time when there is, if anything, too much feedback. There are different reactions from the audience at the first preview, composed mostly of diehard fans, and the second, which contains more casual theatergoers. You can look up "Be More Chill" on any web forum (especially Tumblr) and find a multitude of posts, analyzing bootlegged recordings, asking where the new song falls in the plot, making broad conjectures about ticket sales, trying to guess where the changes are and why. "There's nothing that could be quite so brutal and unforgiving as a Broadway audience," Roland says.
Back at the Lyceum, most of the upgrades are in place, with more to come. The projections are more detailed, including glimpses at snippets of code, and little kung fu animations to go along with a fight sequence. Jason SweetTooth Williams, who plays all the adult characters in the show, has more roles and costume changes. The costumes are sleeker, especially in a scene from the last act that takes place during "the most expensive high school play, maybe, ever," according to costume designer Bobby Frederick Tilley II. "You're paying for a Broadway ticket, I think the show should be a show," he explains. "Even if it isn't logical, it works for Broadway." He's excited to introduce a new costume for the Squip in the next few performances: an anime-inspired supervillain look for the finale that lights up with LEDs.
Two performances in, George Salazar's doctor tells him he has to go on vocal rest. At rehearsal during the day, his understudy, Troy Iwata, runs through all the changes with the cast, while the Joes Iconis and Tracz huddle on Macbooks in the mezzanine, working through new tweaks. The show has started cutting some new ideas, including a red Solo-cup costume for Salazar was going to wear before "Michael in the Bathroom" that messed with the tone of the scene, as well as the aforementioned plans for the Squip to appear above the proscenium; it turns out many in the orchestra seats — the people paying top price – couldn't see him there. "We're working on a new moment to replace it," Tepper promises me as she speeds between check-ins with seemingly every person in the theater.
The work done in development on the character arcs, for the most part, stays. There's "Sync Up," midway through the first act, where the ensemble gets a little bit more time in the spotlight. There's more depth to Jeremy's love interest Christine, who shows up to a Halloween party trying out a low-cut princess outfit she thinks a popular girl might wear. Christine joins everyone in chorus at the end of act one, repeating a new refrain, "I'm tired of being the person that everyone thinks that I am." It's the essential feeling of adolescence shoved in the pressure cooker of social media. Maybe it's more than adolescence. If you always live with social media, you always live with that judgment; life is always high school.
Outside the Lyceum's stage door, crowds of fans amass after each performance, greeting the cast, asking for autographs and selfies — as if Comic-Con took place on 45th street eight times a week. Closer to the point where the actors exit the theater, there's a ring of people — mostly kids, but not all – reaching forward with purple Be More Chill posters, wearing purple Be More Chill beanies, cheering each time a new face appears.
Watching it all, standing beside parents and security guards a few feet away, is like watching virtual reality blend with physical reality. The abstract idea of an "internet sensation" becomes a sensation sensation. This isn't just a show that's big online, it's big in person. With actual people. Who are seemingly all here. But will they keep coming? That's the big question. And if Be More Chill lasts, maybe it will proves that it's silly to distinguish between the virtual and the physical in the first place. Maybe the internet is real life.
Be More Chill is in previews at the Lyceum Theatre and will open on March 10. Buy tickets here.
*A version of this article appears in the March 4, 2019, issue of New York Magazine. Subscribe Now!