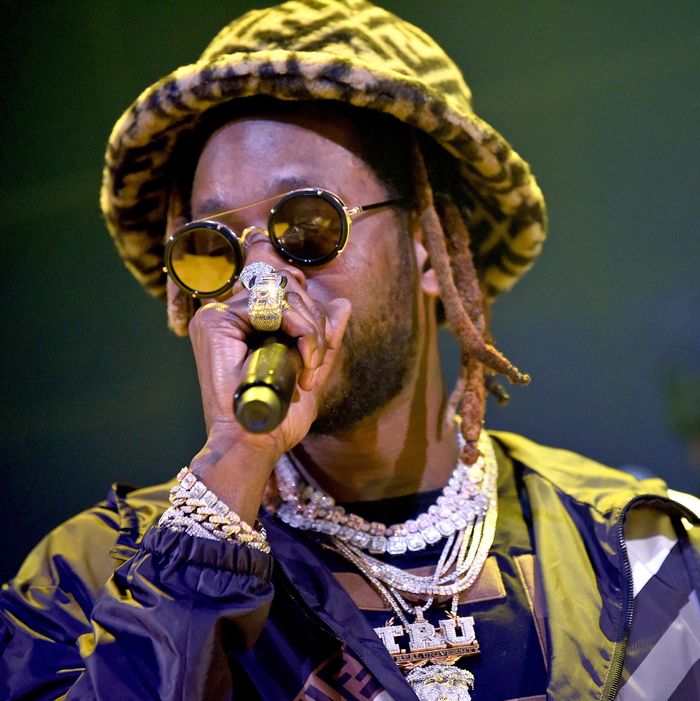 Photo: Kevin Winter/Getty Images
Every week, Vulture runs through the best, most interesting, and sometimes most confusing rap releases. In this installment: 2 Chainz finds new depth as an artist, Little Simz shines, Blu explores L.A. rap styles with Oh No, and Myka 9 finds a producer to match his incredible style.
2 Chainz, Rap or Go to the League
Rap or Go to the League is the culmination of a strange shift in focus for 2 Chainz. As the 40-something rapper has finally begun to be recognized as one of his generation's most notable and most consistent talents, he's begun to sink into the very kind of widescreen autobiography that he had eschewed for so long. To be sure, the earliest impressions of 2 Chainz — as a bumbling string of punch lines that could only exist in a tightly A&R'd vacuum — were hilariously wrong and reductive: He's always baked regret and lucid detail from his adolescence into his music. But where those things once came as asides, or as subtext on records that were otherwise careening, they're the foundation of Rap or Go to the League, which can be loud and free and fun, but which is occasionally bogged down by soggy mythmaking.
There are few rappers working today who could (or would) make something as punishing but high-concept as "NCAA," where 2 Chainz rails about labor dynamics in college basketball; there are fewer still who could make a 9th Wonder beat sound vital in 2019. But he also will occasionally turn rote and tired, as he does on "I Said Me," which perplexingly samples both "My Favorite Things" and "Dead Presidents." "I'm Not Crazy, Life Is" features a serviceable verse from Chance the Rapper and a jarring one from Kodak Black, with a disappointingly catatonic one from 2 Chainz ("This the life I chose … and it chose me back"). No one needed the UGK flip at the end.
When Rap or Go to the League works though, it's the delirious joy so many 2 Chainz records have been this decade: See the Lil Wayne– and E-40-featuring "2 Dollar Bill," or the eerie "High Top Versace," where Young Thug's pockets are so full of money it looks like he's carrying Bibles. Thank God we got something out of LeBron this year.
Blu & Oh No, A Long Red Hot Los Angeles Summer Night
Blu's strange, winding journey away from his monumental debut album, the 2007 Exile collaboration Below the Heavens, has been framed by impatient critics as some combination of shirked destiny and psychological implosion. Really, Blu has made his best and most interesting music away from the spotlight: his aborted Warner Bros. debut, NoYork!, which he leaked himself in 2011; the self-consciously lo-fi Jesus from the same year; or his opus, theGODleebarnes(lp), which he released as one distorted mp3 file on his Myspace page in 2010. (The sequel to Heavens, which was written and recorded in 2009 under the working title Memoirs, was unceremoniously dumped online in 2011 as Give Me My Flowers While I Can smell them.) His career could be more accurately understood as following the arc of a jazz journeyman, moving from quartet to quartet, adapting to different players and dropping sounds as soon as he picks them up. A Long Red Hot Los Angeles Summer Night, his full-length collaboration with the producer Oh No, is a softer companion piece to his 2014 double album Good to Be Home, where Blu tried on the textures of L.A. street rap like a disguise. Red Hot mirrors in sound and form is the sort of album a major label might have pushed Blu to make in 1997, but is interrupted by a couple of cases. It's overwrought but refreshingly detailed, the kind of record most artists would conceive but never follow through on.
Myka 9 & Adriatic, In Motion
While the popular history of Los Angeles rap in the early 1990s focuses largely on the splintered remains of N.W.A, DJ Quik, and the just-arrived 2Pac, the story of the city's scene cannot be told without pausing for a while on Project Blowed, and on Freestyle Fellowship. The Blowed was one of the most legendary open mics in the history of rap on either coast, and became a sort of shorthand for a style and an ideology. The Fellowship was a quartet formed by four of the Blowed's transcendent talents: Self Jupiter, P.E.A.C.E., Aceyalone, and Myka 9. (Legend has it that Myka ghostwrote two songs on N.W.A and the Posse — that's the album from 1987, before they put out Straight Outta Compton.) In the new century, his career has been spotty in terms of recognition but he's consistently inventive; he'll pop up with small side projects or on other rappers' records and sound like he's reinvented the wheel. In Motion pairs him with Adriatic, a producer from Minneapolis barely out of his teens, whose beats have enough air and negative space to let Myka bury inside and extrapolate from the sound of popping fish grease.
Little Simz, GREY Area
The possibilities for live instrumentation in rap are endless. This should be obvious; if it isn't, it's because albums that have leaned on it in this century tend to be the ones drifting toward a sort of neo-Roots softness or ones that are simply trying to skirt the reality of how prohibitively expensive sampling has become. But there is nothing cheap or replacement-level about the beats on GREY Area, the third album from 25-year-old London native Little Simz. In fact, the beats here — which come courtesy of her childhood friend, Inflo — are some of the more captivating to come out of the U.K. in recent memory, especially when they get mean, as on "Offence," "Boss," or "Therapy." They're loose and punishing. Simz is an authoritative vocalist and a tonally clever writer, able to seem acidic without turning into the antihero.