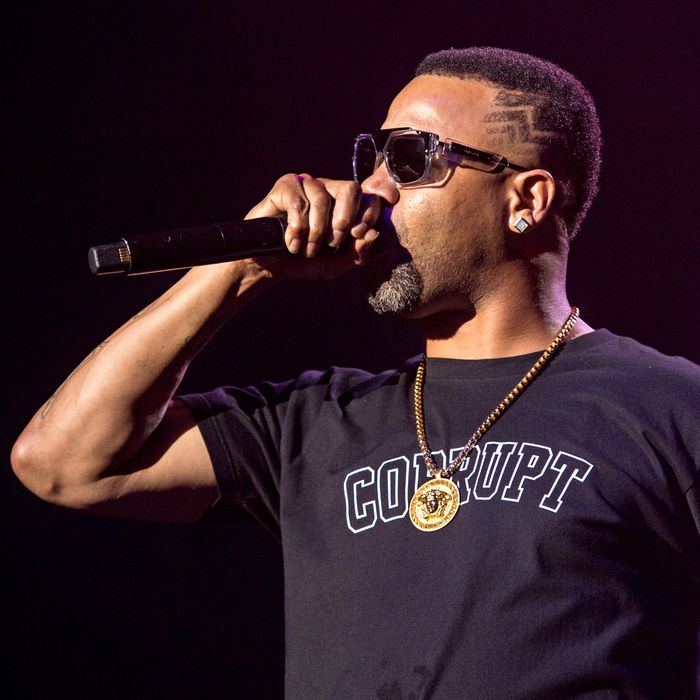 Photo: Erika Goldring/Getty Images
Every week, Vulture runs through the best, most interesting, and sometimes most confusing rap releases. In this installment: Billy Woods teams up with Kenny Segal for an impressively paranoid and deadpan release, Juvenile returns to a very different rap landscape, Chicago's Tree continues to be engrossing, and Don Trip, a man ahead of his time, writes amazing music once you get through the first few tracks of his new album.
billy woods & Kenny Segal, Hiding Places
Hiding Places looks where you're afraid to: cramped crawlspaces and Iraqi spider holes, damp conference rooms where social workers pace back and forth waiting for you to finish thought exercises, behind curtains as undead women come looking for their captors, adjacent hotel rooms where FBI agents listen in on MLK on "some freaky shit," deserted movie theaters, the place where Mom keeps the passports hidden. It's about decay and the way your actions beg consequence (except when they don't; from "Red Dust": "I broke bread with killers and rapists / I got money with niggas you should not leave with the child for two fucking seconds / They don't tell you that in their raps"). It's consistently funny and frequently harrowing.
This is woods's fifth solo record since 2012; in that span he's also put out three albums and one EP with Elucid, as Armand Hammer. Hiding Places is produced entirely by Kenny Segal, the veteran producer from Los Angeles and the Project Blowed orbit. His beats here are foreboding with enough negative space to allow for woods's denser passages. He brings with him Self Jupiter, from Freestyle Fellowship, who appears on "Speak Gently."
woods is at his most incisive when he's showing the absurdity (or menace, or crushing banality) of the things and people around him: anthropologists muttering to themselves from stakeout cars, HMO payment policies, Nas shows at Carnegie Hall. He walks a difficult tonal line as a writer in that he has eradicated all cliché and false hope from his work without becoming a self-impressed nihilist. It's like when, in the hypothetical stakeout from "Crawlspace," he calms a nervous onlooker that his accomplice's facemask isn't a burqa: "Rest assured," he raps, "these is for regular murder."
Tree, We Grown Now
After briefly stepping away from rap, Tree — the Chicago MC who, at the beginning of the decade, seemed poised to be a major star — has returned with remarkable intensity, ripping through a series of excellent guest spots and anchoring Nothing Is Something, his collaborative album with fellow Chicago vet Vic Spencer from earlier this year. We Grown Now renders any sort of careerist handwringing moot: It's an engrossing record, warm without being sentimental. (That soul trap was never executed better than by him is a testament to how well-realized Tree's vision was from the very beginning.) Songs like "The Meek" make you feel like everything is drenched in sepia. Tree is not a showy writer, or a particularly demonstrative rapper, but you could never describe him as "workmanlike" — there's an otherworldly quality that's difficult to define and impossible to replicate.
Birdman and Juvenile, Just Another Gangsta
There's something audacious about just how bad Baby wants his cover art to become. Just Another Gangsta, which looks like a computer game buried underneath VHS copies of Sleepless In Seattle in a Wal-Mart bargain bin c. 2003, which is also the last year Juvenile put out an album on Cash Money. Thankfully the album doesn't waste time mining nostalgia through interpolations or remember-when tangents; even more importantly, Juve only once lapses into a conspicuously 2019 cadence. Instead, Gangsta is one of those small, modestly ambitious records that's better than it has any right to be, with somber, reflective cuts like "Newly Exposed" balancing the bouncier (though not necessarily Bouncier) fare. There's one absolute home run: "From Tha Block," a song that could have been engineered in a lab to be played in the summer just as the sun is going down.
Don Trip, Don't Feed the Guerrillas
Don Trip has been misplaced in time for most of his career: His ill-fated deal with Interscope came too late in that label's boom-and-rebuild cycle, and he came out of Memphis a couple years before the internet's fixation on his hometown really became a bankable thing. Fortunately he struck gold in his collaboration with Nashville native Starlito; their trio of records as the Step Brothers have been critical sensations and have revived interest in the solo work from each. Don't Feed the Guerrillas has slipped onto the internet with little fanfare, and requires some patience — the first four songs should have been chopped off, leaving an excellent seven-song EP — but at its best continues to argue for Trip as one of his generation's most engaging, unnervingly naked writers.