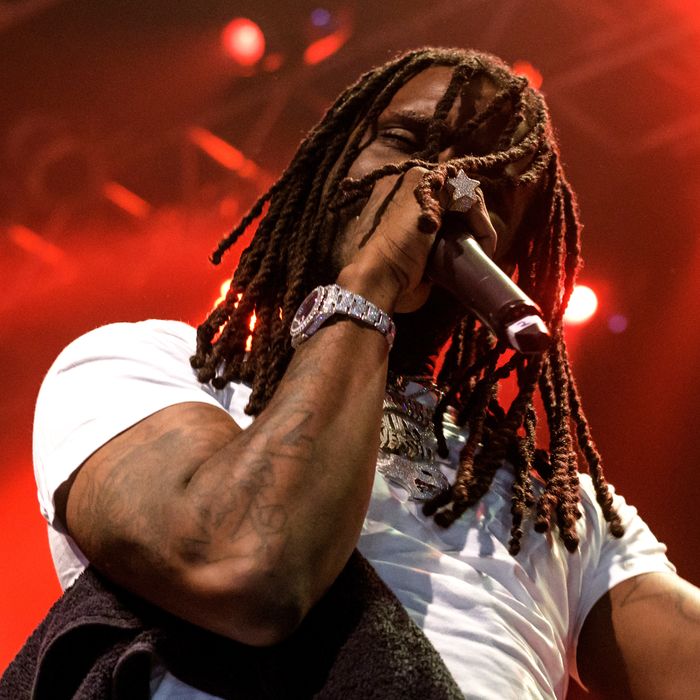 Photo: The Washington Post/Getty Images
Every week, Vulture runs through the best, most interesting, and sometimes most confusing rap releases. In this installment: Quelle Chris is perpetually daring, Maxo writes a coming-of-age record, and Chief Keef teams up with Zaytoven.
Detroit's rap scene is one of those, like the Bay's or Baton Rouge's, that seems hermetically sealed from the rest of the country. The city's scene is colored by the cold industrial feel of many decaying midwestern cities, or by the confrontational ethos of its legendary dance-music culture; when it imports sounds, it mutates them in strange ways. Street rap from Detroit is among the most exciting in the country at the moment — the movement is typified by rappers like Sada Baby, whose raps are witty and careening but poised to the point of menace. The beats have few samples and there are no respites. The influence of contemporary Detroit can be seen through the music of out-of-towners as well: SOB x RBE, the burgeoning quartet from Vallejo, owe plenty of their vocal approach to Doughboyz Cashout.
Quelle Chris exists, appropriately, just a little outside of this axis. The rapper and producer emerged from Detroit and assumed a bizarre form, an absurdist whose voice undersells the outlandishness of his writing and whose beats have a raw, made-right-in-front-of-you edge that obscures just how technically dazzling they can be. He became a critical darling with 2013's Ghost at the Finish Line, but had finally cracked his style a few months prior, on the extraordinary Niggas Is Men. In the years since, Quelle has pumped out a remarkable amount of music, all of it arranged into albums that are distinct from one another and have easily traceable emotional and conceptual arcs. It can be dizzying. Everything's Fine, his collaborative album with his wife, the renowned rapper Jean Grae, was one of last year's most acclaimed albums, and deservedly so.
Guns, which is due next week but can be streamed in its entirety on NPR, is Quelle's best solo record since Niggas Is Men. It's about the way we wield things against one another. It's also interspersed with audio clips that make heads nod to gun violence and American racism, the same way they punctuate news broadcasts and everyday life. Quelle doesn't write big, overt, the-argument-is-in-the-text political songs, and yet Guns is one of the most cutting political rap records in recent memory.
Musically, the album lurches from lush piano arrangements to the spare fury of "Obamacare," one of the year's most bone-rattlingly satisfying beats. With Guns, Quelle further establishes himself as one of this decade's most reliably daring rap artists, capable of biting satire or soul-baring earnestness depending on what the moment seems to call for.
Maxo, Lil Big Man
There's a song from Blu & Exile's 2007 underground classic Below the Heavens that I think about often. It's called "In Remembrance of Me"; it's big, broad, and contemplative, with Blu attempting to take stock of his life so far. At one point he raps, "My mom thought that I was too young to make this song." His mom was wrong: There's a certain type of reflection that 22-year-olds can traffic in that becomes inaccessible as they drift toward 30.
Lil Big Man is a coming-of-age record written by someone who hasn't quite come of age yet. Maxo, an L.A.-based rapper, writes thoughtful, thankfully unsentimental songs about the precipice of adulthood. He's a promising artist worth keeping tabs on. But with no disrespect to Maxo, the most interesting element of Lil Big Man is what's happening behind the boards. His small cadre of producers (Swarvy, lastnamedavid, Roper Williams, Vik) imagine the lo-fi, digital-native production that has found such a strong foothold this decade as something that can be blown up and formatted for IMAX. The beats get richer, fuller arrangements than most with their component parts could ever dream of; a song like "Kinfolk" sounds as if it could fill every crevice of an arena.
Chief Keef & Zaytoven, GloToven
The fact that, well over a decade into his career as one of trap music's most beloved and prolific producers, Zaytoven still leads church services as an organist could be written off as convenient PR. But the producer's famously piano-driven beats couldn't spring from anywhere else. They're wrenching and soulful, wringing from artists like Future and Gucci Mane some of their most heartfelt and affecting performances. He's assembled one of the best production discographies of this generation, all without becoming overexposed, without being surpassed by imitators, and having never seen the genre pass him by.
Chief Keef's relationship to rap's Zeitgeist has always been more slippery: At the very beginning of his run, he was the center of the genre, but has since snapped close to and far away from that position like an elastic band. As has been well-documented, he's been very influential on some of the most popular and/or critically celebrated rappers of this decade, but his solo records often go under-covered, both due to issues of economy and promotion and due to their relatively experimental nature. GloToven pairs the artists for a record that occasionally hears Keef barrel through beats other rappers would harmonize on, but more often brings out a softer side — see the addictive "Petty."