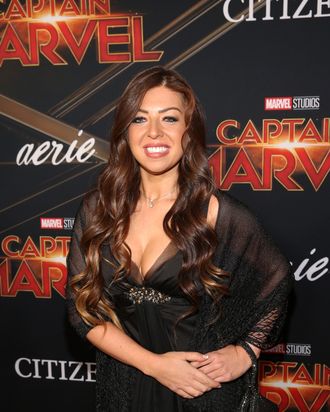 Pinar Toprak, the first woman to score a Marvel Cinematic Universe movie.
Photo: Jesse Grant/Getty Images for Disney
When Brie Larson's Captain Marvel shatters the glass ceiling of solo superheroine cinema for Marvel Studios, she's doing it to a score crafted by another woman making history behind the scenes.
With her orchestral music for Captain Marvel, Pinar Toprak becomes the first female composer to score a film set in the Marvel Cinematic Universe, a goal she's apparently been chasing for a while: She previously contributed music to Danny Elfman's Justice League score, as well as to the first season of the Syfy series Krypton. "Believe it or not, it's been a dream of mine ever since I can remember," she told Vulture at the Captain Marvel premiere in Hollywood.
To that end, she made sure to ping Captain Marvel's radar early on. "I made my intentions clear, and when the opportunity to demo came, I wanted to make sure that I made the best impression," Toprak revealed. "I went and hired a 70-piece orchestra and did a big production of it so that they could see me in front of the orchestra conducting, and I did another video inside my studio where I talked about the character and the theme. I really wanted to put my best foot forward, and I'm very grateful it worked out."
Once the much-coveted gig was hers, she admits that the music behind Carol Danvers's adventures didn't exactly come easy. "There's so much weight on her theme, and at first I was kind of psyching myself out," she explained. "After two days of being in the studio and not being happy with anything I wrote, I went out for a walk, and I started humming a theme — and believe it or not, that's still in my voice memo, and that is the Captain Marvel theme."
Captain Marvel's soundtrack is awash with aggressively '90s-specific needle-drops (Salt-N-Pepa's "Whatta Man," Garbage's "Only Happy When It Rains," No Doubt's "Just a Girl," among many, many others), which ended up inspiring Toprak's compositions. "It's been such a joy because I love all those songs," she said, "and also in the score, we really embraced the '90s when it was appropriate. It was a gift."
While pleased with her breakthrough status, Toprak said she feels her gender never led to any obstacles in her career. "In my own personal journey, I never really considered myself disadvantaged in any way," she said. "I acted as though I have every bit of the same rights, and I just kind of put my horse blinders on and kept working really, really hard."