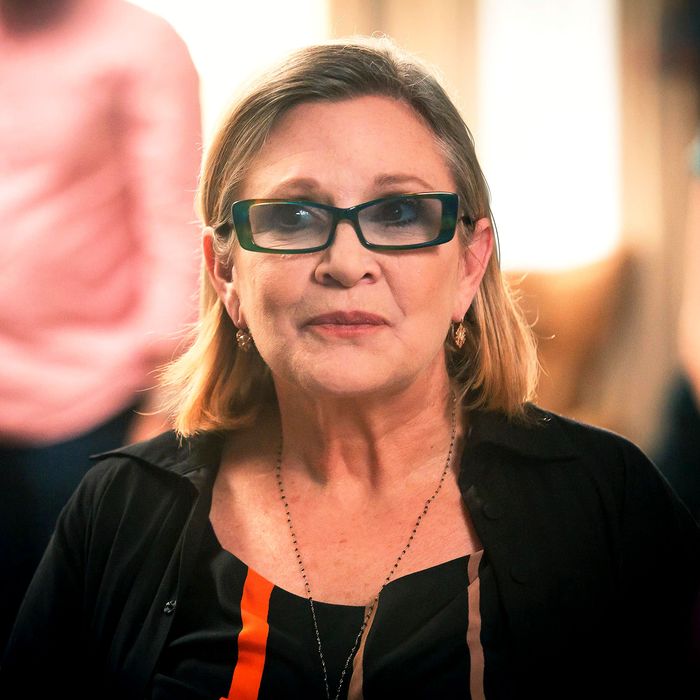 "We wanted to make sure we showed the world that we loved her," says Sharon Horgan.
Photo: Ed Miller/Amazon Studios
Spoilers below for Catastrophe season four.
Sharon Horgan had the inspired idea for Carrie Fisher to play Rob Delaney's mom in Catastrophe back in 2014, when the pair attended a dinner where the legendary wit was presenting an award to British talk-show host Graham Norton. The co-creators were preparing the first season of their comedy about the vagaries of unplanned parenthood and marriage, Delaney recalled recently, and "Sharon leaned over and said, We should try to get her to play your mother. And I was like, Ha ha, you're drunk."
That didn't stop the duo from pursuing Fisher, and to their amazement, she agreed to play the off-kilter and unfiltered eBay-shopping Mia. With her real-life dog Gary by her side, Fisher was at her irreverent best from Mia's first phone call with Rob (in which she counseled him to ditch his baby mama: "They can't extradite you for failure to pay child support. It's not like it's a war crime, it's just a foreign baby"), to their final late-night confessional (in which Rob admitted to falling off the wagon and Mia warned him, "You put a plug in the jug, mister, because if you ever hit Sharon, I'll fucking kill you").
The celebrated writer was the only actor allowed to ad-lib lines, Delaney wrote in a tribute after Fisher's unexpected death in 2016. Catastrophe had just wrapped season three, and Fisher had dined with Horgan and writer Salman Rushdie before flying home to L.A. and going into cardiac arrest on the plane. She died four days later.
Besides coping with their enormous personal loss, Horgan and Delaney were left to decide how to best honor Fisher in the show's fourth and final season. Especially because they planned to tell more of Mia's story after she dropped the bomb at the end of season three that Rob's drunken father had broken her jaw.
"It took us a long time to figure it out," Horgan told Vulture. "We wanted it to have humor because she was an incredibly funny human, and [Mia was] a brilliantly monstrous character. But at the same time, we wanted to make sure we showed the world that we loved her and wrote it in a way that she might find funny."
The pair ultimately chose to maintain Mia's presence via Rob's sister Sydney (Michaela Watkins). When the newly religious divorcée comes to London on vacation with her son, she credits Mia's eBay savvy with helping her sell the Boston Bruins' jerseys that paid for the trip. But she also complains to Rob that living with their mother is "rough work," especially since her hearing is going and they're all screaming at each other.
It's only in the series finale, when the Norris-Morris clan arrives for a family vacation in Boston, that Sydney announces in the Logan Airport parking lot that she found Mia dead that morning. She speculates the cause was a heart attack, as was initially reported about Fisher. (The final coroner report on Fisher said "a mixture of drugs" contributed to cardiac arrest.)
Horgan says much consideration went into how to portray Mia's death so that it wasn't ghoulish. "We decided we didn't want to dwell on [the reason] because we didn't want people focusing on that," she explained. "We wanted them focusing on her and the person that she was. So that remark [about her heart attack] is sort of thrown away a little bit. There's been no postmortem."
Indeed, what viewers will surely savor is the eulogy Rob gives at Mia's funeral. What begins with an odd memory of Mia serving hot casseroles for breakfast turns touching as he begins reading from an email Mia wrote to a friend. He's discovered that his difficult mother has quietly donated her eBay auction money to a children's charity for spinal surgeries because, as she wrote, the government doesn't give "a rat's ass about disabled kids." In a final coup de grâce, Rob reads Mia's rant about Mike Pence in which she speculates that the "microwaved-apple-lookin'-ass motherfucker spends his Sundays tossing disabled kids out of windows."
Horgan says that Mia's email was meant to show that, despite all outward appearances, she had an "incredibly kind side." But, of course, she's still Mia: "Then we thought, to counteract that, she should say something that is about as sort of on-the-nose politically — and as Mia-like as possible — about the state of the current political situation. I hope that she might enjoy the fact that she gets to put the boot into Mike Pence from beyond the grave," Horgan says about Fisher. "I think she'd like that."