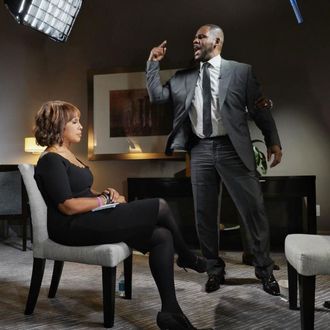 After airing Gayle King's intense R. Kelly interview Wednesday, in which the singer fervently denied the allegations of sexual and psychological abuse lodged against him by multiple women, CBS News announced its plan to release The Gayle King Interview With R. Kelly, an hour-long prime-time special, on Friday, March 8 at 8pm ET. In addition to "never-before-seen parts of King's 80-minute sitdown with Kelly," the special will feature interviews with two young women currently living with the singer, Azriel Clary and Joycelyn Savage.
Prior to the premiere of Lifetime's Surviving R. Kelly, Savage's family alleged that R. Kelly manager Don Russell attempted to intimidate and threaten them over their claim that daughter Joycelyn had been coerced into being a part of Kelly's supposed "sex cult" of women, sparking a police investigation. Based on the CBS promos, both women appear to defend R. Kelly and claim their families are attempting to extract money from the singer as revenge for unrelated grievances.
Following CBS's airing of the Gayle King interview, R. Kelly, who had been released on bond after being charged last month with ten counts of aggrieved criminal sexual assault, was arrested once again, this time for unpaid child support reportedly owed to his ex-wife and accuser. The singer has denied all accusations of wrongdoing made against him.