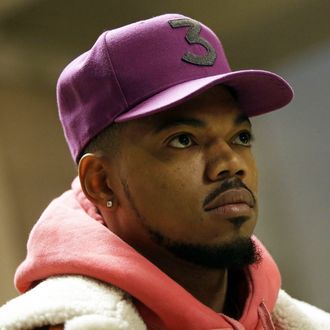 Chance the Rapper.
Photo: Joshua Lott/Getty Images
In a brief filled Wednesday, the New York Times reports, Killer Mike, Chance the Rapper, 21 Savage, Meek Mill, Yo Gotti, and Fat Joe offered a primer on rap to the Pennsylvania Supreme Court. The amicus curiae document was submitted as part of Jamal Knox v. Commonwealth of Pennsylvania, a First Amendment case brought by a Pittsburgh rapper convicted over song lyrics that a court found constituted terroristic threats and witness intimidation.
The performers' brief, the Times explains, is an attempt to contextualize violent rap lyrics within the genre at large. Lyrics read on paper, the document argues, can easily be read as sincere when they are in reality being delivered by a character, as social commentary, or simply as creative expression. "In short, this is a work of poetry," the group wrote. "It is not intended to be taken literally, something that a reasonable listener with even a casual knowledge of rap would understand."
Jamal Knox, who rapped under the name Mayhem Mal, was sentenced in 2014 over a 2012 song that named police officers who had arrested him on drug and gun charges, and were set to testify against him. Suggested one of Knox's lyrics, "[L]et's kill these cops 'cause they don't do us no good." The rapper eventually served two years following his conviction.
"The poetic nature of rap lyrics requires analysis of the multilayered meanings attributable to such lyrics, viewed through the lens of the intended audience," the rappers' brief reads. "Amici thus urge the Court to view rap music, through which the alleged threats in this case were purportedly communicated, as not only a form of artistic expression but as political expression that falls well within the scope of activity protected by the First Amendment." You can read the document in full here.