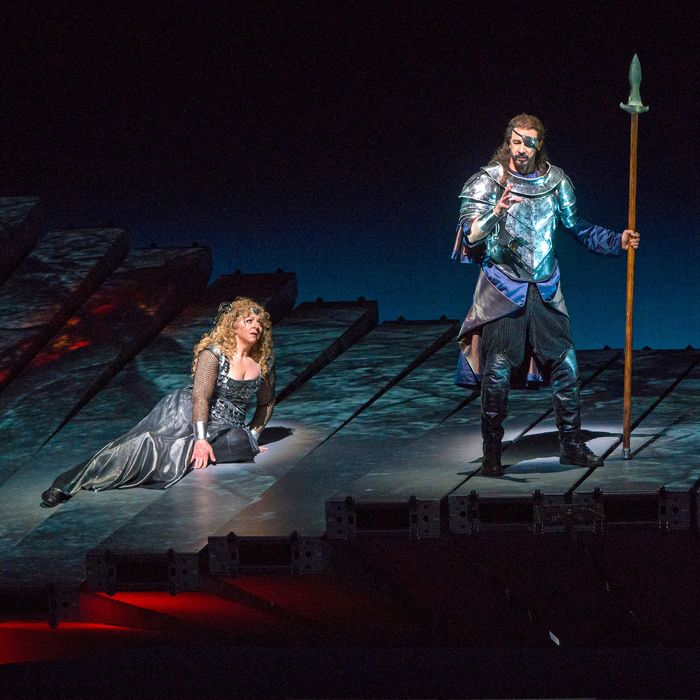 From
Die Walküre,
at the Met.
Photo: Richard Termine
For every social and cultural moment, Wagner always seems to have a comment at the ready. Die Walküre, the second opera in the Ring cycle, returned to the Met for the first time in what feels like an epoch (six years, actually), and there at the center is a familiarly feeble tyrant, hobbled by impulsiveness and rage, and his fiercely loyal hench-daughter, who does what he wants by ignoring what he says. Spectacle departs from life in one crucial way: both the sputtering Wotan and the blonde Brünnhilde are complicated, three-dimensional people. Amid all the swordplay, flying horses, and flaming rocks, it's their fierce but troubled bond that anchors the opera — especially whenever the great Christine Goerke is on stage.
With her 50-caliber soprano, Goerke makes a fearsome warrior: give the woman a breastplate and spear, and she can "Hojotoho" you to kingdom come. But the revelations in this performance — her first in the role at the Met — comes in the more vulnerable, intimate scenes in Act Three, when Brünnhilde and her father must reckon the price of betrayal. Goerke has worked her way toward the character from milder Mozart and Handel roles, and her training in 18th-century elegance shows in her unforced voice and unaffected phrasing. To her, the supreme deity is just another blustering male who can be gently, lovingly talked down.
Die Walküre is about the gods' proxy battle, fought by grunting mortals but choreographed from on high. Brünnhilde is the go-between, the celestial soldier who stumbles and is condemned to humanity, sleep, and, someday, love. Not many Wagnerian sopranos can manage that demotion with such a fine balance of backbone and grace. Goerke releases a big, slow-moving sound that acquires iridescent warmth as it blooms out into the auditorium. She has no need to holler. And yet her voice is also more maneuverable than its size suggests. Doubt, regret, defiance, tenderness, and pride all flicker through her scenes. After she finally surrenders her weaponry and her rights, we last see her, 'round about midnight, hanging upside down on a vertical rock face that's engulfed in projected flames, and as the orchestra boils and the curtain falls, it's comforting to know that the Met's Ring continues and there's a lot more Goerke to go.
Goerke is singing Die Walküre at the Metropolitan Opera through May 7.