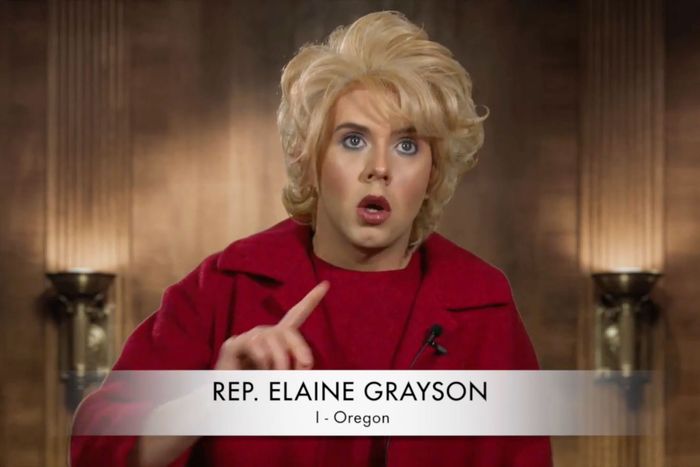 Cole Escola.
Photo: Cole Escola/YouTube
Comedy doyen Cole Escola is prone to jumping in and out of one of his many saucy characters before you can even register the changes in shape to his face. One moment he is Joyce Conner, a mouthy matron with blushing cheeks and a red, red dress; in the next, he is Maven Crawford, the hunchbacked cabaret legend (and Joe's Pub food fan) with Carol Channing's hair and Liza Minnelli's distractibility. You may already be familiar with his most recent incarnation, Chassie Tucker, the inept pseudo-sidekick to homemaker Amy Sedaris on At Home with Amy Sedaris, currently in its second season on truTV.
Less well-known is that Escola is as gifted with impressions as he is with original characters. The same reverential phrases about transformation and channeling usually applied to the Great Actors of our time — Daniel Day-Lewis, Cate Blanchett, Frank Caliendo — could just as easily describe Escola's method-style conjuring of celebrities, politicians, and recognizable civilian types. He is a man of so many voices that it can be hard to track them all. The proof is in the pudding, they say, so here for convenience's sake are 15 of his most delicious samples.
Hillary Clinton
In this Container Store–set interview with Hillary Clinton, Escola performs not one but two stunning impressions: the venerable former secretary of State (also the host of The Hillary Clinton Podcast), and a lusty, unzipped version of himself. Clinton only manages to squeeze in one question about her guest's (homo)sexuality in their brief conversation before Escola introduces some of his other characters, like Sally No-Eyes and the bespectacled Mrs. Movie Star, as well as a brief appearance as Elaine Stritch around 1:40. Just try to keep up.
Amy Adams as Susan Morrow in Nocturnal Animals
Tom Ford's highly anticipated second feature, Nocturnal Animals, arrived under suffocating expectations in 2016 and was quickly forgotten after awards season. But the memory of this divisive drama lives on in a miniature reboot starring John Early, Jacqueline Novak, and Escola. Escola is Susan Morrow, the chic but haunted art dealer; Early is Alex, her forlorn assistant (with a hint of Jake Gyllenhaal's Edward, inexplicably); and Novak, in a wild face-only impression, appears to be portraying crazed killer Ray Marcus. Together, these comedians' work is as memorable in 15 seconds as anything Ford accomplished at feature length.
People Trying Ice-Cream Flavors
Misophones beware: The sounds of slurping in this video are entirely repulsive. But that is kind of the point, since Escola single-handedly impersonates no less than three insufferable idiots trying new flavors at an ice-cream store. Who among us hasn't waited while a group of absolute assholes tastes spoonful after spoonful of gelato, summoning their little friends to the front and forcing the other customers to line up around the block? For those who find themselves enraged just thinking about such a situation, Escola's material offers genuine catharsis.
Speaker of the House Nancy Pelosi
I haven't verified it, but Escola may have been the first to turn Speaker Pelosi's iconic clap during President Trump's 2019 State of the Union into a social-media game. The #NancyPelosiChallenge is quietly difficult (getting Pelosi's hilariously contemptuous bizarro clap right requires some finesse, surprisingly), but Escola, as always, makes it look easy. Even so, the social-media accounts for Doritos and Pat Sajak have yet to take Escola up on the challenges issued to them on Twitter. Cowards.
Barb's Mom on Stranger Things
Remember the absolute terror when Barb (Shannon Purser) was taken by the demogorgon in season one of Stranger Things? That led in the following season to Barb's anguished mother Marsha (Cynthia Barrett) hiring a loony private investigator (Brett Gelman) to track her daughter down. In between the release of the seasons, however, Escola revived the character as she appears in a "deleted scene" from the series's (fictional) DVD extras. Here, poor Marsha answers the phone without knowing the horrible news that awaits her on the other line.
Dianne Wiest
All due respect to Escola, but I must disagree that his impression of two-time Academy Award winner Dianne Wiest was not "there yet" in 2014. To my mind, this brief clip features all the standards of a perfect Wiest imitation: the squinting, the hmmms, the clarification that it is indeed Dianne Wiest speaking. Escola has a long-standing fascination with the great actress, whom he recently found performing a Beckett monologue in his fridge, and it shows. I can only imagine that Ms. Wiest, herself a comic genius, would approve.
A 1930s Radio Tenor
I recommend preparing for this video by listening to a Cole Porter record. That will give you the necessary insight into Escola's ingenious use of acoustics here. Covering his mouth to create a period-specific mechanical muffling, his spot-on impression of a 1930s radio tenor is like the folk-song recording scene in O Brother, Where Art Thou? without the Coen brothers' budget. It's also a worthwhile reminder of Escola's skills as a singing imitator, something he puts to use in his live act from time to time.
Bernadette Peters
On par with his Dianne Wiest fascination, Escola has exhibited a mild obsession with Bernadette Peters throughout his comedy career. From her recent tryout as Oscars host to working on her taxes — not to mention her career as a prominent actor and singer — Escola's Peters is a very busy woman. Somehow, though, she still finds time to hang out with her buddy Jeffery Self (one of Escola's earliest collaborators). In this clip, Peters tries to persuade Self to return to New York City after getting stoned and yelling at — who else? — Patti LuPone.
The Oscars
Wigs are elemental components of Escola's sharpest impressions, and here he appears to have found the perfect one in which to lampoon Hollywood's biggest night (again). Somehow, he manages to swing the glossy Carole King–ian curls on his head with precisely the same false warmth with which he announces that the star of Thumb (guess who?!) has finally won her Oscar. Be sure not to miss the coup de grâce on Escola's shirt, a literally backward tribute to yet another legend of stage and screen revered by the man wearing her.
Reba McEntire
"I've had lots of different situations: death; divorce; failures." The tragedies of Ms. McEntire's life are at the heart of this distressing impression, which is guaranteed to make you cry if you watch it enough times in a row. No wig needs wearing for Escola to fully capture the country star's sensitivity — just a pouty pink lip and a doe-eyed look at the camera. To see how impeccable the impression really is, watch this source clip from Reba's 2016 Master Class side-by-side. The resemblance is downright uncanny.
Frustrated Congresswoman
Released in promotion of Escola's 2019 Help! I'm Stuck! tour, this documentary portrait of Congressperson Elaine Grayson is a devastating watch. Grayson's gum-chewing (or possibly denture-sucking?) is bad enough, but her all-too-quickly selected maroon lip color is also a poor match for her ruby-red ensemble. As a portrait of powerful people on television, the impression is one of Escola's most withering, thanks in part to the hair and makeup by Angelo Balassone. It just so happens that Escola is back on tour now, so don't be surprised if Rep. Grayson makes an appearance.
Martin Shkreli
When "pharma bro" Martin Shkreli was sentenced to a seven-year prison term for defrauding hedge-fund investors, all of America was united momentarily by schadenfreude. It was recently reported that Shkreli had "made friends" in prison with Krispy and D-Block, and that he may have smuggled a secret mobile phone into his New Jersey cell. That is considered "a greatest severity level" infraction according to the Bureau of Prisons, so he must have had a good reason for taking the risk. My theory? He was recently told about a rising star named Cole Escola's impression of him and needed to see what all the hubbub was about, no matter the consequences.
Whoopi Goldberg and Oprah Winfrey
Escola performed several times in Michael Schulman, Rachel Shukert, and Peter James Cook's You Like Me series of classic acceptance speeches from Hollywood history. Yet these two speeches, from 2011 and 2014, are particular favorites. As Goldberg, Escola finds the voice and manner, but spends much of the performance relying on his script and remaining tucked behind the mic stand. By 2014, when he portrayed Winfrey, he was entirely off-book, stripped to the waist like Caligula and in unabashed control of the stage. Perhaps the differences between these performances are just reflections of the characters Escola was playing — or maybe they are simply testaments to Escola's evolution as an artist.
Talking Heads in a Serial-Killer Documentary
With more than 50k views, this "gut-wrenching," "chilling," two-and-a-half-minute video is among Escola's most popular, and for good reason. As true-crime satire, Daniel Rampulla's color-drained close-ups, the somber piano backing track, and the fades to white are visually perfect. But as a tale of sisterly love between Tracy and Didi Bortlet, Escola's dual impressions of standard interview subjects in a serial-killer documentary are also weirdly touching. Be still, my confused heart!