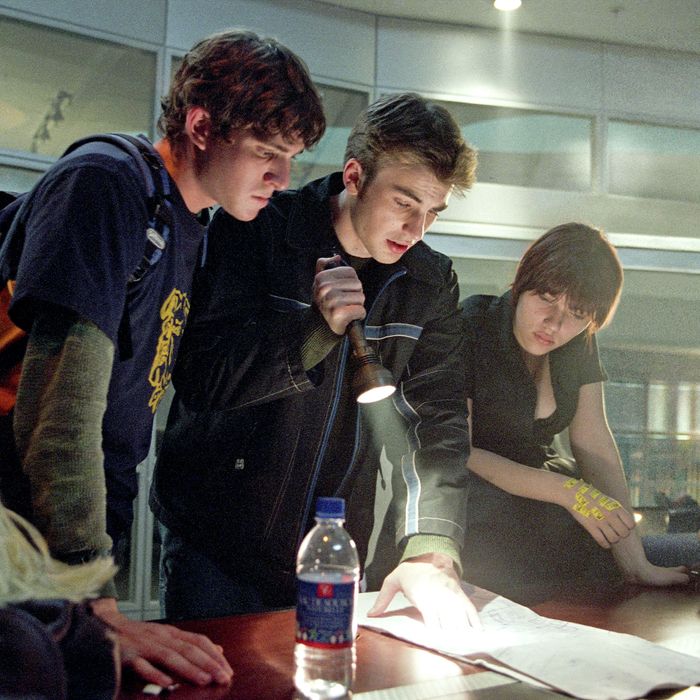 A still from
The Perfect Score
, a movie about a group of teens who decide to cheat on the SAT.
Photo: Douglas Curran/Paramount/Shutterstock
Spring has sprung, and so has a new season of scam. CEOs and actresses have been indicted in a scheme that included bribing standardized test administrators and college athletic coaches to fabricate information about applicants to elite colleges that would ensure their admission. No, this isn't the old "donate a library" situation — this is the new "fake your kids' test scores and athletic abilities" situation.
According to court documents released today, a college counseling company called the Key engaged in a variety of scams on behalf of applicants at the behest of their parents, often without the kids' knowledge. Scams included paying off SAT and ACT test administrators to correct the responses of the real test-takers for a higher score, having someone take the test in place of the kids and replace the scores (a man named Igor was noted as a particularly good test faker), or paying off college coaches to flag applicants as athletic "recruits," even when the applicant did not even play that sport.
In the documents we obtained from the U.S. District Court in Massachusetts, these tactics were sometimes referred to as the "side door." In some cases, the parents expressed distress at the thought of their kids or other parents finding out what was going on. Well, it's kind of hard for these things to stay private when a lot of racketeering occurred using Gmail.
Thirty-three parents have been charged, including actress Lori Loughlin and her husband, Mossimo Giannulli; and actress Felicity Huffman. Huffman's husband, William H. Macy, was not charged.
Below, we rounded up some of the craziest info in the affidavits. For your reading convenience, references to CW-1 in the indictment refer to "Cooperating Witness 1." CW-1 is described as "an individual who participated in the scheme. CW-1 founded, and together with others operated, the Key and "KWF." KWF stands for "the Key Worldwide Foundation," the "charity" through which some of the payments were funneled.
Ruh Ro!
In one exchange with CW-1, Huffman realized she had gotten herself into a pickle. A counselor from her daughter's high school told her via email that she would proctor the test herself (instead of having Huffman's daughter sit for the test at one of the specialized testing centers arranged by the company, where the tests were fixed). The indictment states, "Huffman forwarded the e-mail to CW-1 with the note, 'Ruh Ro! Looks like [my daughter's high school] wants to provide own proctor.'"
Another great detail: In one exchange between Huffman and CW-1, CW-1 informs Huffman that the guy who took a standardized test for Huffman's older daughter had to reschedule because he had just had a baby when her younger daughter was about to take the test.
2,150 shares of Facebook paid for one scheme, then were written off as charitable donation
In the indictment, a set of parents referred to as "the Hillsborough Parents" apparently "donated 2,150 shares of Facebook, Inc. stock to KWF as a purported charitable donation … the Hillsborough Parents filed personal tax returns that falsely reported total gifts to charity … a sum that included the purported contribution to KWF."
Benchwarmer, but make it convincing
In one email, a parent named Sloane was concerned that if their child was recruited for athletics and went to practice, it would become obvious that the child was "a clear misfit." The parent asked in an email to an employee of the company that organized the scams,"Would the other kids know [my son] was a bench warmer side door person?"
Photoshop was involved to make nonathletic kids appear athletic
Some cases involved Photoshopping pictures of kids playing sports that they did not play. For example, one parent "e-mailed CW-1 a photograph of his son purporting to play water polo, with his right arm and upper torso exposed above the water line. In the e-mail, Sloane asked, 'Does this work??' CW-1 responded: 'Yes but a little high out of the water-no one gets that high.'"
And other kids magically grew
In some cases, the company fabricated the physical profiles sent to coaches. The affidavit reads, "The basketball profile created by Janke falsely listed Macfarlane's son's height as 6'1'' and indicated that he played on his high school's varsity basketball team … a personal statement for Macfarlane's son, drafted by CW-1 but ultimately not submitted to USC, described how he knew that his height (5'5'') would be a detriment to making his high school's varsity basketball team."
"This is not TJ Maxx or Marshall's or something like that."
But be warned: This scam is not easy. CW-1 chastised one parent for assuming that all it took to get their child a spot at Stanford was CW-1 giving the Stanford sailing coach $160,000. The parent asked "[inaudible] all it takes?" CW-1 replied, "So–no, no, no, no. That's not all it takes. … This is not TJ Maxx or Marshall's or something like that."
*Correction: A previous version of this post erroneously stated that actor Douglas Hodge was indicted in this case. He was not, the indicted was ex-Pimco CEO Douglas Hodge.