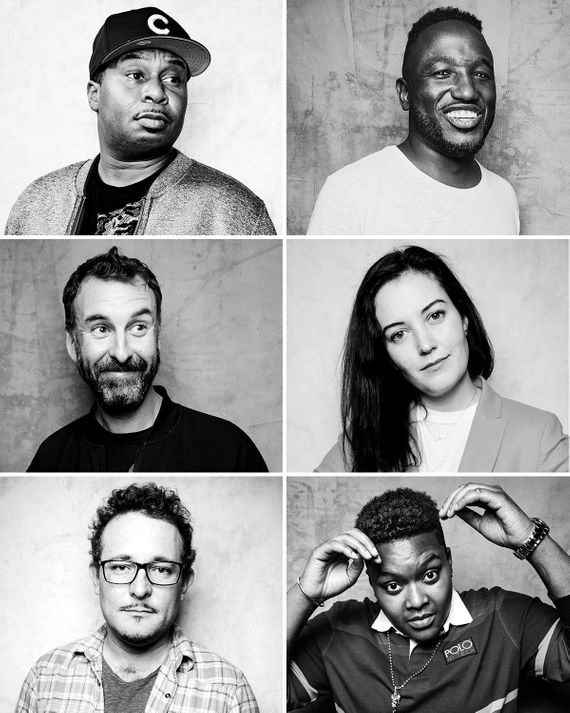 You could argue that when it comes to doing comedy — or any art form you can only perfect by doing it live, in front of others, over and over — that all lessons are learned the hard way. After all, there's only so much that mentors, managers, or friends can prepare you for when the final product is you, onstage, alone, killing or bombing, or something in between. But some lessons are more memorable than others.
At Austin's annual SXSW, comedy has become a mainstay portion of the interactive film and music festival, where comedians gather around local comedy establishment Esther's Follies to recharge between shows. It's here that photographer Mindy Tucker has spent the last five years setting up a makeshift portrait studio to capture comedians in their element, many of them traveling from New York or L.A. every March. This year, the comedians she photographed were asked to answer one simple (or not so simple) question: What's a lesson about comedy that you learned the hard way?
As you'll read below, the answers were all as varied as the comics who provided them. There are certainly themes, like being smart about your earnings, setting rules for yourself, and knowing when to say, "Enough." Some of the advice can apply to any profession: "Know your audience." "Trust your instincts." "Know what you're making after taxes." But there are some things that only seasoned comedians can tell you, and here are just a few of them.
Todd Glass
Don't drink the night before you do radio. I did that once, had to get up at 6 a.m., and was vomiting outside the car. And don't overdrink onstage. You feel shitty in the morning and you have really bad shows. I'm not talking about three or four drinks. That can even help. But no more than five.
Jena Friedman
Don't run your jokes by your mom.
Mark Normand
You know how they say, "Know your audience?" I always thought, No, if you're funny, you're funny, just go in there. I would go to, like, truck-stop gigs in the middle of nowhere and go "So I have anxiety, I'm in therapy …" and they were like, "Boo! Grow up, ya pussy! Talk about dicks!" I was like Oh, this crowd doesn't care that I'm an introvert. They don't know what that word means. That means "gay"to them. So I had to learn the hard way to know your crowd.
James Adomian
I came into things very young and naïve with everyone smiling, and I kind of trusted everybody, but I learned in some painful ways to not just trust everyone and not everyone is your friend. I also went through a phase where I was too mistrustful and thought everyone was out to get me. But I learned through trial and error that it doesn't matter who you trust. Don't put that much pressure on any one relationship or person and let it be what it is.
Hannibal Buress
I always wish that I did a better job of properly documenting and cataloging my earlier years of stand-up. There's a lot of different crazy impromptu moments that have happened that would be really fun to look back on.
Beth Stelling
Some things are just for you. You don't have to share every aspect of your life with an audience; it's okay to keep some things sacred.
Roy Wood Jr.
You have to trust your instincts and not other people. If you think it's funny, and it's funny to you, you're going to figure out a way to sell it and make it funny to other people.
Sam Jay
Bombing never stops sucking. It's like no matter how good you get or how long you've been doing it, that bomb still hurts even if you don't think the show or the audience was great. You still feel that bomb and it takes a little to shake it off. Even if I'm like, Hey, you tried some new shit, there's still a part of me that's like, What if this keeps happening?
Jessica McKenna
The lesson I learned the hard way was definitely saying "No," which might seem like it goes against the spirit of comedy, especially improv. You start out saying yes to almost everything to get your feet wet, but I spent a couple more years wearing myself thin, doing improv shows at like midnight for six people, when at that point it was just giving me no sleep. Don't be afraid to say, "I think I'm at the point where I can be more selective," and prioritize your sanity over doing nine shows in a week.
Dave Hill
I opened for Snoop Dogg once. Snoop was amazing, but I think the audience mostly thought I was a roadie testing out the microphone for a really long time. It was what I like to call a character builder. That said, I would do it again in a heartbeat.
Nick Thune
Never wear a deep V-neck onstage. Nobody wants to see that. Unless maybe if you're Russell Brand.
Addie Weyrich
Never. Assume. That. You. Know. How. To. Pronounce. Someone's. Name.
Mike Lawrence
Ask what you're going to make after taxes. My half-hour, I walked away with less than half of the amount I was told, and I was one of the lucky ones. So if you get a credit, do not quit your job. Do not spend recklessly, because it will be less than you think, and that's okay, but don't believe the hype.
Kurt Braunohler
I wish someone had told me that when you have to do two hours in a night, that in the space between them, you're going to be very, deeply depressed. And to just bring something to make yourself feel better at the club. The down time between the 8:00 and the 10:30 will kill you.
Amy Miller
I had this idea that asking for what I was worth would make me seem difficult or greedy in some way. And now that I do that, for the most part, it puts a value on what I think of myself and my act, and actually ends up garnering more respect. A lot of comedy booking is like dating — if you don't think I'm worth this much, we shouldn't be working together anyway.
Brian Moses
I think in hindsight, I might have learned a trade or gone to a trade school instead of couch surfing the whole time and being, like, a vagrant for six years. Having a legit day job instead of wondering where my next meal was coming from would have been good.
Matt Braunger
The first time I tried stand-up, the worst thing in the world happened: I killed. My friend Rob, whom I waited tables with, was a stand-up and a bunch of us from the restaurant were going to see him. On my way in, the booker stops me from paying and says, "Hey, you're Braunger, right? Rob says you're funny and I'm short a comic — wanna go up?" I was like, "I've never done it." He said, "You get two free drinks." I said, "I'm in." I went to the bar, wrote a "set," and went up when they called me. I was fatter then and had long hair and a goatee. My opening line was "I know what you're thinking, Christ the Lord has really let himself go. It's not my fault. I have one loaf of bread, it becomes five." I knew half the people in the audience, so they were very kind and pretty much laughed at everything. I did a bunch of loud, yelly crowd work, crushed, and got offstage thinking stand-up was cake. The weeks to come were brutal. I didn't always bomb, but I never did amazing — not like that first time. It took months to get my legs, years to get my voice. That first time felt amazing, but I still wince at the memory of one gig two weeks later. I ate it so bad that backstage I jumped sideways onto a couch and laid there for probably an hour, staring at the wall in a fetal position.