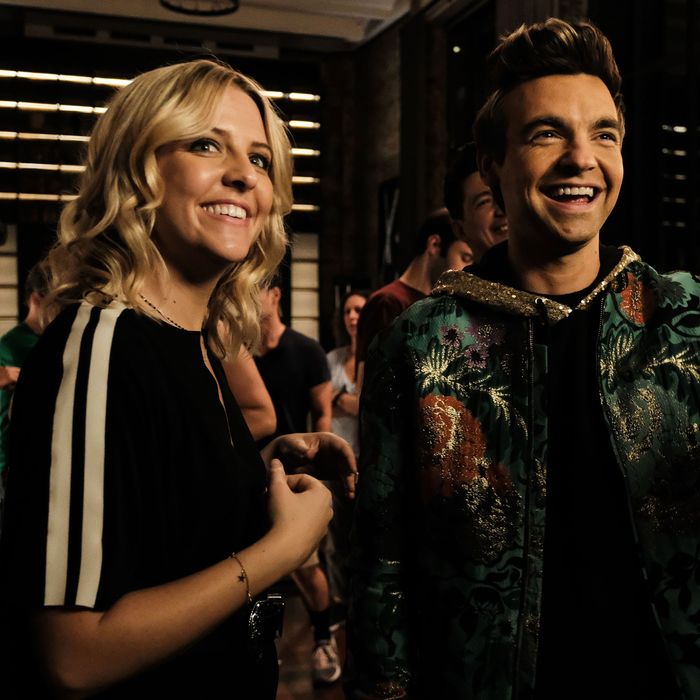 Heléne Yorke and Drew Tarver in
The Other Two.
Photo: Jon Pack
Comedy Central is a network forever scrambling to stay ahead of the cultural Zeitgeist. Like its corporate siblings MTV and Nickelodeon, the channel has historically aimed its programming at younger audiences, a group notable for notoriously fickle and ever-evolving tastes. Over the years, Comedy Central's focus on viewers under 35 (and particularly young men) has resulted in some pretty dramatic shifts in tone: The late-1990s frat-boy antics of Craig Kilborn and Jimmy Kimmel's The Man Show gave way to the sharp political satire of Jon Stewart, Stephen Colbert, and Dave Chappelle, which then evolved into the cultural commentary of Key and Peele, Inside Amy Schumer, and Broad City. Now, with the Abbi Jacobson and Ilana Glazer–led Broad City wrapping up its run Thursday night, Comedy Central is ready to reinvent itself again.
While it's hardly giving up on younger men and hard-core comedy lovers, the network is increasingly going after older eyeballs and more casual comedy fans while also opening up its development roster to creators and on-air talent from diverse backgrounds. In late 2017, it introduced the dark and cinematic workplace comedy Corporate to mostly rave reviews and solid ratings (it recently wrapped its second season and is awaiting word on a renewal). This year brought The Other Two, a scripted half-hour from former Saturday Night Live head writers Chris Kelly and Sarah Schneider that's gotten equally strong reviews and expanded the network into a genre it's rarely tackled before, the family comedy. (Its season-one finale airs Thursday night.) And the next few months will feature new shows from Broad City alum Arturo Castro and Jimmy Fallon vets Bashir Salahuddin and Diallo Riddle, along with the return of David Spade in a new nightly series following The Daily Show with Trevor Noah and a reboot of Kimmel's Crank Yankers.
To find out more about Comedy Central's latest effort at reinvention, Vulture rang up Sarah Babineau and Jonas Larsen, who head up series development for the network. They talked about the success of The Other Two, the future of sketch comedy at the channel, and how Donald Trump may have ruined political comedy for awhile.
How did The Other Two end up on Comedy Central? It's not the kind of series for which you're known.
Sarah Babineau: It was a little bit of a departure for us, but [with] Broad City, we had found that heart and comedy don't have to be mutually exclusive. Actually, when both of them are there, it elevates the other. Chris [Kelly] and Sarah [Schneider] wrote the pilot on spec when they were still at SNL, and they knew exactly what they wanted to say with the show. And it hit our creative filters square on, all of them — super funny, personally relatable, culturally relevant, and provocative. So it was a no-brainer for us.
It's a bit of a risk doing a family show on a network not known for those.
Jonas Larsen: That's exactly why we wanted to do this show. It felt like it brought in an audience that perhaps didn't see Comedy Central that way. We did a lot of research and found out that everybody has a family!
Sarah Babineau: It was also a departure in that it's a very creator/director-driven show. Corporate was probably the first step in that direction. The Other Two took a step further by really leaning into the storytelling aspect.
The buzz for The Other Two has been amazing, but the ratings haven't quite caught up to the praise yet. Depending on the week, the premiere telecast gets around 300,000 to 400,000 viewers, including some delayed viewing. I know that's not the full picture of who's watching, so are you seeing other indications your audience is watching via other platforms?
Babineau: A lot of people — a lot of people — are watching Broad City and The Other Two on VOD. They're watching it wherever they can find it. We [rerun] the shows, we have them available on demand, you can buy them on iTunes, on Amazon, they're on cc.com and the app. It's not just the Nielsen numbers. Also, if I had a dollar for every time I did an informational meeting with someone in their 20s who said they watch Broad City every week, but through their parents' cable password … [Laughs.]
I've actually been watching the show on the Comedy Central Roku app because they run uncensored, and you get the bonus The Other Show aftershow segment.

Babineau: I was at a comedy show a few weeks ago with Sarah Schneider and someone came up to her and said, "Oh my God, The Other Show is my favorite show." I thought they meant The Other Two, but they were talking about The Other Show because they loved hearing Chris, Sarah, and the cast really diving deep into the show.
Historically, Comedy Central and Viacom networks have avoided letting content live elsewhere, like on Netflix, unless there's some sort of contractual obligation with the creators. Wouldn't it help to put The Other Two or Corporate on an outside streaming platform?
Larsen: You've probably seen [Viacom's] recent acquisition of Pluto, which is obviously a step in that direction. That deal has just closed so we're still working out all the details, but certainly the goal is for us to put our content out on that platform. We're not really exploring other platforms.
Babineau: We would be open to it later on in the life of a series. Schitt's Creek didn't go onto Netflix until after [season two]. I think there's something to building it on your own platform first.
Larsen: And we've done that with Hulu. They have Broad City and South Park and some other shows. It's not like we haven't done it, but we do it very targeted and specifically.
You renewed The Other Two just a few weeks after it launched. Had you made the call even before it premiered to commit to at least two seasons, if only because it takes a while for shows to find an audience in the Peak TV era?
Babineau: In our minds, we were ready to pull the trigger as soon as we watched the season. And then our hunch was confirmed that other people would really like it when we put the first episode up on YouTube. After it premiered [on Comedy Central], it retained the Broad City audience, no problem. So it just felt like, "This is a natural successor to Broad City and now we need to just stick with it." It is fun to see the conversation continue over ten weeks, versus that crazy one weekend of binging that everybody does from, like, PEN15 and Russian Doll. Even though they were both great shows, it's harder to maintain the conversation over a longer period of time because you can watch them all at once.
Let's talk about some other things. You've mentioned in recent interviews how you want to open up your development slate to voices that always haven't been heard on the channel, or at least not recently. And not just in terms of gender and ethnicity, but geography. How are you doing this, looking ahead to the rest of this year and 2020?  
Larsen: We're really proud of the diverse slate of voices that we have. Awkwafina is coming out next year — we actually started working with her three years ago. Robbie, which is set in a small town in the south and fronted by Rory Scovel, it's representing a part of America you don't always see on television.
Babineau: We also have South Side coming out this summer, along with Alternatino. South Side takes place in the south side of Chicago, and it's created by Diallo [Riddle] and Bashir [Salahuddin]. And Alternatino is Arturo [Castro's] sketch show.
Larsen: And obviously our stand-up slate is incredibly diverse — every race, every gender, every sexual orientation. The Daily Show [is] fronted by an African host and the most diverse group of correspondents we've ever had on that show. Our goal is to really reflect the world that we live in, and the country that we live in, and to make sure that those voices are really well represented.
Beyond getting more diverse voices and audiences, I'm wondering what your bigger strategy is for Comedy Central is in 2019?
Larsen: To really grow beyond our core audience and really tap into our growth audience, which is the audience that occasionally samples Comedy Central.
Babineau: Yeah, "growth" is the buzzword for us for 2019. We just launched our Comedy Central originals YouTube page. Clusterfest is coming back for the third year. The Daily Show: Ears Edition podcast performs great for us. Our goal is to be more than a linear network, although obviously our main source of revenue is still driven by our linear platform.
For a long time, the core audience for Comedy Central had been adult men under 34. Is it still that, or are you trying to widen out? Younger viewers have been fleeing linear TV.
Babineau: The audience has definitely gotten a little bit older, and it's gotten more gender balanced. But the core is still young guys. They aren't as young as they used to be, but they still are young guys.
During the first 15 years of the century, there was a heavy political and social commentary bent to your programming. You had The Colbert Report, Key & Peele, Chappelle's Show, Inside Amy Schumer, and others. That hasn't disappeared, but it seems to be lessening, right at the time political comedy is surging elsewhere in the age of Trump. You're about to fill the half-hour after The Daily Show with something from David Spade, for instance.

Babineau: We call it Trump fatigue. Obviously The Daily Show and The Jim Jefferies Show speak to politics. Broad City, in its own way, speaks to politics. But when we started to think about what would take over from The Opposition, we wanted to hear from our audience what they wanted. It came back very loud and clear that they loved The Daily Show, but then they wanted to go to sleep with a palate cleanser. They wanted something that was more in the world of pop culture, something that just felt a little bit lighter.
Larsen: We are a very talent-centric channel, so if they want to talk about politics, they want to talk about politics. But part of the cultural mood right now is to not really dive into that too deep. There's just not the same appetite for political comedy as there was maybe two years ago.
Does this Trump fatigue also explain why The President Show didn't come back?
Babineau: We loved The President Show. I went to every taping. It was so funny and of the moment. I think we did 20-something episodes; we gave it a fairly long run. And then we saw that the audience wasn't showing up in the same way it was at the beginning. We had to follow the appetites of our audience.
The David Spade decision did shock me a little bit …
Larsen: Good!
I get what you're thinking in terms of a different tone,  but it does seem like he would skew older than the usual Comedy Central viewer. Is this another way you're trying to broaden your base? Or is it more a sign that you're going where the viewers are?
Larsen: I'm really glad you asked that question. With Spade, that's definitely part of the thinking: We're bringing in the fans of Spade. But when we started doing research into who his fan base is — and also with his Instagram and Twitter presence, which is pretty robust — we discovered that there is this universal love for David Spade. We really felt like this was a great opportunity to tap into both younger audiences that have found him through his social channels, and the older viewers that grew up with him. And also, David Spade wanted to do a nightly show.
Babineau: In the same way that The Daily Show has a whole life on the social and digital platforms, that's the plan for Spade's 11:30 show as well. With The Daily Show, there is an audience that watches it on linear every night, and there is an audience that watches between the scenes on YouTube. So it is an opportunity for Spade, with the digital component of the show, to be introduced to younger viewers.
Let's talk about the next evolution of Jordan Klepper. The Opposition didn't catch fire, so now he's doing a documentary-style series for you later this spring. How did this idea come to be?
Babineau: When The Opposition ended, we asked Jordan what he wanted to do next. When he said that he wanted to do a show entirely set out in the world, actually interacting with real people in a very non-scripted way, we were super excited because he is one of the best improvisers I have ever known. Talking about political-commentary fatigue, one of the strengths of Klepper is that it is not coming at any issues from a partisan point of view. It's not a political show.
What will each episode be like?
Babineau: For the first episode, he goes to Texas and he hangs out with vets who are wrestling to deal with their PTSD. It's an issue that everyone can rally behind, no matter what side of the aisle they're on, I would hope. He does go into more polarizing issues later on in the season, but he always approaches it in a very nonpartisan way.
He was arrested last month while filming the show. Did you have to pay the bail?
Babineau: Somebody paid it. That was a stressful night. We kept waiting for the text that he was out of jail.
I would think that would be the first episode of the show.
Babineau: Actually, it's not, surprisingly. But it is early on in the season.
Sketch has always been important to Comedy Central, and now you have Alternatino with Arturo Castro coming up. How does that fit into your future plans for the format?
Babineau: I would say it's an evolution of a sketch show. It's not just a bunch of really funny sketches strung together. It has a narrative element where you're following a heightened version of Arturo through a narrative story line. And that narrative story line is punctuated by really funny sketches that speak to the cultural and social issues.
Do you ever plan to go back to more traditional sketch in a way that you haven't seen in a while? Or is the form played out?
Larsen: It's definitely not played out. You talk to anybody that's produced or made sketch, everybody will say the same thing: Sketch is hard. And there are very few voices out there that can really sustain a sketch show. That's why you see so few of them. And one of the reasons why we have such a rich legacy in sketch is because we're patient. We're looking for the talent that really has something to say consistently, but they don't come around often. And when they do, like Arturo, we jump at that opportunity.
Beyond Alternatino, is there anything else in active development on the sketch front right now?
Larsen: I don't think there's anything that's been announced at this point, but we have several things. It's more than three, for sure.
It's been a few years, but Amy Schumer seems like she might be ready to do another season of her show. The New York Times recently reported that she "hasn't wanted to shoot it until recently." Is there movement on her show returning?
Babineau: We haven't had those conversations with her or her team recently, but when Amy decides she has more stories to tell and wants to return to the show, we're here for her and would welcome her back.

There are big streaming plays coming this year from Apple, Disney, and WarnerMedia. I'm wondering what you guys made of Seeso, which was so short-lived? It was an attempt to do what Comedy Central does for the streaming subscription space, and it didn't work out. Any lessons at all to be learned?
Babineau: It was a very noble effort. They worked with a lot of great talent and they had great people working there. I think for a platform like that to really work, everyone has to be behind it. I'm not sure that the corporate overlords of Seeso ever fully thought that was going to be the platform of their future. In order for something like that to succeed, it needs all the resources. It can't just be a little rogue scrappy platform, no matter how good the content is.
Larsen: It's also hard to build a brand from scratch. I mean, we are Comedy Central, so we have a built-in audience. That's probably one of the big things that Seeso struggled with, [finding] that audience that would trust them to check out their content. As Sarah said, they worked with a lot of great talent. But a lot of them were young, unknown talent to the larger audience and it's a really tall order for the audience to trust that the curation they're providing is what they want. That's something we at Comedy Central have done really well over the years.
Last thing: I was going through some old ratings press releases and saw one for the Comedy Central Roast of Donald Trump, which was back in 2011. It did really, really well — like 3.5 million viewers, which is a lot for cable. You worked on that, right, Jonas?
Larsen: I'll never forget that roast. Donald was very, very obsessed with everything being the biggest. He was the "highest-paid roastee." Not true. He was the "highest-rated roast in the history of roasts." Not true. He was very adamant that anything that we put out around his name and his brand always was the biggest and the best, so we positioned our press releases accordingly at the time. Little did we know …
What has been the biggest roast?
Larsen: I believe the roast of Charlie Sheen.
Oh.
Babineau: Hashtag "winning"!