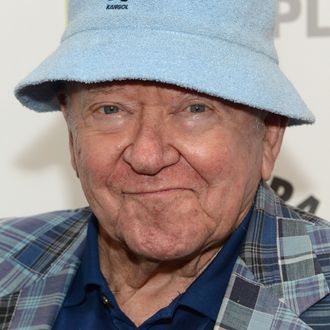 Richard Erdman.
Photo: Jason Kempin/Getty Images
Richard Erdman, who's perhaps best known to viewers for his role as Leonard "Bucket of Guts" Rodriguez (Veteran, Korean War, North Korean Army) in the comedy series Community, has died at the age of 93. THR first reported the news. Erdman, in addition to his delightful Community supporting role, was a busy character actor throughout the golden age of Hollywood, whose talents flourished in both film and television: Some of his more recognizable credits include Stalag 17, The Twilight Zone, The Men, Perry Mason, Cheers, and Murder, She Wrote. He also dabbled in directing, most notably with a few episodes of The Dick Van Dyke Show and the Western The Brothers O'Toole. Following Erdman's death, numerous Community actors and writers paid tribute on social media to honor one of Greendale's finest human beings.
Please, tell someone to shut up today out of respect.