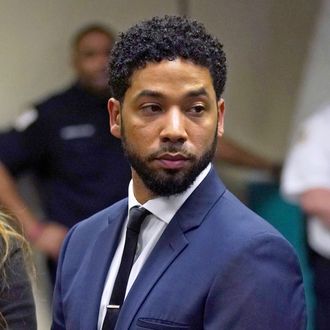 Jussie Smollett.
Photo: E. Jason Wambsgans/AFP/Getty Images
All criminal charges against Jussie Smollett have been dropped, his attorneys announced Tuesday morning. The Empire actor had been charged last month by the Cook County State Attorney's office with staging a hate crime, after claiming in January that he was attacked by two white men who shouted racist and homophobic slurs as they tied a rope around his neck and poured bleach on him.
"Today, all criminal charges against Jussie Smollett were dropped and his record has been wiped clean of the filing of this tragic complaint against him," Smollett's attorneys, Tina Glandian and Patricia Browne Holmes, said in a statement. "Jussie was attacked by two people he was unable to identify on January 29th. He was a victim who was vilified and made to appear as a perpetrator as a result of false and inappropriate remarks made to the public causing an inappropriate rush to judgement."
TMZ reports that the State Attorney Kim Foxx told local police she was dropping the case because Smollett would've "only gotten community service if convicted and she said he has already performed community service so there is no point in prosecuting him." According to TMZ, Chicago police are reportedly "furious" about the decision.
After police suspected Smollett faked his own hate crime, the actor was removed from the final two episodes of Empire's fifth season, and producers considered recasting his role. 20th Century Fox Television, the studio that produces Empire, said today in a statement, "Jussie Smollett has always maintained his innocence and we are gratified that all charges against him have been dismissed."
In a statement, Smollett's family celebrated the news and criticized coverage of the case. "Our son and brother is an innocent man whose name and character has been unjustly smeared," the family's statement reads, adding, "While many were quick to rush to judgement before hearing the actual truth, we are grateful that the truth about Jussie has come to light."
Smollett was previously represented by Mark Geragos, who was named as a co-conspirator in Michael Avenatti's alleged attempt to blackmail Nike.
In the press conference Tuesday morning, Smollett thanked his family, supporters, and attorneys, and said he has been "truthful and consistent on every level since day one." The Empire actor read the following statement:
First of all, I want to thank my family, my friends, the incredible people of Chicago, and all over the country and the world who have prayed for me, who have supported me, who have shown me so much love. No one will ever know how much that has meant to me and I will forever be grateful.




I want you to know that not for a moment was it in vain. I've been truthful and consistent on every single level since day one. I would not be my mother's son if I was capable of one drop of what I've been accused of. This has been an incredibly difficult time, honestly, one of the worst of my entire life. But I am a man of faith and I am a man that has knowledge of my history and I would not bring my family, our lives, or the movement through a fire like this. I just wouldn't. So I want to thank my legal counsel from the bottom of my heart and I would also like to thank the state of Illinois for attempting to do what's right. Now I'd like nothing more than to just get back to work and move on with my life, but make no mistake: I will always continue to fight for the justice, equality and betterment of marginalized people everywhere. So, again, thank you for all the support. Thank you to faith and thank you to God. Bless you all and thank you very much.
In an additional press conference, Chicago mayor Rahm Emanuel criticized the Cook County State Attorney's office for reversing Smollett's charges without explanation, calling it a "whitewash of justice." "You cannot have, because of a person's position, one set of rules apply to them and another set of rules apply to everybody else," he added. "He was let off scot-free, with no sense of accountability for the moral and ethical wrong of his actions."
Eddie Johnson, the city's police superintendent, agreed with Emanuel's critical stance. "At the end of the day, it is Mr. Smollett who committed this hoax, period," Johnson said. "If he wanted to clear his name, the way to do that is in a court of law so everyone can see the evidence. I stand by the facts of what we produced."
ABC News confirmed Smollett participated in community-service efforts this week in the Chicago area. On March 23 and 25, he did a total of 16 volunteer hours at Jesse Jackson Sr.'s nonprofit organization, Rainbow Push. Smollett's service included "working in the bookstore, critiquing in the broadcast studio, and speaking to students and parents who visited."
This is a developing story.