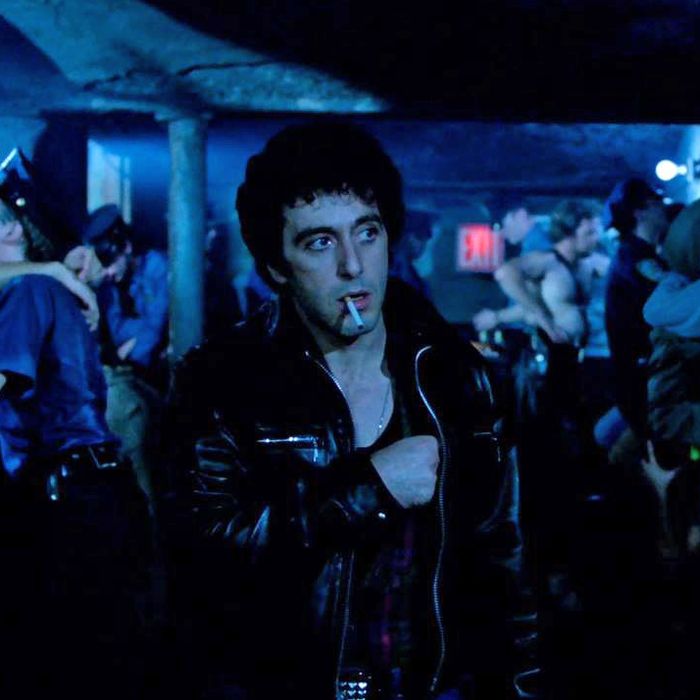 Al Pacino in in
Cruising
.
Photo: United Artists
In 2015, Kevin Bergeron of Waxworks, a vinyl reissue label that specializes in soundtracks, approached director William Friedkin about collaborating on a release for his most famous film, The Exorcist. Friedkin, an Oscar winner and a crucial figure in American cinema during the 1970s, was so impressed with the sound and look of the final product that he quickly agreed when they asked him about teaming up again for a soundtrack reissue of Cruising, his most maligned film.
Cruising is a dark thriller that stars Al Pacino as a young cop who goes undercover to track a killer stalking homosexual men in New York's S&M scene. Following a series of articles by Village Voice writer and gay-rights activist Arthur Bell, in which he criticized the movie for the impact it would have on the queer community, the production was met with multiple hostile demonstrations as it filmed in the West Village and the Meatpacking District in the summer of 1979. When Cruising was released in February of the following year, it was met not only with more protests, but critics who described it as "a powerful film [that] dissipates its force and leaves us feeling merely confused and annoyed" and said "it fails as film by refusing to go far enough."
In the ensuing decades, as it's been shown for special engagements in theaters and revived for home-entertainment formats, there's been a growing reconsideration of the film's merits by filmmakers and critics. It has amassed fans among modern New York City DJs who pine for its less sanitized vision of New York City nightlife, and in 2014, James Franco and Travis Mathews directed Interior. Leather Bar., a film that reimagines the 40 minutes of material that Friedkin had to cut to avoid an X rating. (Friedkin has since described those actual 40 minutes as "pure pornography.")
When he originally put together the music for Cruising, Friedkin enlisted the help of Jack Nitzsche — a producer, musician and arranger who was a Zelig-type figure in California music for decades. To soundtrack Friedkin's dark and bleak vision, the two amassed multiple tracks from artists including nihilist L.A. punks the Germs, one-time CBGB mainstay Willy DeVille and Mutiny, a funk band led by former Parliament-Funkadelic drummer Jerome Brailey.
For the Waxworks's triple-album reissue, which was released earlier this month, they included all the songs recorded for the film, many of which were excluded from the original soundtrack. Vulture spoke to the filmmaker about what they were really playing in S&M clubs in the late '70s and how his directorial approach was influenced by watching Phil Spector's 1960s recording sessions.
How did you and Jack Nitzsche originally decide which artists to feature on the Cruising soundtrack?
We went around to the clubs in Los Angeles where they were playing: Madame Wong's West, the Troubadour, the Whisky. There were a whole bunch of clubs where these bands played, and some even more obscure that have long since ceased to exist. Those acts were not in the mainstream then.
The original music in the clubs where I filmed Cruising was the usual disco that was in every club. It was Donna Summer and Giorgio Moroder. I frankly wasn't interested in that music, and I didn't think it caught the vibe of the film. But when I went around and heard the punk rock bands, I thought, Yeah, this is what I want in the picture.
Did they have DJs in the underground S&M clubs?
No, there were no DJs. It was just recorded music. They simply would build a reel of a bunch of these tracks, and that's what played. All the tracks were the same no matter what club you would go into. Whether it was primarily a sex club or simply a dance club, the music was the same.
Some filmmakers get caught up authenticity questions, like is this what would really be playing?
I didn't care about that. I wasn't making a documentary. Cruising is not a documentary. I was more interested in a certain vibe, something much more hard-edged than what you would hear in a place like the Mineshaft.
Why did you pick the specific punk groups on the soundtrack? There were many groups at the time just getting going.
From one group to another, I thought they were really the most interesting. They had the most unique sound. We had a couple of tracks by Willy DeVille, who was called Mink DeVille at the time. Jack Nitzsche said that he was the best singer he had ever worked with. Jack had done tracks with everybody in those days, from Mick Jagger and Buffy Sainte-Marie to these bands, and he was really kind of a musical prophet. He saw this stuff coming. I'll tell you, without Jack I probably wouldn't have gone to listen to the Germs.
But then I met all these groups, and I found them very interesting. A few of them were literally crazy, like Darby Crash, who I think died around the age of 21 or 22. He OD'd, but these guys off the stage were different people. Darby was way out there, but a lot of them … The woman called Madelynn Von Ritz, I knew her in another way. She was a hairdresser around L.A. for people like Cher and other musical stars and some actors. She had a unique voice that Jack Nitzsche recognized. Jack found out that she could sing in a very unique way that's somewhere in the middle between a male and a female voice, so she's on the album with a song called "When I Close My Eyes I See Blood."
Then I did some other tracks that I used as background scoring, like by Ralph Towner, Barre Phillips, Egberto Gismonti. I was listening to that ECM modern jazz at the time, and I thought that a lot of that stuff was very evocative, so I used those tracks as background scoring, not in the clubs.
How did you meet Jack in the first place?
I first met Jack as a guy who was creating sounds, and he was living in San Francisco. He did some sounds for The Exorcist. The very opening music that you hear in The Exorcist under the opening titles is Jack Nitzsche rubbing the rim of an expensive wine glass.
I actually met Jack years before that when he was doing some charts for Sonny Bono and many others at a studio called Gold Star. Gold Star is where Phil Spector created the Wall of Sound, and that's where "River Deep, Mountain High" was recorded, and a number of other still famous and relevant tracks. When I was a lot younger, I used to go to a lot of the sessions that Jack was doing at Gold Star.
Would you just go to those recording sessions out of curiosity?
When I came out to California in '65 [from Chicago], I was not into pop music. I was into jazz and blues. Then I met Sonny Bono, and he and I became friends [Friedkin directed the 1967 Sonny and Cher film Good Times]. I would go to Sonny's sessions and Sonny originally worked for Phil Spector. I met Phil and I would go to some of those sessions just because I loved the process, and I learned a lot about it.
I learned a hell of a lot about making films from listening to Sonny Bono and Phil Spector create music tracks. They both had an ear, and they used to build their tracks before the lyrics were even finished. They would record the background tracks, and they would do them layer on layer on layer. That influenced the way I made films. I was very conscious of layer on layer on layer to the process of developing a film and working without a script, working on instinct.
How did you decide what type of music to use in your films?
It was usually something that I was listening to at the time, usually that I heard on the radio. I was in London and I heard on the pop radio stations Wang Chung. This was the '80s, and I thought they were fantastic and really different and unusual. So I contacted Jack Hues and Nick Feldman, who were the two guys that made up Wang Chung, and I got them to write a score that became the score for To Live and Die in L.A.
The same is true of Tangerine Dream. I was in Germany doing promotion for The Exorcist and somebody I had met in Frankfurt told me that that there was this astounding group that used to play in an abandoned church at midnight in the Black Forest. That was Edgar Froese and the Tangerine Dream. I went to one of their sessions and that kind of music was brand new in that time. It was really unusual and unique and yet rhythmic and powerful and hypnotic. That's the stuff I used [for Sorcerer].
For the sessions that Jack did with different groups for Cruising, did you talk to them beforehand about what the film was about?
They knew what the film was about, but none of them had seen the film. I had not finished it by the time we were recording music. In some cases, I'm sure I hadn't even started to film it, but I had a script, and I knew what I wanted to do.
Over the years at various points I've read articles about Cruising that go over what happened during the making of it and how it was received, and often make a case for it for it being a good or noteworthy movie. Why do you think this is the film of yours that keeps being reevaluated?A few years ago there was a special screening at the Cannes Film Festival of Cruising, and there were a lot of filmmakers who went to that screening. One of them was Quentin Tarantino. Quentin and I and my wife [Sherry Lansing, the former Paramount Pictures CEO] were talking, and my wife asked Quentin the question that you just asked me. She said, "Why do you think this film has been rediscovered and when it originally came out it was vilified?"
Quentin Tarantino said, "I think it's because it's a reminder of something that is probably lost forever, and that was the freedom of the S&M world at that time." Because this was the time just before AIDS. Quentin said, "It's a lost world. It's a world that young people who are into S&M don't have anymore at their fingertips, and so there's a kind of nostalgia to it."
I think it's more than just people into S&M culture. I think it's anyone in New York who wishes they were part of a world where there is certain kind of personal freedom and that's not overly documented.
That's what I intended at the time. I was making a film about these unsolved murders in the S&M clubs, and nobody would undertake a film like that. That's why I did it.
This interview has been edited and condensed.