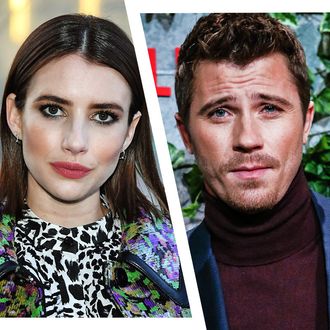 Emma Roberts and Garrett Hedlund.
Photo: Getty Images
Thought she'd end up with Evan, but he wasn't a match! Emma Roberts and Evan Peters have ended their engagement, sources have told Us Weekly. Roberts is now dating Triple Frontier star Garrett Hedlund.
Roberts and Peters began dating in 2012, but took breaks in 2015 and 2016. In 2013, Roberts was arrested following a fight with Peters, but was released after questioning. "Emma and Evan were heading for a split and now are just friends," a source told Us. "Evan has moved out. It wasn't a bad breakup." Other Us sources spotted Roberts and Hedlund walking hand in hand around the Silver Lake neighborhood in Los Angeles. "Garrett and Emma have been friends, but this is new, casual, and just a couple of weeks old," another source said. New, casual, and just a couple of weeks old? Sounds a lot like a little Netflix movie called Triple Frontier!