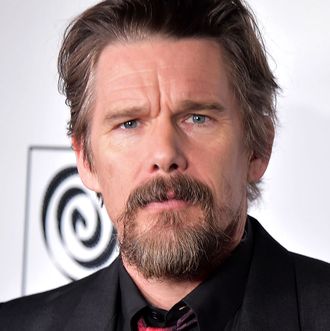 Nineteenth-century man Ethan Hawke.
Photo: Theo Wargo/WireImage
If Ethan Hawke's going to deign to star in a TV show, it better be a suitably serious project. Thus, Hawke is executive producing, co-writing, and starring in the Showtime series Good Lord Bird based on James McBride's novel about famed 19th-century abolitionist John Brown. Anthony Hemingway, of Underground, will direct and executive produce, while Mark Richard (Hell on Wheels) will also executive produce and co-write the series. Like the novel, the series will be told from the point of view of Onion, an enslaved teenager who "becomes a member in Brown's motley family during the time of Bleeding Kansas, eventually participating in the famous 1859 raid on the Army depot at Harpers Ferry." The book was published in 2014 and was previously developed as a movie with Liev Schreiber and Jaden Smith. That event, as you may remember from history class, was one of many that sparked the beginning of the Civil War, though what you may not remember is that Brown grew out a pretty epic beard, which Hawke better be committing to for this show.