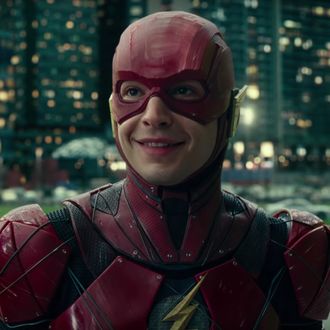 Ezra Miller.
Photo: Photo: Warner Bros.
They say that if you want something done you've got to do it yourself, and Ezra Miller really, really wants to keep playing The Flash. So much so that, according to The Hollywood Reporter, he is working on a draft of the Flashpoint script himself with the help of comics writer Grant Morrison. As THR reports, whether or not Warner Bros. likes Miller's script attempt could determine his fate as the speedster Barry Allen. The unconventional choice reportedly stems from Miller's desire to have a darker story for the Flash stand-alone film, which runs counter to the intentions of directors John Francis Daley and Jonathan Goldstein, who have been attached to direct since early last year.
Daley and Goldstein wrote the springy Spider-Man: Homecoming and directed the black comedy Game Night, both of which align more in tone with how Warner Bros. wanted to frame Flashpoint. (The studio has tried pivoting to fun after the success of Wonder Woman, a bet which paid off with Aquaman and they hope will work equally as well with Shazam!) But since Miller is so invested in the character, they're giving him a shot at his own script with Morrison. The hitch being, as THR points out, that Miller could walk away if WB doesn't go for his script. Adding to the drama: the actor's holding deal in the DC system expires in May. Godspeed, Ezra.