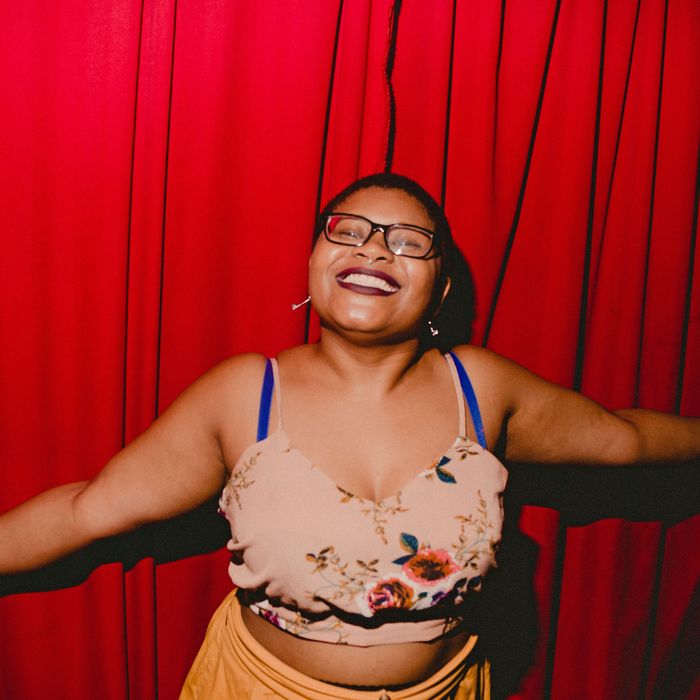 Jourdain Searles.
Photo: Bridget Badore
Jourdain Searles (@jourdayen) is a comedian, writer, podcaster, and cinephile who hails from Georgia and resides in Queens. She co-hosts the weekly Bad Romance Podcast with fellow comedian and writer Bronwyn Isaac. Searles's monthly stand-up show Madams of the Universe has been at Q.E.D. in Astoria since 2016.
This week, Searles and I talked about iconic black women stand-ups, bad rom-coms, and getting paid in drink tickets.
Men don't hit on me as much as they just act incredibly weird around me until I have sex with them. That describes my entire dating history and even my current relationship. When my boyfriend and I were chatting on Tinder, he got drunk one night and sent a message that read: "Je suis un coelacanth," which I think means "I am a rare South Indian fish"? I honestly have no idea, but I thought it was cute that he didn't ask to see my tits.
How did you get into comedy?
I'd been a comedy nerd my entire life. I loved Saturday Night Live and In Living Color. I watched Chris Rock's specials religiously and always thought he was the funniest man on the planet. I also watched a ton of ComicView, which introduced me to hilarious black women like Leslie Jones, Mo'Nique, and Sommore at a young age. The Queens of Comedy is when I really started looking up to Mo'Nique and acknowledging her magic. I wanted her confidence, but I was shy and didn't feel like I had the boldness necessary to perform for the longest time. Then I moved to New York, started grad school, and got engaged. That engagement blew up in my face, and then I was like, Well, might as well try stand-up. It can't be more embarrassing than getting my heart broken, right?
Do you feel like Twitter has been a good platform for you?
For some wild reason people … follow me? I'm still confused by it, but I can't deny the fact that Twitter has done a lot for my career. I got an account in high school, but I didn't actually start using it until early 2016 when I was trying to break away from open mics and get on more shows. Twitter did its thing in that regard. I got booked more and was able to connect with other hilarious female comedians. But I think my Twitter really took a turn when I started talking about movies and sharing my film criticism. Sometimes I worry that has overshadowed my comedy, but also … talking about movies actually pays more sometimes. Editors don't pay for my essays with drink tickets, haha.
I am very much an advocate for the normalization of black girl self-loathing. Where are my 700 indie films with black girls looking sad, smoking, and staring out the window? I will star in all of them.
Do you think that being a black woman with a disability informs your comedy or affects the way your comedy is consumed, both IRL and on Twitter?
I think that everything I do is informed by being a black, partially blind woman. In everything I do, I'm dealing with folks who assume I have an attitude because of how my eyes move and my caution in social situations. I often mention onstage that I don't do crowd work because I can't see the audience's faces clearly enough to assess them in any meaningful way. I frame it like, "Well, at least you know I'm not going to bother you with asinine, invasive questions," and that usually gets a laugh.
When I first moved to New York and would sit front row at comedy shows, comics would react a lot to my facial expressions and eye movements and clown me for them. I never felt comfortable telling a person onstage trying to do their job that I'm visually impaired and the assumptions they're making are wrong. So, I try not to put audience members in that position because I know what it's like to want to explain yourself and realizing it's not the time or the place to do so and feeling paralyzed by that.
I just think it's funny that so much art made by white men is grappling with the ultimate truth that many of them are just boring as hell and refuse to expand their worldview beyond their own experience. But, just to be clear, if any of those boring white men would like to spice up their life by alleviating all of my student debt, I'm here for them.
On your podcast, you critique bad romance movies. What compelled you to start that podcast? What has been your favorite shitty romance film?
I listen to a lot of bad movie podcasts and I enjoy them, but they're all very male-oriented. The hosts are often straight cis men, and whenever they swerve out of their lane to talk about a romantic film, it always feels especially brutal. Many of these dudes are coming from a place of not enjoying any rom-coms and being confused by their appeal. So I wanted to make a show hosted by women coming from a place of knowledge about romantic films and why they resonate (for example, I think The Beautician and the Beast is a masterpiece and Fran Drescher is one of the most beautiful women on the planet).  We're just as critical as the men, but Bronwyn and I like to come from a place of love. We love romantic films and we want them to be good. We know their power. We know that they take craft. We just want to see more filmmakers make an effort with the genre.