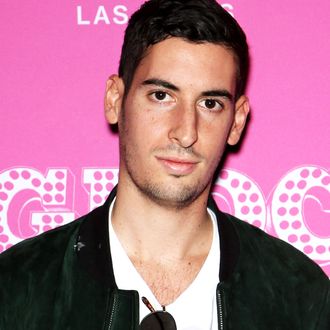 Elliot Tebele, founder of FuckJerry.
Photo: Gabe Ginsberg/Getty Images
Almost two months after the wildly popular Instagram meme account FuckJerry received backlash from comedians and artists for posting other people's work without credit or compensation, one Twitter user has decided to take his case to court. This week, a complaint was filed in the Southern District of New York on behalf of Nigerian-based Twitter user and Instagrammer Olorunfemi Coker, who has 133,000 followers on Twitter and over 62,000 followers on Instagram. The lawsuit alleges that FuckJerry posted a screenshot of a January tweet by Coker to its Instagram account without Coker's permission and used it to advertise its JAJA tequila brand. (The post no longer appears to be on the FuckJerry Instagram page.) According to Coker's lawyer Scott Burroughs, this is the first case of its kind brought against FuckJerry.
The complaint, filed yesterday, alleges several violations by FuckJerry, including copyright infringement and using Coker's name to promote JAJA and Jerry Media without written consent. The complaint also alleges that Coker sent messages to FuckJerry about the post but did not receive a response. Burroughs says his firm, Doniger/Burroughs, has "a number of clients with claims" against FuckJerry, but Coker's complaint is the first to be filed in court. He notes that similar lawsuits have been filed before, including cases where brands posted photographs to social media without photographers' permission, that have set a precedent for how copyrightable material can be treated by companies on social media. Here are the screen grabs included in the complaint, showing both Coker's original tweet as well as the FuckJerry ad:
According to Burroughs, one way the FuckJerry lawsuit differs from, say, Alex Kaseberg's lawsuit against Conan O'Brien's show accusing its writers of joke theft, is a doctrine called "idea-expression dichotomy." In the case of the Conan lawsuit, the complaint hinges on jokes that are very similar but not identical, while in the case of FuckJerry, it involves copying someone else's content directly without consent. Burroughs says idea-expression dichotomy means, generally speaking, that "ideas are free for anyone to use — so you can't copyright an idea. You can, though, copyright the expression of a particular idea." This presumably makes cases like Kaseberg's a little more complicated compared to ones with FuckJerry, where an argument can't be made that the content was a coincidence or parallel thinking.
When asked about the other tweets FuckJerry posted without permission that didn't include captions advertising their products, Burroughs argues that they're still essentially ads. In those cases, the content creators "are still being exploited in a commercial context, because their material is being used to grow the base, grow the users, grow the clicks, grow the engagement, and that engagement provides the entirety of the valuation for FJerry's brand," he says. "So even if it's not coupled directly with an advertisement, it's still an advertisement for the brand itself. And it still draws revenues, because it allows the brand to sell advertisements for third-party products and services and otherwise monetize the account."
It will be interesting to see what happens next in this lawsuit or any others that are filed against FuckJerry, but as the ongoing legal dispute between Alex Kaseberg and Conan O'Brien shows (that trial starts in May), it will likely be a long time until there's a ruling. In the meantime, Burroughs argues that the DMCA takedown procedure provides a "safe harbor" for platforms like Instagram (Burroughs says Coker did not file a DMCA takedown request, but messaged FuckJerry about the post). He also argues that the current written law is "hopelessly out-of-date" and largely favors tech platforms like Instagram, and that the Copyright Act "needs to be revised to reflect the power of these tech companies in the marketplace and the relative lack of power for the creators."
FuckJerry did not respond to Vulture's request for comment but they did respond to BuzzFeed News, saying the lawsuit is "frivolous" and "we intend to defend it vigorously."
Update, March 22: According to court documents, Coker's lawyer filed a notice of voluntary dismissal yesterday. Elliot Tebele, Jerry Media, and JAJA also released a statement today, in which Jerry Media's counsel, Jason P.W. Halperin, commented on the case. "We are pleased to see that this lawsuit has been dismissed — only two days after it was filed. Our own investigation has revealed that Mr. Coker was almost certainly not the original creator of the Subject Content described in the Complaint and thus he had no standing to bring such a suit at all," Halperin said. "Our clients are now considering taking their own legal actions, including for defamation, against the responsible parties."
The statement goes on to note that Coker's complaint was filed after FuckJerry moved "to a fully consent-based model where it would obtain consent from all content creators to use their material and give them full credit for such content. Jerry Media has implemented and followed this policy for all of its online platforms." The company says that "[i]f and when there are any future lawsuits," it plans to "defend itself vigorously."
Coker's lawyer has not yet commented on the dismissal, but we'll update this post if he does.