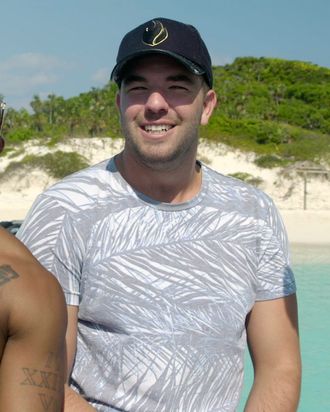 At least one aspect of the doomed Fyre Festival isn't totally bogus.
Two boxes worth of authentic Fyre Fest merch — including T-shirts and shorts — will be auctioned to help pay back some $26 million that "serial fraudster" Billy McFarland owes to people he cheated, Vulture has confirmed.
"We have an assortment of the 'real thing' Fyre Festival-branded tee-shirts, sweatpants, sweatshirts, hats, wristbands and medallions," a spokesman for the United States Marshals Service's Manhattan office said in an email, also writing, "We know that there is tremendous interest in these items in the NY metro area in particular."
On October 11, McFarland was sentenced to six years in federal lockup for orchestrating the massive scam — and running a ticket hustle while he was waiting to be sentenced for Fyre. The Manhattan U.S. Attorney's Office said McFarland scammed Fyre investors out of some $24 million and a ticket vendor out of about $2 million.
In the separate ticket scheme, McFarland made some $150,000 from "fraudulent sales," prosecutors said.
McFarland, now 27, also had to cough up proceeds from his crimes. However, "the United States has not been able to locate, obtain or collect additional assets traceable to the proceeds of the defendant's fraud offense," according to court papers.
But, the feds point out, "the United States has located the following assets of the defendant," such as $240,000 in a bank account — and "two large boxes containing Fyre-branded T-shirts, sweatshirts, shorts and other clothing items that were intended for sale at the Fyre Festival," the court filing said.
McFarland's defense lawyer turned over these boxes to shortly after the sentencing. Authorities found another bank account, but the balance wasn't stated in court documents.
The clothes were then inventoried and appraised, "to protect the government in case the items are fakes or counterfeit," the Marshals spokesman said.
What next?
"The USMS will dispose (or sell) the Fyre merchandise in the most efficient, cost-effective way in the best interests of the U.S. Government," he also told Vulture. "We utilize our contracted partners to handle the marketing and sale and it will be an online auction."
The date of the online auction hasn't yet been set. Photos of this gear aren't available right now, but will be posted for the auction, he said.
After the apparel is sold in an online auction, the government is poised to eventually distribute money from the sale back to vetted victims who come forward.
"Our objective always is to get the funds back to the victims as fast as we can in cases where there are victims," the Marshals also said.
Since proceeds from T-shirts and whatever else found thus far won't cover everything McFarland owes to victims, they would get a percentage "based on their respective losses," according to prosecutors.
McFarland's lawyer declined to comment.
The Magnises "credit card" founder also faces multiple civil suits.
This isn't the first time that U.S. Marshals Service has auctioned off clothing belonging to a convicted fraudster.
Fourteen pairs of Ponzi schemer Bernie Madoff's underwear sold for $200 at auction, according to the Associated Press.