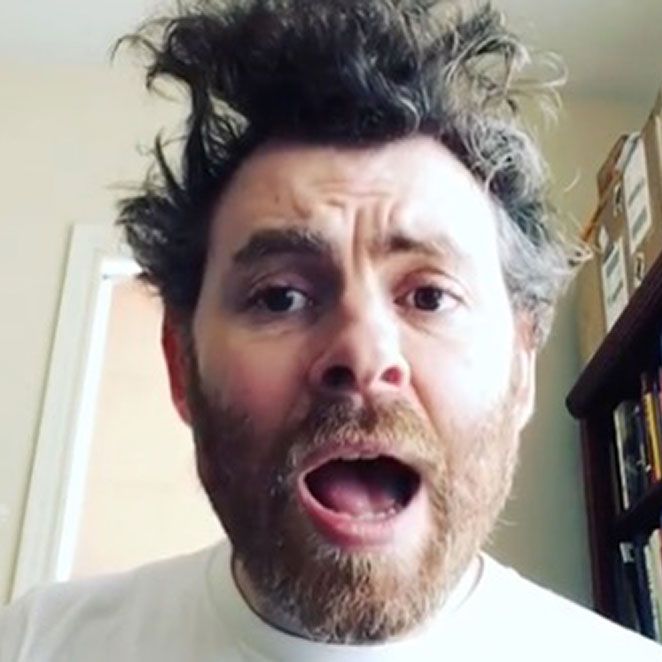 Gabriel Kahane sings Mitt Romney's greatest hit.
Photo: Gabriel Kahane.
Last May, singer, songwriter, and composer Gabriel Kahane found that, for a few hours, at least, he had nothing to do except fret. He had finished composing an enormous piece of music, Emergency Shelter Intake Form, and the Oregon Symphony Orchestra was getting ready to give its world premiere. Just then, the words of Mitt Romney rang through his Twitter feed: "My favorite meat is hot dog." Always attuned to the musical possibilities of unexpected verse, Kahane got to work, and the next day he posted on Instagram a 60-second aria based on that carnivore's credo.
"I was so emotionally wrecked after volunteering at a shelter, asking people who've experienced homelessness about their lives, reading tax policy, and writing a 52-minute orchestral piece, but my writing brain didn't know that we were done, so it kept looking for texts to harvest," Kahane tells me. The Romney fragment turned out to be a gateway drug, and ten months later, he's still at it, crowdsourcing tweets and turning them into deadpan art songs for a series he calls #Twitterkreis: Micro-Songlets From Late Capitalist Planet Earth. He's up to No. 18 so far.
The music is rich, the production values spare. Kahane places his phone on the piano, set to selfie mode and tilted upward so that it catches his spectacularly disheveled hair and some battered cartons atop a bookshelf, and croons a one-minute-or-under tune while accompanying himself at the keyboard. The effect is to suggest that he rolled out of bed, shuffled to his workstation and made the thing up on the spot. In fact, he is reading from a freshly written-out score. "I've never spent more than 45 minutes on one, but I'm not improvising," he says. That becomes obvious once you listen closely and discover how finely he's wrought each song, and how much wry wit and understated drama is compressed into a miniature package, like gear works in a fancy watch.
There's "Marie Kondo," with lyrics by @babadookspinoza:
The year is 2035.
Marie Kondo holds up the condemned man to the crowd:
"Does this man spark joy?"
The crowd jeers: "No, he does not."
She nods silently, throws him into the pit.
And there's "Food Court Salad Whale Song" (words by @LizHackett), surely the greatest musical treatment of this topic ever written:
If multiple women
Sit separately in a food court,
Each quietly eating a salad,
Do not interrupt us.
We are silently communicating through salad,
Like whale song.
Each one is a tiny object lesson in text setting. "My Favorite Meat" (a.k.a "Fleischlied") begins like a Lutheran chorale (or maybe a Mormon hymn?), leaps up to a wistful, falling figure on "is hot dog," then rattles off a deceptively casual repeated-note "by the way." If Kurt Weill had lived into the Twitter age, he might have chortled over these surreal morsels, too.
Kahane has spent the last dozen years marching from one large-scale, long-term undertaking to another: His last album, Book of Travelers, emerged from a 9,000-mile train journey around the country and occupied three years from commission to release. Compared to a monster like that, a Twitter song makes a satisfying warm-up exercise, one he can share with an audience instantaneously. But composing in miniature (and for free) is still composing. "When I'm looking for the musical grammar or the comedic metabolism of a tweet, sometimes a solution presents itself immediately, and sometimes I have to wrestle with it to find a structure," he says, before catching his own soberly analytic tone. Writing the Twitter songs is fun — addictive, even. "I have to make sure they don't derail the projects I'm actually getting paid for."