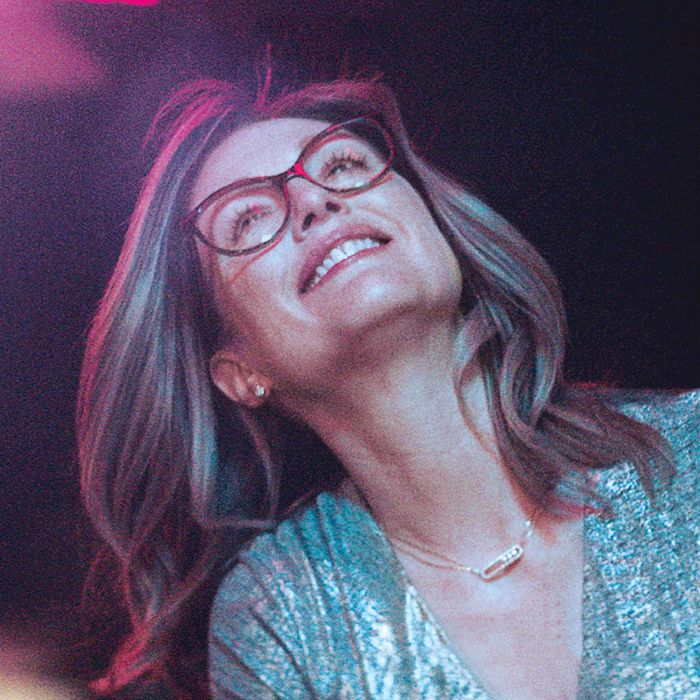 Julianne Moore.
Photo: Courtesy of A24
At an emotional low point in Gloria Bell, the title character (Julianne Moore) drives along listening to Gilbert O'Sullivan's tenderly fatalistic "Alone Again (Naturally)" — "In my hour of need / I truly am indeed / Alone again, naturally" — a state the Chilean director Sebastián Lelio evokes easily, like someone who knows it well. As he proved in the original Chilean Gloria (2013), the Oscar-winning A Fantastic Woman (2017), and the lesbian drama Disobedience (2017), Lelio has a knack for bonding with characters (lately female and transgender) who aren't merely lonely but find themselves suddenly, scarily unattached from all they've known, with little to rely on but spunk and pop songs like the '80s disco hit "Gloria" — in which Laura Branigan sings, "You don't have to answer / Leave them hangin' on the line, oh-oh-oh, calling Gloriaaaa."
It was a transcendent moment when Paulina García, as the 58-year-old divorced heroine of Lelio's original, danced wildly to "Gloria" after finding and losing but continuing to search for sexual fulfillment, leaping back into the maelstrom. Lelio said in interviews that the film's emotional heart isn't "Gloria" but the great bossa-nova song "The Waters of March," best known in English in Susannah McCorkle's exquisite cover. He aimed to conjure that first tingle of spring amid the harshness of winter, the embrace of the promise of renewal. The film was a wonderful surprise.
The L.A.-set version isn't, but it has a life of its own — it's far better than most American remakes. In Gloria Bell, Moore wears giant glasses yet still leans forward, as if nearsightedness (or the weight of those specs) has permanently altered her center of gravity. As the movie opens, she walks into a dance club for the middle-aged with a frozen, hopeful smile that shows off all her nice teeth. A marvelous chameleon, she might be channeling her former co-star Annette Bening, who's peerless at evoking the tension between her characters' tight masks and inner chaos. But is Moore unmoored enough? She might be too controlled an actress to convey the terror of floating free — a terror built into the role of Alice in Still Alice, in which she played a woman whose very existence depends on the mind she is losing.
Still, Moore does all sorts of things beautifully, as when Gloria phones her grown son and daughter (they never call) and leaves long messages that end, "It's your mother," with a mixture of self-effacement and passive aggression. She's also delightful singing flatly along with pop songs in her car, as she was as a porn actress speaking flatly in Boogie Nights. Moore is such a perfectionist that she plainly revels in playing people who can't hit the notes.
The core of Gloria Bell is the character's intermittently torrid affair with Arnold (John Turturro), an ex–Navy officer with two dysfunctional grown daughters whose calls to him are always throwing off his hard-won equilibrium. This is one of Turturro's most soulful performances. The gray in his curly hair and beard softens his features, so it's especially disturbing when he gives you glints of the oppressive drama queen within. It's too bad the otherwise deft script (by Lelio and Alice Johnson Boher) tips its hand by having Arnold announce that "the majority of gun owners are responsible" and assert that the climate has "natural cycles." Oh, crap: a global-warming denier. Gloria inexplicably holds her smile and shrugs to her friends, as if to say, "Well, everyone has a valid point of view." Not in movies like this they don't. Or in the real world, for that matter.
Gloria Bell is best when it's least definite, when the conversations are full of awkward holes and the relationships are in flux. I wish there were more of Michael Cera as Gloria's bereft, angry son, whose wife has gone off to the desert and left him with a baby. Scenes in which Gloria is awakened by her upstairs neighbor (the landlady's son) pounding on the walls and screaming that he wants to die suggest a world on the brink, as does the ominous appearance — and reappearance — of a skeletal cat, like something that has leapt from a mummy's tomb. But the original Gloria got a lot of help from Chile, with its turbulent history and uncertain present. L.A. is a different brand of purgatory.
Lelio does have a great setting in Caesars Palace, where Arnold takes Gloria to rekindle the relationship — the vast, impersonal casino is an awesomely awful place to be stranded. If the final moments don't constitute an epiphany, they send you out with a strange high, the upshot of Moore's maniacal gyrations and Laura Branigan's urgent question to the woman behind the mask: "Are the voices in your head calling, Gloriaaaaaa?"
*This article appears in the March 4, 2019, issue of New York Magazine. Subscribe Now!