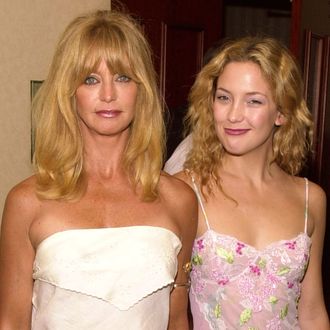 Goldie Hawn and Kate Hudson in 2000.
Photo: Chris Weeks/Getty Images
In momagers we trust. In the New York Times' micro oral history of the most important teen movie ever made — 10 Things I Hate About You, of course — the movie's casting director dishes on the teens who almost walked the halls of Padua High. "We screen-tested Josh Hartnett, Eliza Dushku, Heath and Julia. But Julia and Heath just had the best chemistry together. I loved Katie Holmes. She was about to get Dawson's Creek, and we had to make a decision really fast," Marcia Ross told the Times. "The other person I loved was Kate Hudson. But her mom [Goldie Hawn] didn't like the script for her, so she passed." Instead, a month before 10 Things opened in March of 1999, Hudson was the star of 200 Cigarettes, a movie that definitely did not feature Heath Ledger serenading a soccer team with Frankie Valli. Cue a long, Lady Bird–worthy eye roll: Moms, amirite?!