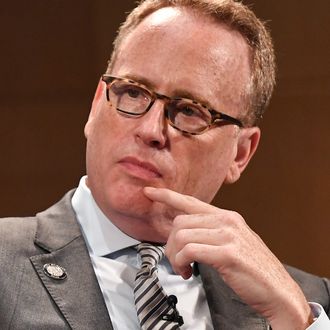 Incoming WarnerMedia exec Robert Greenblatt.
Photo: Rob Latour/Variety/REX/Shutterstock
When HBO first emerged as an original programming powerhouse around the turn of the century, it promoted itself with the tagline, "It's not TV. It's HBO." It was both an immodest marketing slogan and, to those who worked at the company, a mantra. HBO — reliant on subscriber revenue rather than ads, more interested in Emmys than ratings — considered itself apart from the rest of the television business. That sense of separation even extended to its corporate structure, allowing HBO to exist as its own stand-alone silo through decades of mergers and acquisitions with other media companies. But no more: AT&T, which bought HBO as part of its purchase of the former Time Warner (now WarnerMedia), has, as expected, officially stripped the pioneering pay cable service of its independence and combined its operations with the ad-supported networks of its Turner division (TNT, TBS, and TruTV). AT&T execs believe pulling all of their new TV toys together into one playhouse, with former Showtime and NBC boss Robert Greenblatt in charge, will make it easier to compete against Netflix, Amazon, and the slew of other streaming services about to launch. That may be, but by changing up a business model which has served HBO well for decades, AT&T risks destroying much of what made the network so successful in the first place.
It's not that AT&T has done something radically outside the box by reorganizing its TV networks under the collective leadership of an industry veteran like Greenblatt. In recent months, Disney, CBS, NBCUniversal, Viacom, and AMC Networks have also all made moves to centralize their TV assets in one form or another in preparation for the next phase of the streaming wars. These changes are happening because, while individual linear cable channels aren't going away anytime soon, media conglomerates now believe the future is all about taking offerings from their different brands and bundling them together into one (or a handful) of Netflix-like direct-to-consumer offerings. A WarnerMedia service, for instance, might include the Game of Thrones spinoff from HBO; the new seasons of Search Party (TBS) and Claws (TNT); library content from Warner Bros. TV (Friends, Gossip Girl); and some original shows developed exclusively for streaming.
In the past, it wasn't a big deal if HBO and TNT execs never talked to each other or even knew what the other was doing because their programming strategies never really overlapped. But now that their shows will all be blended together and pitched to consumers as one offering, AT&T execs to want to have one person lead "a more coordinated approach to the company's original programming," as WarnerMedia described it in a press release announcing the new corporate structure on Monday. This is why Greenblatt, in addition to overseeing HBO and the three aforementioned Turner cable networks, will also be in charge of the company's streaming service via his new role as chairman of WarnerMedia Entertainment and Direct-to-Consumer. He's there to make sure all of WarnerMedia's adult-oriented, scripted TV brands are on the same page.
But while all this sounds good on paper, there's reason to fear AT&T may have just made a huge mistake. HBO chief Richard Plepler and Turner president David Levy last week announced they are leaving their respective companies, departures related — directly or indirectly — to WarnerMedia CEO John Stankey's move to combine HBO and Turner. Plepler's exit is particularly problematic: The chief architect of HBO's success the past decade is headed out the door at a critical juncture. HBO is about to say good-bye to both its biggest commercial hit (Game of Thrones) and one of its most critically acclaimed comedies (Veep). It is also preparing to dramatically increase the number of programs it produces in order to better compete against Netflix (and stock the WarnerMedia streaming platform). Plepler was uniquely qualified to help guide HBO through such a momentous transition. Instead, he's planning a farewell party, while those left at HBO anxiously await what's next.
This is not to suggest HBO is on the verge of collapse. Plenty of talented execs remain at the network, including programming chief Casey Bloys, who's already locked in place a slate stacked with a slew of potential hits like a Game of Thrones prequel, Damon Lindelof's much-anticipated take on Watchmen, the Jordan Peele–J.J. Abrams–produced drama Lovecraft Country, and the series adaptation of Philip Pullman's His Dark Materials trilogy. Audiences won't notice any difference in HBO programming for years, other than there's much more of it. (That increase in output was authorized months ago by Plepler.) Bloys — and for that matter, Greenblatt — also both have deep ties to actors and showrunners, relationships which will no doubt serve HBO well post-Pleper. "Bob is a winner — best creative available," one agent emailed me last week when word began leaking out about Greenblatt signing with WarnerMedia.
Still, Plepler was part of the DNA at HBO, a nearly 30-year veteran of the company whose understanding of the network and its audience were key to its success this past decade. His presence — and HBO's status as a stand-alone unit — were huge selling points when HBO went up against FX or Netflix or Showtime for projects. Others might offer more money, but HBO could promise talent the chance to work in a uniquely supportive environment, a virtually independent company that wasn't just another cog in some conglomerate's content factory. (Netflix offers similar independence, but its overwhelming volume makes it its own factory.) "Everyone I've talked to is scratching their head," one industry vet told Vulture Monday, referring to the news about Plepler and Levy leaving. "Why did AT&T pay so much for the company to let these people walk out the door?" Similarly, Matthew Ball, a former Amazon Studios exec who writes about the changing media world for MediaREDEF, last week characterized Pleper's exit as just short of a disaster. "I don't need a 30-part nuanced tweetstorm to say that AT&T's loss of HBO CEO Richard Plepler (who had an excoriating resignation letter that never said AT&T) is terrible for HBO, AT&T and Hollywood," Ball tweeted.
Stankey and those sympathetic to his thinking have suggested something had to change at HBO if it (and by extension, WarnerMedia) were going to successfully compete against the Netflixes of the world. And that's true: WarnerMedia very much needs to scale up its programming options and come up with a direct-to-consumer offering more expansive than what HBO currently offers. Stankey's solution to this, apparently, was to take away Plepler's autonomy and force HBO to adapt to whatever new streaming model WarnerMedia is about to create. But a more talent-friendly exec might have figured out a way to put Plepler at the center of this transformation. That doesn't mean Stankey should have just put Plepler in the post now filled by Greenblatt. It's not even obvious Plepler wanted that gig. Instead, Stankey might have been better served figuring out how to make the rest of WarnerMedia's empire adapt to the HBO model.
HBO's reputation and ability to nurture shows (and showrunners) obviously doesn't disappear with Plepler. But it will change. A producer who sells a pitch to Bloys might now reasonably worry that Greenblatt could decide at some point during the development process that her idea really ought to be on TBS or even streaming only. That was never on the table when HBO was a separate entity. Some industry insiders also believe these moves are as much about AT&T's desire to save money by combining so-called back-office staff as they are about a change in strategic thinking. Indeed, the Wall Street Journal Monday reported "significant staff reductions" are expected soon, both at Turner and HBO, as the two companies see some of their overlapping divisions combined. Influential financial analysis firm MoffettNathanson is already warning of a ripple effect from the restructuring and the planned layoffs. "Not only will AT&T lose talent in the layoffs, they will also lose talent in the signals layoffs send to those who would ostensibly remain," the company's Craig Moffett wrote in a research note. Moffett, while admitting the benefits of cutting costs, struck a pessimistic note in his evaluation of the reorganization. "The news of the past few days is at best disquieting, and, at worst, alarming," he wrote. "At a time when media companies already face tremendous structural risks, AT&T has added an additional layer of cultural risk that is unique."
The other reason to be generally wary of how things might go for HBO (and WarnerMedia) in the wake of this restructuring is that telephone companies like AT&T don't have a great track record when it comes to the media and entertainment business. Verizon's attempt to break into entertainment with its Go90 video service was an utter disaster, and was killed last summer after three years. AT&T's stewardship of DirecTV, which it purchased in 2015, hasn't exactly gone swimmingly, either: The company made a big push to capture cord-cutters with a direct-to-consumer streaming service designed to replace DirecTV's core satellite business, but after a decent start, the streaming product — DirecTV Now — is actually losing subscribers, barely two years after being introduced. During the fourth quarter, DirecTV Now shed almost 300,000 customers, nearly 15 percent of its overall base. By contrast, Google's YouTube TV and Hulu with Live TV continue to grow.
AT&T brass have insisted in recent months they realize an entertainment-centric company such as WarnerMedia can't operate in the same ruthlessly bottom-line-oriented manner as other parts of its telecommunications empire. "It's a very different kind of business," AT&T CEO Randall Stephenson said just a few weeks ago during an interview with Recode's Peter Kafka. "It inherently and necessarily has a very different culture … It's going to be run very independently." Stephenson was referring to WarnerMedia in relation to AT&T, and not HBO's place within WarnerMedia, so the events of the past week aren't necessarily contradictory. In hiring Greenblatt, it's not as if Stankey has put someone in charge who's a Hollywood outsider; just the opposite. He was a key player in building the Fox network during its infancy (he developed Beverly Hills, 90210 and The X-Files); helped Showtime shed its image as an also-ran; and led NBC out the Nielsen abyss it found itself in following the rule of Greenblatt's new WarnerMedia colleague, CNN president Jeff Zucker. And while Greenblatt very much likes to get involved in a handful of projects about which he's passionate (think Smash or the Will & Grace revival), he's not known for micromanaging his direct reports. If he lets Bloys and Turner chief Kevin Reilly truly run their companies as independent divisions — and he told Variety Monday he plans to do exactly that — perhaps audiences won't even notice a difference in their respective creative outputs, save for a huge increase in volume. But it's just as easy to imagine a scenario where WarnerMedia, obsessively focused on competing with Netflix, slowly erodes the HBO brand from within. As Moffett wrote in his research note, "It could easily end very badly indeed."