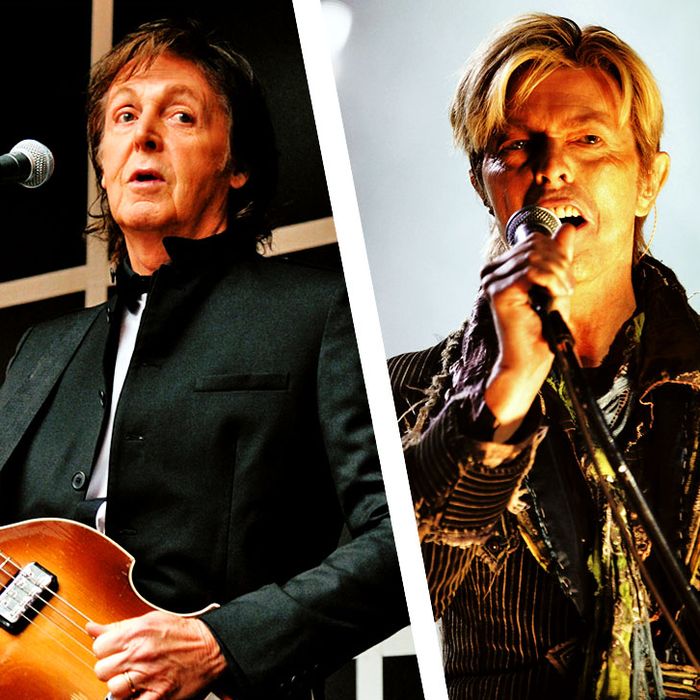 Photo: Vulture and Getty Images
With the annual Rock and Roll Hall of Fame ceremony returning to its newish Brooklyn stomping grounds next week, one of the six deserving inductees is already causing trouble for the boomer proceedings: those pesky Radiohead lads. Thom Yorke has stated that he has no intention of gracing Barclays with his presence due to an overseas work schedule he could easily clear. Meanwhile, the rest of his mates previously said they also couldn't care less about the Hall (save for Colin Greenwood), thus putting the band's segment under intense scrutiny, should anything come to fruition at all. Following last year's beautiful mess of Dire Straits' induction — where vague drama plagued its two most prominent members, preventing them from attending — these ongoing Rock Hall squabbles are not only a bummer for fans hoping to bask in an evening of sonic bliss, but undermine the institution as a whole.
But skipping a Rock Hall induction isn't exactly a new phenomenon for musicians, as it has happened with relative consistency ever since its inaugural year in 1986. What is interesting, though, are the various reasons behind the snubs, which can generally be sorted into the following categories: basic institutional hatred, lingering in-band drama, and scheduling conflicts. So, before we celebrate Stevie Nicks, Roxy Music, the Cure, Janet Jackson, Def Leppard, and Radiohead's class of 2019, let's look back at all the previous classes' absences, sorted by most to least petty rationale.
The anti–Rock Hall crew
Grateful Dead's Jerry Garcia (1994)
Although he never offered a formal comment on his absence, it was reported at the time that Garcia thought the Rock Hall was "stupid" and was opposed to its bigger message about music artistry. The remaining Grateful Dead members disagreed, and showed up to accept the honor — with a Garcia cardboard cutout in tow.
Sex Pistols (2006)
In perhaps the most infamous Rock Hall diss of all time, all surviving members of the Sex Pistols — Paul Cook, Steve Jones, Glen Matlock, and John Lydon — published a handwritten letter to condemn the institution and everything it stands for. It deserves to be read in full, typos and all:
Next to the SEX-PISTOLS rock and roll and that hall of fame is a piss stain. Your museum. Urine in wine. Were not coming. Were not your monkey and so what? Fame at $25,000 if we paid for a table, or $15000 to squeak up in the gallery, goes to a non-profit organisation selling us a load of old famous. Congradulations. If you voted for us, hope you noted your reasons. Your anonymous as judges, but your still music industry people. Were not coming. Your not paying attention. Outside the shit-stem is a real SEX PISTOL.
Rolling Stone and Rock Hall co-founder Jann Wenner took the liberty of reading the letter in full while inducting the band:
Black Sabbath's Ozzy Osbourne (2006)
In a stunning reversal, Osbourne decided to accept an induction honor years after prematurely writing the Rock Hall to take Black Sabbath "off the list" of potential inductees. "Save the ink. Forget about us. The nomination is meaningless, because it's not voted on by the fans," he wrote at the time. "It's voted on by the supposed elite for the industry and the media, who've never bought an album or concert ticket in their lives, so their vote is irrelevant to me. Let's face it, Black Sabbath has never been media darlings. We're a people's band and that suits us just fine." Flanked by his bandmates Tony Iommi, Bill Ward, and Geezer Butler, Osbourne ended up happily enjoying their ceremony in 2006, where they were inducted by Metallica's Lars Ulrich and James Hetfield. "I realized I don't have the right to speak for Black Sabbath. All I am is the singer," he later reflected. "If we'd all sat round a table and talk about it, that would've been okay, but I didn't have the right to say that, and I truly apologize."
Guns N' Roses' Axl Rose (2012)
In a long letter addressed to the Rock Hall, Rose declined his induction with Guns N' Roses and asserted that the honor had zero significance to him. "I strongly request that I not be inducted in absentia and please know that no one is authorized nor may anyone be permitted to accept any induction for me or speak on my behalf," he wrote, in part. "Neither former members, label representatives nor the Rock and Roll Hall of Fame should imply whether directly, indirectly or by omission that I am included in any purported induction." Days after the ceremony, Rose wrote another public letter to apologize to fans and the city of Cleveland about his decision not to attend, and insisted he did not "attack" the institution. "These are genuine issues I don't have enough verified information on to have more than rough ideas. Certainly not enough information to make any judgments about," he clarified. "I still don't exactly know or understand what the Hall is or how or why it makes money, where the money goes, who chooses the voters and why anyone or this board decides who, out of all the artists in the world that have contributed to this genre, officially 'rock' enough to be in the Hall?" The rest of the band went to play at their induction without Axl at the helm (and also sans guitarist Izzy Stradlin), replaced by Myles Kennedy from Slash's backing band.
We're not getting the band back together, man
The Beatles' Paul McCartney (1988)
Despite the presence of George Harrison, Ringo Starr, and Yoko Ono, an ongoing squabble about songwriting royalties swayed McCartney from attending. "After 20 years, the Beatles still have some business differences, which I had hoped would have been settled by now," he said in a statement. "Unfortunately, they haven't been, so I would feel like a complete hypocrite waving and smiling with them at a fake reunion." McCartney would later induct John Lennon into the Rock Hall in 1994 and Ringo Starr in 2015; he also happily attended the ceremony for his solo work in 1999.
The Supremes' Diana Ross (1988)
Ross and Mary Wilson, the two surviving original members of the Supremes, had harbored a feud in the many years leading up to the Rock Hall, which accelerated in 1986 when Wilson very unfavorably wrote about Ross in her memoir. Wilson showed up for the band's induction, while Ross stayed home with her newborn child.
Pink Floyd's Roger Waters (1996)
Lingering bitterness between Waters and his fellow Pink Floyd members prevented him from attending the ceremony, which primarily stemmed from a 1986 lawsuit that he lost to his bandmates, David Gilmour and Nick Mason, regarding the use of the Pink Floyd name. (Gilmour and Mason would later extensively tour without Waters, although they invited him on numerous occasions to participate.) Years later, Waters admitted that he regretted the legal action and his behavior.
Van Halen's Eddie Van Halen, Alex Van Halen, and David Lee Roth (2007)
Various threads of drama inconveniently plagued the band at the time of their induction, which can be quickly recapped as such: Eddie was in rehab, Michael Anthony was fired and replaced with Eddie's son, and David was generally pissed at how the Rock Hall wanted to handle their induction. Oh, yeah, and they were planning a reunion tour, which was postponed because of those aforementioned three things. Anthony and Sammy Hagar ultimately attended the induction, where they likened it to a "bittersweet" moment in their career.
Chicago's Peter Cetera (2016)
Thanks to a wildly specific disagreement, co-founder Cetera chose not to attend Chicago's induction due to his bandmates refusing to change the keys of their hit song "25 or 6 to 4" to better accommodate his vocals. "Unfortunately this scenario doesn't work for me. I know we all did our best to make it happen, but I guess it's just not meant to be," Cetera said in a pre-ceremony statement. "Personally I'm frustrated and tired of dealing with this and it's time to move on." Fellow band member Robert Lamm admitted the situation was "unfortunate" and wished they found a solution to the impasse. "If Peter didn't want to play or couldn't play or couldn't sing or whatever, at least he could have stood with us," he explained backstage at the ceremony. "I think he certainly deserves it."
Suspiciously timed scheduling issues
Van Morrison (1993)
Due to vague "work commitments" overseas, Morrison had his pal Robbie Robertson accept his award on his behalf. "However, thank you very much for inviting me, and I would like to take this opportunity of wishing you all a very enjoyable evening, and hope that everything goes well," Morrison wrote as a short speech. "Best wishes."
The Animals' Eric Burdon (1994)
Burdon was touring in Europe as a soloist when the Animals were inducted, with the front man ultimately choosing not to cancel his tour dates. Still, he has nothing but good things to say about the Rock Hall, and would later perform with Bon Jovi at the museum's opening a year later. "It feels like being a part of a musical family," he said of the institution. "Every time I visit, my wife and I are warmly welcomed and treated well. I think they are doing a great job."
David Bowie (1996)
Bowie was touring around Europe for his Outside album when the ceremony occurred, and he never issued any kind of statement in acknowledgment of the honor. David Byrne did the induction proceedings, while Madonna accepted the award on Bowie's behalf.
Genesis's Peter Gabriel (2010)
In a similar situation to Yorke, Gabriel was undergoing extensive rehearsals around Europe with an orchestra at the time of the ceremony, a commitment that was planned months prior to learning of Genesis's induction. However, when Gabriel was inducted as a solo artist four years later, he happily showed up and joked about his previous no-show. "I'm very grateful to have gotten in again," he said. "It's a huge honor since it's for your whole body of work and not just a specific project."
The Hollies' Tony Hicks and Bobby Elliott (2010)
Founding members Hicks and Elliott were performing with their "new" iteration of the Hollies in England, and decided not to cancel a few gigs to fly to America for a reunion. The remaining members, including Graham Nash, performed at the ceremony with the help of Paul Shaffer.
Roxy Music's Brian Eno and Paul Thompson (2019)
The band's publicist issued a statement that said founding member Eno, as well as longtime drummer Thompson, had "other commitments" to tend to the evening of the ceremony. Neither of them issued an additional comment regarding their absence. We should probably note that Eno and frontman Bryan Ferry were prone to feuding when they were both in Roxy Music, although we can't say for sure if this contributed to Eno's decision.
A hodgepodge of excuses and misfortune
Rod Stewart (1994, 2012)
Pour one out for Stewart, who not only missed his induction as a soloist, but also with his band, the Faces. In 1994, the deadly Los Angeles earthquake prevented him from flying out for the ceremony because of the need to look after his "terrified" children. Almost two decades later, Stewart also had to miss reuniting with the Faces because of a strep-throat diagnosis that left him bedridden and unable to speak. "I'm absolutely devastated," Stewart said prior to the ceremony in a statement. "Shattered that I'm going to miss my second induction into the Rock & Roll Hall of Fame — and this time alongside my mates."
Jefferson Airplane's Grace Slick (1996)
Despite the rest of the San Francisco band coming together at the induction, Slick refused to attend, based on her opinion that "all rock-and-rollers over the age of 50 look stupid and should retire." She added a few years later: "I'm not comfortable being an old person on stage. Rock is like sports. You have a certain run, then get out." The last time she performed live with Jefferson Airplane was in 1989.
Joni Mitchell (1997)
Weeks prior to her Rock Hall induction, Mitchell was reunited with her daughter, whom she had given up for adoption as a newborn about 30 years prior. Fearing a tabloid media circus would eclipse the evening's honor, Mitchell opted not to attend in favor of spending time with her family.
Neil Young (1997)
Young's Rock Hall ideology is a bit all over the place — he showed up for his 1995 induction as a soloist and has inducted five acts into the Hall over the past three decades — however, his 1997 ceremony with Buffalo Springfield is a different story. He decided to boycott the event that year, owing to his belief that the intimate ceremony shouldn't air on television for public consumption. "This presentation is in direct opposition to what I believe," Young wrote. "Although I accept the honor, in the name of rock and roll, I decline to take part in this TV presentation and be trotted out like some cheap awards show. There are already too many of these."
Queen's John Deacon (2001)
Deacon retired from the music industry in 1997, and he's slowly become more and more reclusive from public life in the years since. He refused to attend the band's induction for that reason, with bandmates Brian May and Roger Taylor later admitting that Deacon had "completely retired from any kind of social contact" and is "a little fragile."
ABBA's Bjorn Ulvaeus and Agnetha Fältskog (2010)
Fifty percent of the Swedish pop quartet were no-shows, owing to separate reasons. Per an interview fellow band members Benny Andersson and Anni-Frid Lyngstad did in the lead-up to the ceremony, Fältskog's fear of long flights hindered her from leaving Scandinavia, while Ulvaeus had to deal with "a big family thing" that couldn't be rescheduled.
Beastie Boys' Adam Yauch (2012)
Yauch's ongoing battle with cancer prevented him from flying to Cleveland. Out of solidarity for their friend, Yauch's fellow bandmates, Mike Diamond and Adam Horovitz, canceled their scheduled induction performance. During their speeches, Diamond and Horovitz read Yauch's remarks on his behalf, which thanked the Rock Hall for honoring hip-hop and the group's loyal legions of fans. A month later, he died at the age of 47.
Linda Ronstadt (2014)
Like Yauch, Ronstadt — who made limited public appearances in the years leading up to the Rock Hall — was too ill to make an appearance following her Parkinson's disease diagnosis. However, in a statement released prior to the ceremony, she implied she wouldn't have come even with good health. "I haven't given it one thought, I have to say," she explained. "It wasn't anything I ever thought about. I never thought of myself as a rock n' roll singer; I sang it, but it's just one of the things I sang. I sang a lot of different stuff. I didn't go the last two times I was nominated for a Grammy, either. I don't have anything against it; you just don't do things for those reasons. If you're working for prizes, you're in trouble."
Dire Straits' Mark and David Knopfler (2018)
The sibling front men squashed fans' dreams of a reunion with very different rationale: David claimed the Rock Hall "reneged" on its promise to cover the required travel expenses to get to Cleveland from his native England, while Mark, well … didn't say anything at all. It's been a year, and he still hasn't commented or offered a response as to why he didn't show up. The closest we have to any reasoning comes from the band's bassist, who says Mark insisted that "he didn't feel like coming" and "it didn't appeal to him."