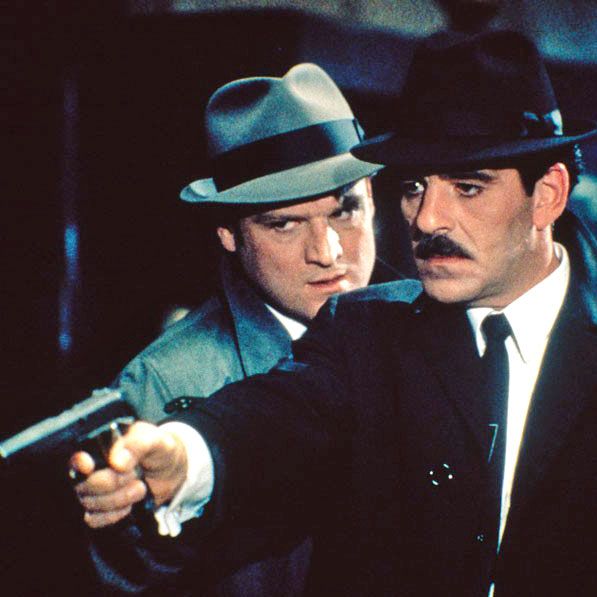 1963. Lieutenant Mike Torello is the head of the Chicago Police Department's Major Crimes Unit. The top file on his desk is that of Ray Luca, a well-coiffed upstart in the city's formidable criminal underworld. Luca is a minor figure in Chicago organized crime, but Torello catches on to his plan to get made: Luca wants to monopolize the illegal sports-gambling industry, and he plans to locate the headquarters of this national betting network in Las Vegas. Torello and Luca are rivals, but each develops a kind of admiration for the other and his method. They're both wounded men who put work above all else; they wander the same lonely streets at night. Torello's pursuit of Luca turns from an assignment into an obsession.
1986. Producer Michael Mann rules the television airwaves with Miami Vice, a show that, as legend has it, was born from two words scrawled on a napkin: "MTV Cops." Miami Vice has its share of critics: It's too violent, too flashy, too pop, and officials in Miami are upset about how it depicts their city. Still, it's a hit, and NBC has given Mann carte blanche to produce anything he wants. With Crime Story, his next project, he would cash that check to prove his detractors wrong. The story Mann chose to bring to the air was that of Torello and Luca, a classic cop-and-criminal dichotomy that would set the stage for decades of serious television to come, and establish the subject matter that would from thereon define Mann's career.
Where Miami Vice brought the police procedural into the future — flashy clothes, big tunes, heaps of style — Crime Story went back in time, and even if it's the lesser-known of the two series, it revolutionized the genre on a molecular level, whereas Miami Vice achieved the same only on the surface. Two decades before The Sopranos and The Wire, Crime Story was one of the very first serialized prime-time dramas to ditch the procedural format and tell a season-long story.
Directed by Abel Ferrara, who'd soon leave his own erratic mark on the crime genre with films like Bad Lieutenant and King of New York, the 90-minute pilot of Crime Story was seen by over 30 million viewers. Friday night on NBC became Mann's night, with Crime Story following Miami Vice. The show was a stable for hot new talent, and featured early performances by future TV regulars like David Caruso, Dennis Haysbert, and David Hyde Pierce, as well as soon-to-be stars like Julia Roberts, Ving Rhames, and Christian Slater. A young Andrew Dice Clay — at that time all clay, no dice — appeared in a regular supporting role as Jewish gangster Max Goodman. Even Miles Davis turned in a cameo.
Later in its first season, Crime Story was moved to Tuesday night, where it played against ABC's Moonlighting, then in its third season. Moonlighting had become a juggernaut, picking up 16 Emmy nominations for its second season, over the course of which it cracked the Nielsen Top 10 for the first and only time. The move was a death knell for Crime Story, which was cancelled after its second season; Mann's plan to have the show jump in time from 1964 to 1980 was scrapped as well. Despite its innovative narrative, Crime Story has lain dormant in the graveyard of TV history ever since due to licensing issues, and has never really received the broader recognition it deserves. With the series now available on Amazon Prime — its very first time on a streaming platform — it's time for that to change.
Every episode of Crime Story begins the same way: a booming male voice thoroughly recaps the previous week's episode before announcing, "Tonight, on Crime Story." Every episode ends the same way, too: a freeze frame, branded by the words "To Be Continued … " in red. Those three words are what made Crime Story different from any other show on television — every story was to be continued. Every episode required knowledge of previous episodes. Prime-time television had done the multi-episode arc, but no one had ever really attempted anything like this, which in its form was almost more akin to soap operas than to police procedurals. Supposedly inspired by Rainer Werner Fassbinder's 15-and-a-half-hour miniseries Berlin Alexanderplatz, Crime Story was sprawling and novelistic in a way no television show had ever been before. It required a certain loyalty and dedication from its audience that other cop shows did not — Crime Story demanded that you tune in, keep up, and pay attention. It made you take it seriously.
Mann executive-produced Crime Story, but the concept came from a spec script by Gustave Reininger, a former Wall Street investment banker, and Chuck Adamson, a Chicago police officer who'd worked as a technical consultant on Mann's 1981 film Thief. (Adamson's experiences pursuing a thief named "McCauley" would later inspire Heat.) Thief had introduced Mann not only to Adamson but also to Dennis Farina, another Chicago police officer and Adamson's former partner. He was also a technical consultant on the film and had a small role in it, his first acting gig. Farina continued on the force after Thief, with night work as a bit player in TV movies and the Chuck Norris vehicle Code of Silence, but he hung up his real-life uniform for good when Mann came calling again, offering the leading role of Mike Torello.
Farina was a different kind of leading man, not quite as in-fashion as Crockett and Tubbs; his New York Times obituary credited his success as an actor to his "world-weary credibility and a convincing nexus of nose and mustache." It's exactly his real-life experience that made Farina a natural choice for Crime Story: His eyes communicated a certain kind of exhaustion and intensity that could only come from a real, seasoned detective. Farina had a quiet charisma, a dignity earned from the experience visible on his worn face, but mostly, onscreen, he just felt like a guy doing a job.
Crime Story also featured the breakout performance of John Santucci as Pauli Taglia, Ray Luca's go-to guy. A former jewelry thief and career criminal, Santucci had actually been one of Farina and Adamson's busts. The extended safe-cracking sequence in Thief, recreated in the pilot episode of Crime Story, is based on a real robbery in which Santucci cut through a vault door with a thermal lance. He would continue to pick up acting jobs throughout the 1980s, including parts in Miami Vice and Mann's later TV movie L.A. Takedown, until he was arrested in 1996 for breaking into the vending machines at a Hyatt in Chicago. (Crime Story also featured a cameo from William Hanhardt, a high-ranking Chicago police officer who splits the difference between cop and criminal; in 2001, Hanhardt became the highest-ranking official to plead guilty to running a nationwide jewelry-theft ring.)
The presence of former cops and criminals in Crime Story lends the series a certain documentary tactility, one of Mann's signatures. His characters speak the secret languages of their professions. Torello is rough and ruthless, uninhibited by any standard of decency or legality in his pursuit of Luca, which is a little troubling given Farina's own past. Mann's work is regularly about the thin line between cops and criminals, and the creative collaborations that made Crime Story possible illustrate how little difference often exists between breaking the law and enforcing it.
Crime Story unlocked the gates for shows like Wiseguy, Twin Peaks, and The X-Files, the wayward step-children of the police procedural. Its gritty realism would be carried on by the likes of Homicide: Life on the Street and NYPD Blue. But its most important contribution, the three words "to be continued … " at the end of every single episode, influenced nearly every subsequent drama on prime time. Though Crime Story wasn't the first series to flash those words across the screen — every show from Dallas to The Brady Bunch had done a multi-episode arc — the idea of a story that continued seemingly without end or resolution in sight, was new.
In fact, the show's conflict is in part supplied by the issue of serialization: in the second episode, Torello wants to devote his efforts solely to Luca's arrest, but he's distracted by the emergence of a psychotic serial killer. Torello wants to commit himself to a single case just like the show wants to follow a single story, but the demands of the police procedural format force them both to take detours. Crime Story didn't last long, but it proved that audiences had not only the patience but the appetite for a 22-hour narrative. It's since become a cliche to refer to prestige dramas as novels, but when it comes to long-term television storytelling, Crime Story wrote the book.