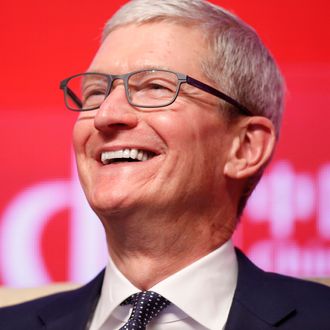 Tim Cook, TV guy.
Photo: China News Service/VCG via Getty Images
On Monday afternoon at 1 p.m. Eastern Time, Apple will unveil information about its new streaming service with a big keynote event in Cupertino, California. Vulture's Josef Adalian covered a lot of the big questions already, including what we know (and don't know) about the tech giant's streaming service, but Monday's event will likely include cameos from Apple's star talent — the list includes Oprah, Reese Witherspoon, and many more — along with a look at how exactly the service will work.
You can watch the livestream on Apple's site here, and look forward to getting a look at a few teasers or trailers for Apple's new series and movies. The biggest of Apple's big projects, which may or may not get screen time during the event, include Reese Witherspoon and Jennifer Aniston's morning news drama; Jennifer Garner and J.J. Abrams's adaptation of the memoir My Glory Was I Had Such Friends; Battlestar Galactica's Ronald D. Moore's Joel Kinnaman space drama; an Emily Dickinson origin story starring Hailee Steinfeld; a Brie Larson spy drama; an M. Night Shyamalan project with Lauren Ambrose; an expensive adaptation of Min Jin Lee's novel Pachinko; and a reboot of Steven Spielberg's Amazing Stories from the creators of ABC's Once Upon a Time. Other than that, look forward to learning which Apple products you'll have to buy to see all these shows.