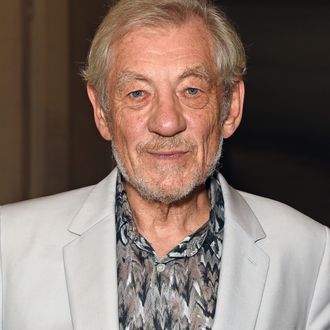 Ian McKellen.
Photo: David M. Benett/Getty Images
Ian McKellen has taken a puzzling stance on the sexual-abuse allegations leveled against men in his industry like Kevin Spacey and Bryan Singer. McKellen, who has been out for more than 30 years, appeared on a taping of the #QueerAF podcast in Britain, and when asked about allegations of sexual abuse and assault from Singer and Spacey, insisted that the men did so because "most of them were in the closet. Hence, all their problems as people and their relationship with other people." (The conversation appears 28 minutes into the video below). "If they had been able to be open about themselves and their desires, they wouldn't have gotten into the … they wouldn't have started abusing people in the way they've been accused."
Singer, who has been accused of a pattern of abuse and molestation of younger men, came out as bisexual in 2014 in an interview conducted just before Michael Egan accused him of sexual abuse when he was 15 (Egan's case contained inconsistencies, and he later withdrew it). Spacey came out in 2017 only after Anthony Rapp accused him of trying to seduce and assault him when he was 14. Singer has denied the allegations against him, as has Spacey, who is currently facing charges of assault and battery.
McKellen went on to say that it is "debatable" whether people who have been accused should continue working. "Do you want to see someone who's been accused of something that you don't approve of?" he said. "Do you ever want to see them again? If the answer is no, you won't buy a ticket; you won't turn on the television. But there may be others for whom that's not a consideration." McKellen appeared in Singer's X-Men movies and in his film Apt Pupil; he hasn't worked with Spacey in a project, but did work with him at London's Old Vic Theatre while Spacey was artistic director. "Frankly I'm waiting for someone to accuse me of something," McKellen joked when the subject was first raised, to laughter from the audience, "and me wondering if they're not telling the truth and me having forgotten."
Update, March 3: In a signed statement posted on his social media channels over the weekend, McKellen apologized for his comments about Singer and Spacey. "As part of an extended podcast recently, I suggested that if closeted people were instead open about their sexuality they wouldn't abuse others. That, of course, is wrong," he wrote, in part. "My intention was to encourage the LGBT audience I was addressing, to be proud and open about their sexuality. In doing so, my point was clumsily expressed. I would never, ever trivialize or condone abuse of any kind."