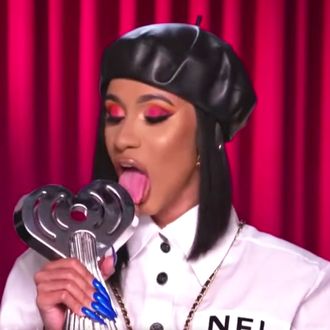 Cardi B accepts her award.
Photo: Fox
Awards season lives on, and the iHeartRadio Music Awards in L.A. last night didn't disappoint. Both Taylor Swift and Cardi B called out their haters, but only one of them licked her award (guess who). It was a big night for famous Chrises: both Martin and Pratt performed. Everyone reverse-aged 10 years when T-Pain performed "Blame It," but regained the decade when they opened their eyes and realized he was performing in his costume from The Masked Singer and we're still living in some Fox executive's dystopian fantasy. At least there was some pure throwback with the Back Street Boys performing "I Want It That Way." Check out more highlights and the list of winners below.
Cardi B Thanks Her Haters
Even though she couldn't make it to the ceremony in person, Cardi still managed to make an impact. She thanked her haters in a taped acceptance speech, saying, "Thank you so much, iHeartRadio, thank you so much to all my fans, to all my supporters, and to all my haters. You know, I gotta thank my haters, you know what I'm saying, because y'all be saying mean things, y'all be thinking that those mean things is gonna discourage me. But that just means we go harder. Because if everybody gave me compliments, then, you know, I get comfortable." Then she cackled and licked her trophy.
Taylor Swift Also Calls Out Her Haters (the Media)
"For the entire six months leading up to the first show of this tour, every headline that I read about the tour was, 'This is going to be a massive failure, this is going to be a flop tour,' and, you know, it really did wonders for my self-esteem. It was really great to hear people saying that I was going to be playing to nearly empty stadiums," Swift said. She went on to thank her fans, telling them that "when there's new music, you will be the first to know. I love you so much."
Meanwhile, Katy Perry Is "Open" to Collaborating with Swift
One of the biggest moments of the night happened on the red carpet. Perry was pretending to be an A.I. version of herself (as she is in the video for her new single, "365," with Zedd), and she did not rule out the possibility of a collaboration. "I mean, I'm making music with Zedd, I'm open. Open, open, open." And when asked how she knew Orlando Bloom was "the one," she said, "It's just obvious."
Kacey Musgraves and Chris Martin Perform "Rainbow"
Chris Martin's beanie was into it.
The Backstreet Boys
It's 1999 again and no one is upset about it, least of all Steven Tyler.
T-Pain Also Throws It Back …
… both to last month, when he won The Masked Singer, and to 2008, when he released "Blame It" with Jamie Foxx.
Alicia Keys's Son Egypt
He performed with Keys, flossed on stage, and also shared a moment with Taylor Swift. What a night.
Ariana Grande Performs 'Needy'
Halsey and Rumored New BF Yungblud Perform
Oh right, and Travis Barker was there too.
Chris Pratt Sang With Garth Brooks
He teared up backstage.
Check out the list of winners below.
All the Winners From the 2019 iHeartRadio Music Awards
Tour of the Year
Taylor Swift, Reputation Stadium Tour
Artist of the Decade
Garth Brooks
iHeartRadio Innovator Award
Alicia Keys
L'Oreal Paris Fangirls Award
Halsey
Most Thumbed-Up Artist of the Year
Imagine Dragons
Song of the Year
"The Middle," Zedd, Maren Morris, Grey
Female Artist of the Year
Ariana Grande
Male Artist of the Year
Drake
Best Duo/Group of the Year
5 Seconds of Summer
Best Collaboration
"Finesse (Remix)," Bruno Mars featuring Cardi B
Best New Pop Artist
Marshmello
Alternative Rock Song of the Year
"High Hopes," Panic! At the Disco
Alternative Rock Artist of the Year
Imagine Dragons
Best New Rock/Alternative Rock Artist
lovelytheband
Rock Song of the Year
"Safari Song," Greta Van Fleet
Rock Artist of the Year
Three Days Grace
Country Song of the Year
"Meant to Be," Bebe Rexha featuring Florida Georgia Line
Country Artist of the Year
Luke Combs
Best New Country Artist
Jordan Davis
Dance Song of the Year
"The Middle," Zedd, Maren Morris, Grey
Dance Artist of the Year
Marshmello
Hip-Hop Song of the Year
"God's Plan," Drake
Hip-Hop Artist of the Year
Cardi B
Best New Hip-Hop Artist
BlocBoy JB
R&B Song of the Year
"Boo'd Up," Ella Mai
Best New R&B Artist
Ella Mai
Latin Song of the Year
"X," Nicky Jam and J Balvin
Latin Artist of the Year
Bad Bunny
Best New Latin Artist
Manuel Turizo
Regional Mexican Song of the Year
"Mitad Y Mitad," Calibre 50
Regional Mexican Artist of the Year
Calibre 50
Producer of the Year
Louis Bell
Songwriter of the Year
Frank Dukes
Alternative Rock Album of the Year
Panic! at the Disco, Pray for the Wicked
Rock Album of the Year
twentyonepilots, Trench
Country Album of the Year
Jason Aldean, Rearview Town
Dance Album of the Year
The Chainsmokers, Sick Boy
Best Fan Army, Presented by Taco Bell
BTSArmy, BTS
Best Lyrics (Socially Voted Category)
"Consequences," Camila Cabello
Best Cover Song (Socially Voted Category)
"You're Still the One," Harry Styles and Kacey Musgraves
Best Music Video (Socially Voted Category)
"Delicate," Taylor Swift
Social Star Award (Socially Voted Category)
Agnez Mo
Cutest Musician's Pet (Socially Voted Category)
Gracie, Lauren Jauregui
Best Solo Breakout (Socially Voted Category)
Tiffany Young
Songs That Left Us Shook (Socially Voted Category)
"I'll Never Love Again," Lady Gaga
Favorite Tour Photographer *Socially Voted Category
Helene Pambrun (Harry Styles)