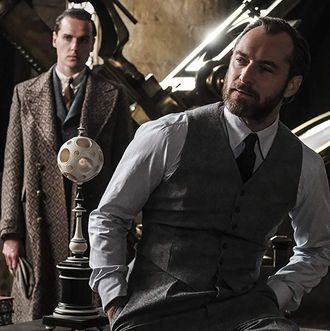 In the words of Monique, "I would like to see it." According to author J. K. Rowling, beloved Harry Potter character Albus Dumbledore and Fantastic Beasts villain Gellert Grindelwald did have a passionate love affair of an explicitly sexual nature. Which you'd already imagined extensively, of course, but why wasn't it depicted in Fantastic Beasts: The Crimes of Grindelwald then? Do you have to do all the work around here?!
According to Rowling's comments in a Fantastic Beasts: The Crimes of Grindelwald Blu-ray feature, unearthed by Radio Times, the two men did have an "incredibly intense" relationship in their youth. "It was passionate, and it was a love relationship," the author reportedly says. "But as happens in any relationship, gay or straight or whatever label we want to put on it, one never knows really what the other person is feeling. You can't know, you can believe you know." Rowling had previously revealed that, despite the fact it is not mentioned in the Harry Potter books or films, Dumbledore is gay.
Unlike you, Rowling declares, "I'm less interested in the sexual side — though I believe there is a sexual dimension to this relationship — than I am in the sense of the emotions they felt for each other, which ultimately is the most fascinating thing about all human relationships." Adds Crimes director David Yates, "This is a story about two men who loved each other, and ultimately have to fight each other. It's a story for the 21st century." J. K. Rowling has so much new information about these characters, it could fill a 766-page book. Well, looks like there's no possible way to ever know exactly what went down between these two. It's a shame, really.