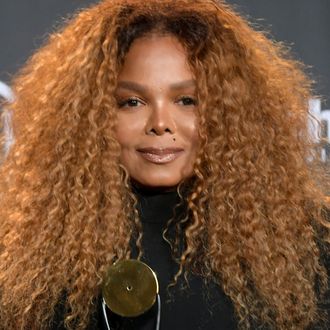 Janet.
Photo: Michael Loccisano/Getty Images For The Rock and Roll Hall of Fame
Janet Jackson made no direct mention of Michael Jackson in her Rock and Roll of Hall of Fame induction speech, save for collective praise of all her brothers. She also sadly did not perform after her remarks (breaking induction tradition, as did the two members of Radiohead who showed up). Variety now reports that Jackson opted out of performing because she did not wish to appear further on HBO, the network which recently aired a damning documentary alleging her brother, Michael, abused two underage boys. The Rock Hall induction ceremony is typically taped and broadcast at a later date on HBO; this year's induction airs on April 27.
Last month, HBO aired Leaving Neverland, which the Jackson family strongly denounced in a joint statement after it first premiered at Sundance. In the statement, they called the accusers, Wade Robson and James Safechuck, liars, and maintained Michael's innocence. Janet Jackson has not released her own individual statement or commented on the allegations. She also did not stop to talk to the press backstage following her induction.