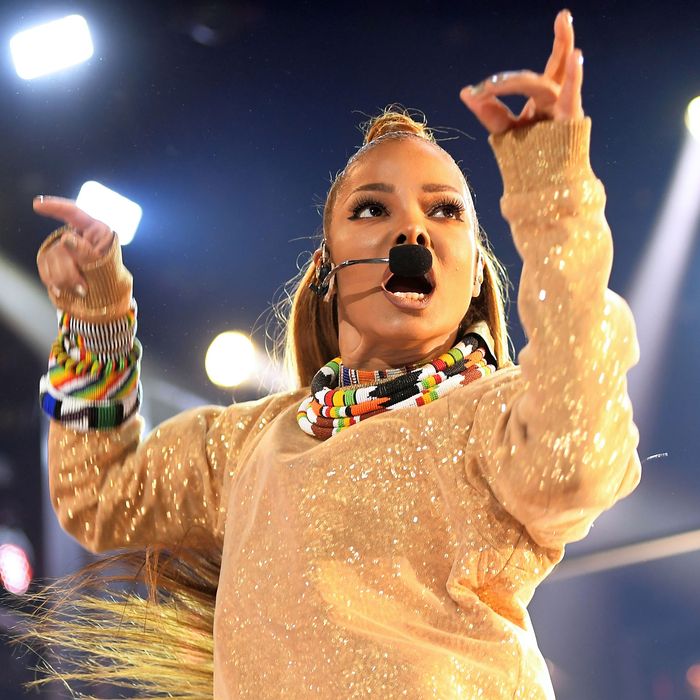 Honoree Janet Jackson performs onstage at the 2018
Billboard
Music Awards at MGM Grand Garden Arena on May 20, 2018, in Las Vegas, Nevada.
Photo: Matt Winkelmeyer/Getty Images for dcp
This post was originally published in 2018 during Janet Jackson's State of the World Tour. We are revisiting it again today in honor of Jackson's induction into the Rock and Roll Hall of Fame.
Janet Jackson's an enigma, a pop titan you don't hear much from and an A-list public figure whose personal business stays private. You're not supposed to get to do both. Privacy is the unseen cost of popularity. When people know who you are, they get curious about your comings and goings. That kind of pressure can turn a trip to the mall into a cat-and-mouse game with buzzing photographers. That heat can turn a simple night out with a friend into a rumor of romance. Janet's secrecy is an unbelievable feat when you consider her history. The Jacksons spent four decades as America's preeminent showbiz dynasty. That's enough time to top charts and fill stadiums, to grace thousands of outlandish tabloid covers, and to fill a four-hour ABC biopic. At the height of her pop stardom, Janet married dancer and director René Elizondo Jr. and successfully kept the union a secret until eight years later when it dissolved. The very thought of it seems impossible in the age of camera phones and social media.
How did Janet crack the code? It helps that she was the youngest. In the earliest years of her life, Janet could watch her brothers charm television and concert audiences. She entered the Jackson variety act knowing how to work a crowd but lacking the pressure of dynasty-building that made preternatural media-trained professionals out of her siblings. Proximity to that machine also made her leery of it; as much as she loves her family, her stardom feels like something of a reaction to it. She embraces her lineage in her work; but when the house lights in the arena pop back on, she zooms off to some far-flung locale where her movements can't easily be tracked.
You can see a glimmer of Janet in the long line of pop stars who came of age during her decade-and-a-half chart regency. Wispy singers like Aaliyah and Jhené Aiko evoke Jackson's light touch as a vocalist, reframing quietude as sultriness on singles like "Rock the Boat" and "The Worst." It's hard to imagine a cultural space for the gossamer notes and futuristic beats of Aaliyah's One in a Million without records like 1993's Janet. paving the way. (Admiration between Janet and Aaliyah ran both ways.) Singers with an eye for fashion and a gift for dance pay homage on red carpets and awards-show stages; Teyana Taylor, whose airtight singing and choreography call back to the days when fame in R&B was about sweat and excellence, is known to rock a throwback Janet outfit. Tinashe and Ciara's Janet dance tribute at the 2015 BET Awards popped with the perfection of a lifetime of practice. You can feel Janet's presence in the rhythms of the careers of total package talents like Beyoncé, whose perfect balance of apparent ever-presence and coy secrecy is a page out of Miss Jackson's playbook. You find out about the albums and the husbands and the babies when they want you to; you settle for wondering until they see fit.
Revolution is a strange sensation; sometimes you can only gauge how quickly things change through measuring the distance traveled in a short space. There is the electric guitar before Jimi Hendrix, and there is the electric guitar after Jimi Hendrix. In that same sense, there is pop/R&B music before Janet, and there is pop/R&B music after Janet, music that feels profoundly affected by Janet. Rhythm Nation 1814 is one such revolution. It is the standard-bearer for the modern political pop album. It was an impossibly risky gesture following the breakthrough of 1986's Control, where Janet, Jimmy Jam, and Terry Lewis invented new jack swing, the hip-hop/R&B fusion that injected dance music with the flair of the streets until Mary J. Blige's My Life and D'Angelo's Brown Sugar led the charge away from chunky synths and hard programmed drums into smooth soul samples and plush live instrumentation.
It took Jackson three albums to hit, if you count the airy Sylvers and René and Angela collaborations on her 1983 self-titled album and 1984's Dream Street, which flopped in spite of the involvement of the legendary Giorgio Moroder. Chasing the carefree hit parade of "Nasty," "Pleasure Principle," "What Have You Done for Me Lately," and the like in 1989 with songs of unrest like "Livin' in a World (They Didn't Make)" and "State of the World" could've gone disastrously, but the skill and rapport of Jackson and her team elevated Rhythm Nation, as well as the genre-busting follow-ups Janet. and The Velvet Rope to greatness. By the end of the '90s, no one was calling her anyone's little sister anymore; she was an icon in her own right, on her own terms.
Time — and tragedy — transformed the baby of the family into the torchbearer. This year, Janet's State of the World Tour, which hit New York's Panorama Festival last weekend, serves the twin purpose of honoring the world-class spectacle of a Jackson stage show and bringing Rhythm Nation's politics of love and peace back full circle nearly 30 years on. On the one hand, it's a machine-gun volley of chart toppers, including clever medleys bridging songs from different eras, like the sterling blend of Control's "When I Think of You" and the title track from 2001's All for You. (There's a point in her show where Janet shrugs and tells the audience, "I got a lot of hits, you guys …") The show also pulls political deep cuts into the mix, spotlighting the singer's activism through the years. The minute the lights go down, you're bombarded with a collage of troubling images of modern white supremacy, then struck by the one-two punch of "Skin Game," the scathing song about racism on the B-side of the "Come Back to Me" single, and Rhythm Nation's anti-drug, anti-prejudice "The Knowledge." Like Jackson's records, State of the World is a noble attempt at dissolving the differences between fans of disparate races, genders, and sexual orientations. When "Love Will Never Do (Without You)" drops, we are all one awestruck mass of humans.
The State of the World tour, like Janet's 2015 comeback album Unbreakable, sees a singer with hits in four decades toying with the unspoken rules of how to carry her career into her 50s. She's not a greatest-hits revue, as is the temptation for any artist with enough great songs to tour for life. She isn't turning into a jukebox of oldies and standards, as aging rock guys like Michael McDonald, Rod Stewart, and the Rolling Stones recently have in their own ways. She's not coldly courting what's hot, the way the last few albums by her peer on the '80s and '90s pop charts Madonna has, to a mix of critical trepidation and commercial success. Like Prince and Bowie in their latter years, Janet is treating her catalogue like a little universe of her own creation, revisiting memorable terrain and crafting new works that feel both refreshing and comfortingly familiar. It's a precarious balance, but Janet, a star whose motto is "control" — control of her pop career, control of her public image, control of her press cycle, control of her sexuality — makes it look like a blast.