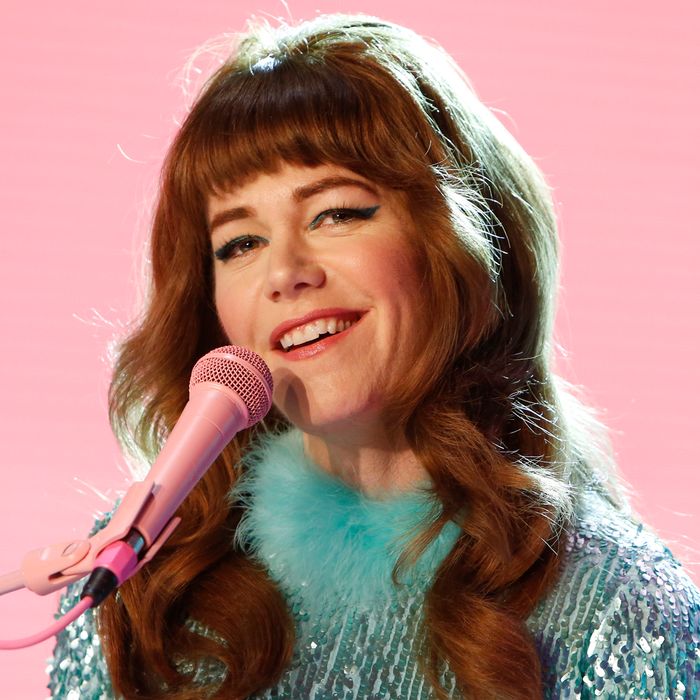 Photo: Randy Holmes/ABC via Getty Images
Jenny Lewis writes intricate stories because she's living one. The L.A. singer-songwriter's career began as a child actor — her filmography includes the '80s kid classics The Wizard and Troop Beverly Hills — and slowly shifted gears as she became disillusioned with the business and her home life upon discovering that her mother had been skimming money from her earnings for drugs. By 26, Lewis had quit acting and infiltrated indie rock's boys' club as one of the principal singer-songwriters in the Saddle Creek Records–affiliated quartet Rilo Kiley, whose trek from the tart alt-rock of "The Execution of All Things" to devastating country-rock nuggets like "Close Call" and "Silver Lining" in just two moves is nothing short of a coup. Branching out from the band allowed Lewis to sharpen her writing; each outing under her own name since 2006's Watson Twins team-up Rabbit Fur Coat has gained a little more perspective and clarity. This month's On the Line, solo album number four, is a strong candidate for Jenny Lewis's best work to date.
On the Line sets its sights sky-high from the start as opener "Heads Gonna Roll," brimming with novelistic detail, carries us through road trips and graveyard picnics while Lewis muses on relationships that flicker and fade in the march to death. The feeling that this tune is a swing at nailing the weary, planetary politics of a Beatles song is abetted by the production, which revisits the cascading pianos and echoing drums of John Lennon's Plastic Ono Band album. Behind the drum kit sits one Ringo Starr. The crushing organ solo in the middle is played by ex-Heartbreaker Benmont Tench. But On the Line is more than classic rock karaoke; the legends have come out because Jenny Lewis has written a batch of songs worthy of their talents.
Working with her Rilo Kiley bandmate Blake Sennett and later with the Watson Twins, Lewis wrote music that explored human nature and frailty through specific scenarios — think of the misspent golden years and fading fortunes of "Rabbit Fur Coat" or the failing Brighton Beach hustlers depicted in the lurid "Close Call." On the Line is less interested in narratives of disorder than it is in the idea that the history of the planet is really just a millions-strong cycle of birth, love, loss, and death. The difference in perspective is the difference between director Darren Aronofsky's Requiem for a Dream, a pointed, ghoulish torture-porn about self-destruction in the big city, and the David Lynch Hollywood-noir Mulholland Drive, a film less concerned with spoon-feeding plot points than using sights and sounds to elicit emotional responses.
Jenny Lewis's disinterest in spelling out the focus of her character studies doesn't make them rudderless. She is too effective of a closer to lose the plot. "Hollywood Lawn" ominously warns young dreamers to stay alert, because "your demons got reasons to fight." "I wasted my youth on a poppy," she sings in the beguilingly jaunty chorus of the single "Wasted Youth." It's not a song about lampooning drug addicts for misguided priorities. The point is that everybody's fucked; some people's distraction of choice is Candy Crush. On the Line makes good art out of hard times in the same way that Leonard Cohen once peered out of a hotel window on an unfamiliar world and wearily claimed that "the stories of the street are mine." Lewis sees the culture fraying and cracks a bottle of Beaujolais to sip while watching it crumble.
On the Line comes on so strong it almost feels front-loaded with the best songs. It doesn't get grander than the starting line of "Heads Gonna Roll," "Wasted Youth," "Red Bull & Hennessy," and "Hollywood Lawn." The rest of the album slips into slower grooves and smaller concerns that complement the front half's panoramic scope and apocalyptic urgency by zooming up close on its subjects. On the Line's back half rests on its roots-rock laurels and comes out smooth and slick thanks to the singer's way with words and vocals, and to great performances from Tench, Ringo, bassist and producer Don Was, Plastic Ono Band alum Jim Keltner, and frankly, Ryan Adams, who made a big fuss about his involvement early on, then, to hear Lewis tell it, trailed off after a few sessions, but not before leaving a trove of guitar licks indebted to the stretch of the '80s when Bob Dylan, Tom Petty, and George Harrison circled each other's orbits.
It might be tempting to hang this album's very specific triangulation of players and interests on Adams, because they have informed much of his work in this decade. But Jenny Lewis was mixing dark poetry and California classic-rock vibes back before Adams got there, before the War on Drugs got there, before Haim got there. On the Line is a triumph of patient refinement. It took a few tries to develop a body of songs this comfortably impressionistic and this wide-ranging in style. Rilo Kiley tried hard and fizzled out after 2007's Under the Blacklight, an album that dreamed so big it never managed to gel. The new music recoups on Blacklight's promise; it's the hero's journey that More Adventurous gestured at. The accepted wisdom about child stars is that they often peak early and frequently crack extravagantly. Jenny Lewis has spent the last 20 years writing a new story, one where her experiences in Hollywood, both good and bad, enrich her art, and she, in turn, enriches us.