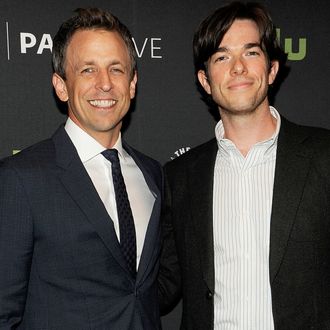 Seth Meyers and John Mulaney.
Photo: Rabbani and Solimene Photography/Getty Images
John Mulaney, a nice boy, will be blessing SNL with his hosting talents again this evening, which we can only hope will result in a crustacean sketch reprise and some general Stefon tomfoolery. But before we get to witness that, just as a general reminder that the world is rife with disappointment and ennui, buddies Mulaney and Seth Meyers — who wrote for the show in various capacities for over a decade — want to reminisce about one thing. One melancholic, dejected thing.
"SNL was a very creative atmosphere and also one where people were excellent at passive aggression," Meyers recalled in a New York Times interview. "That thing of, 'Maybe we could try it, but funny this time.' And you're talking to someone you admire and love and are close friends with but you'll say things like that," Mulaney added. "And lastly, though no one else did, I would sometimes smoke cigarettes indoors in 30 Rockefeller Plaza because we could get away with it, and so that smoky haze of exhaustion." [Inhales.] We've all been there, man. [Exhales.]