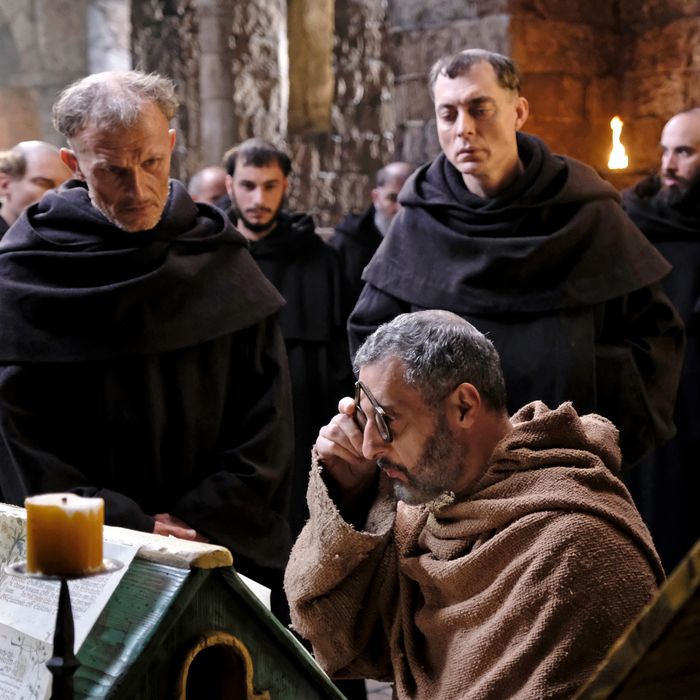 Richard Sammel as Malachi, John Turturro as William of Baskerville, Maurizio Lombardi as Berengar, and Damian Hardung as Adso.
Photo: Fabio Lovino/SundanceTV
It's John Turturro as you've never seen him before: In monk's robes in the 14th century, trying to figure out some murders in a TV series based on a novel by a famous semiotician. SundanceTV is adapting Umberto Eco's 1980 novel The Name of the Rose, and it starts Turturro as William of Baskerville, a monk who arrives with the novice Adso von Melk (Damian Hardung) at a monastery in the Alps where they witness a series of murders.
"While Baskerville and Melk investigate and search for the killer," the series description reads, "they are hunted themselves by the merciless inquisitor Bernard Gui (Rupert Everett), who prosecutes those who criticize the pope."
The rest of the adaptation's cast includes Michael Emerson, Sebastian Koch, James Cosmo, Richard Sammel, Fabrizio Bentivoglio, and Greta Scarano. You can see them in the images looking very grimy and pious and/or suspicious. The series filmed on location in Italy, and will premiere on SundanceTV May 1.