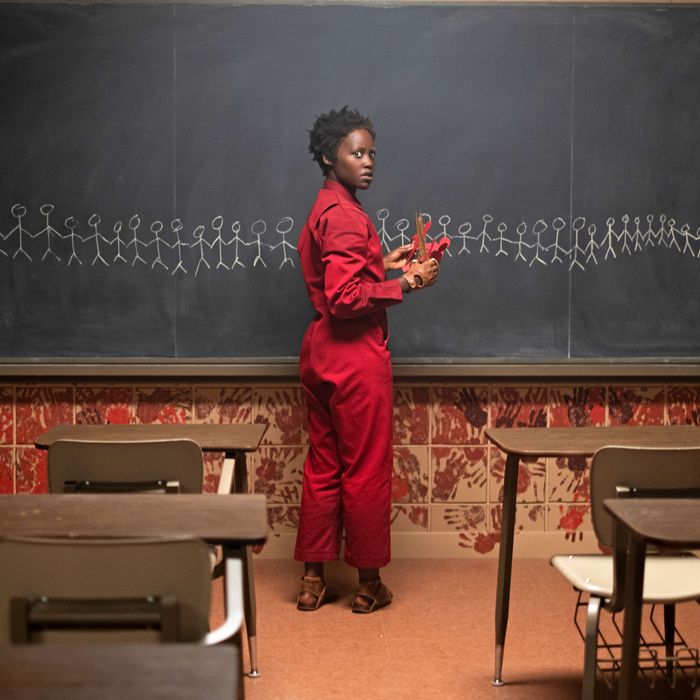 Photo: Claudette Barius/Universal Studios
Sticking a pair of scissors into the jugular of Hollywood's prerelease "tracking" estimates, writer-director Jordan Peele's sophomore feature Us hauled in $70.3 million over its opening weekend in theaters, outperforming box-office forecasts by $30 million. Us now boasts the third-biggest horror opening in history and the second-biggest opening of the year behind Disney's Captain Marvel.
Most impressively, Peele's Get Out follow-up became the most lucrative opening for an original horror movie after its debut. According to ComScore, Us surpassed A Quiet Place, which grossed $50.2 million over its first weekend last year, and also slid into the No. 1 spot for R-rated movie launches ahead of the 2012 raunch-comedy Ted ($54.4 million). Us managed to annihilate the precedent set by Peele's directorial debut, the Oscar-winning horror hit Get Out, which bowed with a $33 million–grossing opening weekend in 2017.
Heading into its opening weekend, box-office analysts expected the $20 million Us to clock between $38 million and $45 million in its first three days of release. But the psychological slasher flick — which follows a nuclear family (headed by Lupita Nyong'o and Winston Duke) facing domestic invasion by a group of unhinged, homicidal doppelgängers — nearly doubled low-end domestic expectations to become the latest example of Hollywood's financial underestimation of films starring and centered around African-American casts. (Internationally, Us took in $87 million, more than four times the movie's budget.)
Us built enthusiastic word-of-mouth reviews since premiering at the South by Southwest Film Festival earlier this month and earned a robust 94 percent on RottenTomatoes.com — catapulting Peele into Hollywood's top tier of directors whose name-brand appeal is more than capable of attracting audiences.