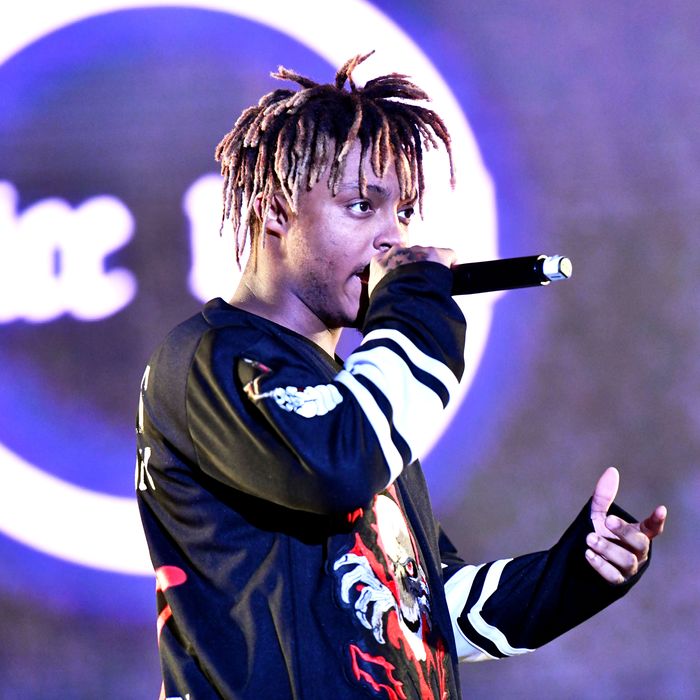 Photo: Scott Dudelson/Getty Images
Juice WRLD is the kid our parents warned us about. The Midwest rapper/singer grew up in a strict, religious household barred from listening to hip-hop. His musical education came from video games, in the era where console power beefed up considerably, and soundtracks for franchises like Tony Hawk Pro Skater made punk and metal fans out of kids who'd never encountered the stuff before. Juice found rap in middle school through the music of Future. By 13, he was experimenting with the drugs he heard about in the records. By 18, he'd quit lean and pills, but his dalliances with both informed a suddenly promising rap career. Like his Atlanta rap hero, Juice WRLD's career is a chilling paradox: What nearly destroyed his life is now the source of his continued prosperity. He tries to balance lyrics about partying with the truth about the pitfalls of drug dependency and self-medication, but his habit of freestyling his songs instead of giving his words more consideration makes for some performances that gesture at intensity without delivering it. This month's new Death Race for Love is a collection of passionate songs about doing bad and feeling worse that periodically get derailed by moments of laughable sad-boy boilerplate.
"Lucid Dreams," the hit that put the Illinois rapper on a lot of listeners' radars last year, exemplifies the mechanics of the Juice WRLD sound. It's a quickly written vamp around a well-known melody that, where it soars, feels a lot like loose pieces of bygone pop culture colliding. It's forlorn almost to the point of being cloying, like a person imitating the stereotypical vocal tics and subject matter of a particularly jilted emo tune. It shouldn't work. The hook seems like a fluke, a perfect sequence of words and notes discovered on accident. Juice WRLD toys with sights and sounds without the baggage of their cultural significance. He never heard the Sting song his multi-platinum selling hit sampled. His melodic sensibilities were gleaned in part from playing a lot of Guitar Hero. Death Race for Love is perhaps most fascinating when viewed as a piece of millennial collage art. The cover evokes the PlayStation demolition derby game Twisted Metal 4. The title invokes the '70s carsploitation cult flick Death Race 2000 (or else the tawdry 2008 Jason Statham remake). The beats experiment with familiar sounds, both through sampling and through careful excursions into other genres. "Make Believe" flips Pharcyde's "Runnin'." "Fast" sounds like a trap producer's take on Dave Matthews Band's "Crash Into Me." Pop-punk songs jump out in the middle.
Death Race sounds a lot like what we imagine a dystopian future would look like. Recognizable pieces of the past have been stripped for parts and reused in ways that the creators might not have intended, like Mad Max. The world these records depict is forbidding. The character Juice plays is that of a druggie on the verge of collapse, wandering through a wasteland on substances as he tries to find someone to end his spiral before it ends him. The concept is cool. The execution lives and dies on Juice's ability to emote. "Fast" is a crushing word about feeling like you're losing control of your life's trajectory. "10 Feet" sells smart lines and intricate rhyme patterns that revisit the rapper's days as the SoundCloud freestyle artist JuicetheKidd. "Syphilis" revisits the drill rap sounds popularized by his home state, then "Who Shot Cupid?" locates the ideal mix of moody acoustic guitars and thumping low end. When he wants to, Juice WRLD has depth, range, and versatility. But it seems like sometimes what he wants is just to coast.
But at 22 tracks in 72 minutes, Death Race gives Juice WRLD too many opportunities to fall back on his worst creative tendencies. The influence of genre hybridizers like Post Malone and Lil Uzi Vert is palpable. "Big" blends quick phrasing and Auto-Tune just like Travis Scott. The upper register notes in "Rider" sound like Swae Lee. "Robbery" nicks Trippie Redd's yarl. There are too many rehashed flourishes — "Maze" is like microwaved leftovers of "Lucid Dreams" — and too many ill-conceived lines. "HeMotions" spins out when Juice says "I'm back on my bullshit — devil emoji." "Syphilis" hits a speed bump on "I can change anything, got them Obama eyes." "Feeling" is a rocky sequence of shaky lines: "Do it by my VLONE." "Momma told me I gotta stay focused / Told her I am not a Ford Focus." "Boys, ain't no 'I' in team but it's an 'M-E' in team / I meant it's a 'me' in team / I know I just fucked up, but bitch, I'm still the freestyle king." Freestyle kings are allowed to make mistakes and visit each other's vocal tics, and Juice brings a lot to the table in spite of the feeling that he's still finding his footing carrying polished studio full lengths on his own. But the rap game is a lot like a demolition derby. Crash, and that's that ass. Death Race sputters in spots, but the performance is gifted enough to avert catastrophe.