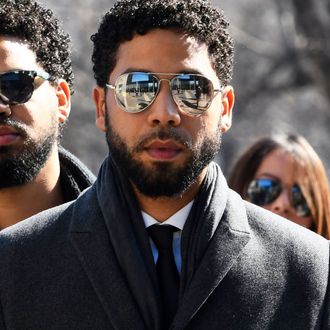 Jussie Smollett.
Photo: Matt Marton/AP/REX/Shutterstock
Jussie Smollett briefly appeared in court Tuesday for a hearing to determine whether or not cameras would be allowed in the courtroom for his upcoming disorderly conduct trial in which he's accused of staging a racist, homophobic attack on himself and reporting it to police as true.
Judge Leroy Martin Jr. approved cameras for Smollett's next court appearance on Tuesday, but noted that "all bets are off" once a new judge — who has final say on the issue of cameras — is assigned permanently to the case.
Neither side objected to cameras in the courtroom (an issue parties sometimes raise due to privacy concerns), but Smollett's legal team was particularly warm to the idea on account of what Smollett attorney Tina Glandian called "substantial misinformation" that had been leaked throughout the investigation. Glandian said the defense welcomed cameras for the trial so that the public could "see the evidence, [or] the lack thereof."
Smollett, 36, who appeared in a suit and dress coat, was accompanied by his two brothers, his sister-in-law, and an assistant; he did not make any remarks during the brief hearing. Though he wasn't required to appear in court Tuesday, his defense team's spokesperson Anne Kavanagh told NBC News that Smollett did it "to show confidence in his innocence."
Smollett last week was indicted on 16 felony counts of disorderly conduct for allegedly lying to Chicago police about being victimized in a hate-fueled attack in late January. Smollett initially reported that he was beaten in a late-night attack in downtown Chicago by two white men in ski masks who told him "this is MAGA country" then tied a rope around his neck and poured bleach on him.
The attack was an apparent escalation after the actor reported receiving a threatening letter that contained white powder sent to the set of Empire in Chicago.
Though Chicago police initially treated the attack as a hate crime against the actor, who is black and gay, the investigation turned to Smollett once police interviewed two brothers who said Smollett had paid them to stage the attack.
The alleged hoax attack angered Chicago officials, including Superintendent Eddie Johnson who slammed Smollett for dragging the city's "reputation through the mud."
Smollett's attorneys have called the 16-count indictment "redundant" and "vindictive." Smollett has maintained that he's innocent of the charges.