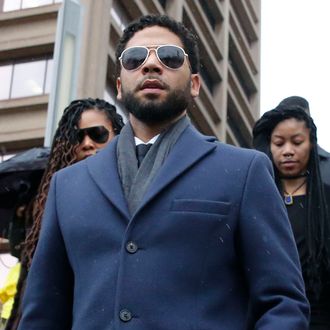 Photo: Nuccio DiNuzzo/Getty Images
In a stunning development on Tuesday morning, all criminal charges filed against Jussie Smollett were dropped by the Cook County State Attorney's office and cleared from the Empire actor's record. Smollett was previously charged with staging a hate crime against himself after he alleged two men attacked him in Chicago while shouting racist and homophobic slurs. While prosecutors laid out how Smollett allegedly orchestrated the attack against him, the actor and singer maintained his innocence, and he entered a not guilty plea last week.
"I've been truthful and consistent on every single level since day one," Smollett said today at a press conference, following the announcement that the charges had been dropped. "I would not be my mother's son if I was capable of one drop of what I've been accused of. This has been an incredibly difficult time, honestly, one of the worst of my entire life. But I am a man of faith and I am a man that has knowledge of my history and I would not bring my family, our lives, or the movement through a fire like this. I just wouldn't."
From Smollett's Empire family to the general Hollywood community, reactions have been trickling in on social media since the news broke. Vulture will be keeping you updated on what everyone has to say.