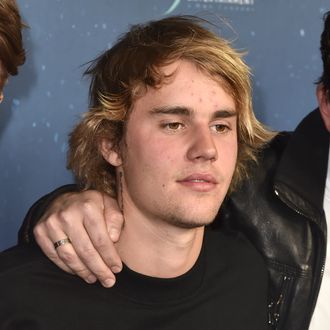 Justin Bieber.
Photo: Alberto E. Rodriguez/Getty Images
According to an Instagram pic posted Monday, Justin Bieber is making a decision every former child star, internationally famous adult, or former child-star turned internationally famous adult should make at some point in their career: He's taking a break. "I've toured my whole teenage life, and early 20s, I realized and as you guys probably saw I was unhappy last tour and I don't deserve that and you don't deserve that," the singer wrote. "You pay money to come and have a lively energetic fun light concert and I was unable emotionally to give you that near the end of the tour."
The tour he's referencing is 2016's Purpose World Tour, which followed his 2015 album of the same name. Considering Justin's first EP My World dropped in 2009 when he was all of 15, yeah, he's definitely earned a breather. Bieber's Instagram announcement also seemed to allude to recent reports about his desire to focus on his mental health.
"I have been looking, seeking, trial and error as most of us do, I am now very focused on repairing some of the deep rooted issues that I have as most of us have, so that I don't fall apart, so that I can sustain my marriage and be the father I want to be," the singer explains. "Music is very important to me but Nothing comes before my family and my health."