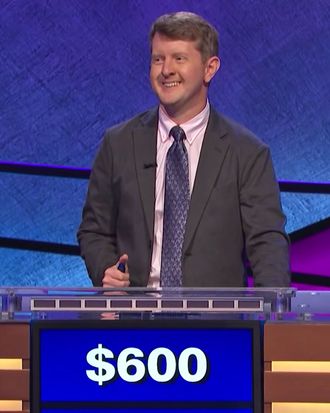 Despite initial outcry from Jeopardy! purists who insisted the show's All-Star Games was confusing due to, wowza, three people playing on a team, the tournament ended up being a wildly good time to watch, thanks to reuniting 18 of the best (and most popular) contestants to duke it out for a $1 million prize. Self-proclaimed "Jeopardy! fixture of yesteryear" Ken Jennings was one of the tournament's captains — choosing wunderkinds Matt Jackson and Monica Thieu to round out his team — with the trio finishing in second place in Tuesday's finals, defeated by Brad Rutter's tough squad. The competition was fierce, the race to those buzzers was even fiercer, but perhaps all those very serious, long-harbored feuds were the fiercest.
The day after the All-Star Games final aired, Vulture called up Jennings — just minutes after longtime Jeopardy! host Alex Trebek revealed his stage 4 pancreatic cancer diagnosis — to reflect on the tournament. We also discussed his very reasonable solution to defeating Rutter next time, his fantastic Twitter account, and his favorite Trebek story.
Did you ever think you'd see the day when Jeopardy! had teams?
It had never even occurred to me, that's how far off the Jeopardy! radar I thought this was. It genuinely never occurred to me as a format change. When you play the game, we realize what an intense solo sport it is. Just to be up there in the pressure cooker with the lights on you, and no prospect of relief, it's an intense and stressful thing.
When I spoke to Austin Rogers and Buzzy Cohen before the tournament began, they said the show didn't tell them what the format would entail, beyond it being a "very special" event. Were you privy to the info?
I wish I had my emails in front of me so I could check the timeline. When I was called, it was really as vague as, "We have something outside the box coming up!" The last time they said that, it was a robot who could play Jeopardy! What could be weirder? We've discovered extraterrestrial life and the Martians want to play Jeopardy!?
I think we also got late notice because it was a moving target for the producers, too. I'm sure on-air it appeared, even in this complicated format, very effortless. But figuring out the logistics of how to make something like this work in the very tightly structured Jeopardy! format really gave them months and months of agonizing about how they would pull it off.
And then, some viewers were still mad about the show trying something new. Open your minds, people!
I thought the same thing. That goes to show what a perfect product Jeopardy! has engineered. It's run the same, down to the minute, every weeknight since 1984. People just rely on that. The tiniest change will cause America to freak out. You should've seen my Twitter mentions, people being like, What is going on! Are they going to have time for Double Jeopardy!? I don't understand! People are really wedded to the idea of Jeopardy! always being Jeopardy!
We saw a few vignettes of how teams prepared for the tournament, with distance a major hindrance for most. Were you able to have strategy and preparation sessions with your team in the lead-up?
We never met in person, but we used a Google chat to create a daily training regime where we would keep in touch with each other. We would actually give each other homework. Like, Here are 400 Final Jeopardys from a couple seasons ago that none of us have seen, let's watch all of these this month and take stats. Monica studied psychology and she loves data analysis. She would make forms for us to chart our progress, and then she would whip out these pie charts and graphs, showing degrees of confidence in Final Jeopardy categories and Daily Double locations. We got plenty of that! We also had most of our game plan ready to go in terms of who would play when. With the team thing, it's nice because you know somebody's going to tag in, in a few minutes. This is very tense, but I just play this round. But it also did put a lot of weight on me. If I'm just playing for Ken, dumb wagers just effect Ken. But now I've got these kids who'd really like a nice-sized check. I'm not going to be Evel Knievel up here anymore, I better make sure I get this right if this is a big wager.
Austin and Buzzy insisted that that the tournament's vibes were great, although, I have to say, sometimes it didn't always seem like it. Would you agree it was an overall fun experience?
I have to say, Team Ken was pretty drama-free. I wish I had better dirt for you. I really have a ton of fun playing Jeopardy!, it's an insanely good time despite how high-pressured it is. Monica is a real ray of sunshine. Matt has a laser-focus on the game and not a lot of sense of humor about it, but Monica and I still keep it light. In general, between teams it was incredibly collegial and fun. Eighteen people on a stage playing? That's never happened. So it really did have a "cast party" kind of vibe. The big personalities, like Austin and Buzzy, who are the newer social media–friendly breed of Jeopardy! players, are a lot different than the serious college professors and CIA analysts you might've seen in past tournaments.
Ken, you are a very social media–friendly player!
That's very nice of you to say! I have the low bar of people not expecting me to be funny because I'm a Jeopardy! contestant. If I even get a slight laugh out of somebody, they're like, Wow, look at this guy trying jokes!
If the show were to do another All-Star Games tournament, would you like to see anything tweaked to make it an even better experience? Or to ensure you beat Brad next time?
[Laughs.] It is true that Brad has this absolutely indefensible streak of luck in addition to skill at Jeopardy! tournaments. That guy just has this aura of invincibility. Even if something goes wrong, he finds a way out of it. I admire the hell out of it. He's the best I've ever played. I think what we'd need is an Official Jeopardy! No More Brads Tournament, where if your name is Brad, or Bradley, or Bradford, there's a clause in the agreement that says, Sorry, you can't play. It's to find out who the best players are that aren't Brad. I think that's what America wants. I think America's ready for a non-Brad game show.
How has Jeopardy! changed since your initial run ended in 2004?
The real appeal of Jeopardy! that makes it a weird, multigenerational institution is how little it changes. From the inside, if there's been any change since I was on, it's probably my fault.
What!?
I know, I know. The two new contestants now get a much fairer playing field. They get more warm-up time and a more realistic buzzer, which really gives them a running start against a good champion. Halfway through my run, the morning contestant orientation was a little different and definitely aimed at leveling that home-court advantage that the returning champion had. That one's all my fault! The other change was the show went to an online contestant test, which gives them access to a much more diverse contestant base. More women are trying out, more people of color are trying out — it's much easier for them to find a Jeopardy! contestant pool that looks like America now. Because of that, you get much better players. I think America was full of people supergood at Jeopardy!, but weren't going to drive to the mall to fill out a contestant audition card. But now that people can do it from home, you can actually see the best the country has to offer, and the show is better for it.
Just before we began talking, Alex Trebek announced that he has stage 4 pancreatic cancer, although he said he'll remain on the show as long as possible. What is your favorite or most cherished Alex memory? I think his fans could use a nice story about him right about now.
I'm crazy about Alex. He's the epitome of the old-school broadcaster to me, maybe he's even the last man standing. To have been able to meet him in person and then hang out that whole summer with him was a major life highlight for me. To watch the master at work, you know? It's that aura of reassuring authority he possesses that I just love.
Here's the one story that comes to mind. In 2014, Jeopardy! did a decades-based tournament. It came down to a final between me and Brad — Brad knew the final and I didn't. I lost on the very last question despite my lead. I went into the after-party a little bit shell-shocked. As Alex was on his way out, he walked by me and I just wanted to say, 'Hi, thank you,' and how much he meant to me. Because it was a great experience despite Brad kicking my butt again. So I said, Alex, I don't know what to say. I literally couldn't say anything from my mouth. He just looked at me with that reassuring, avuncular gaze and put a hand on my shoulder and went, I know, I know. Like, We're men, you don't have to say how much me and Jeopardy! mean to you, I understand what you mean. And then he walked out of the party. It was just a perfect moment. That's a guy who really understands what Jeopardy! has meant to us all these years.
I like how you said that Trebek is, in a way, the last Cronkite.
You really see it when you realize people want the show to remain exactly as it is, because it's so assuring to have Alex's voice saying and doing what it always does in your ear for half an hour every night, no matter how your day was. Alex is always there. He's got it under control, and we need that.