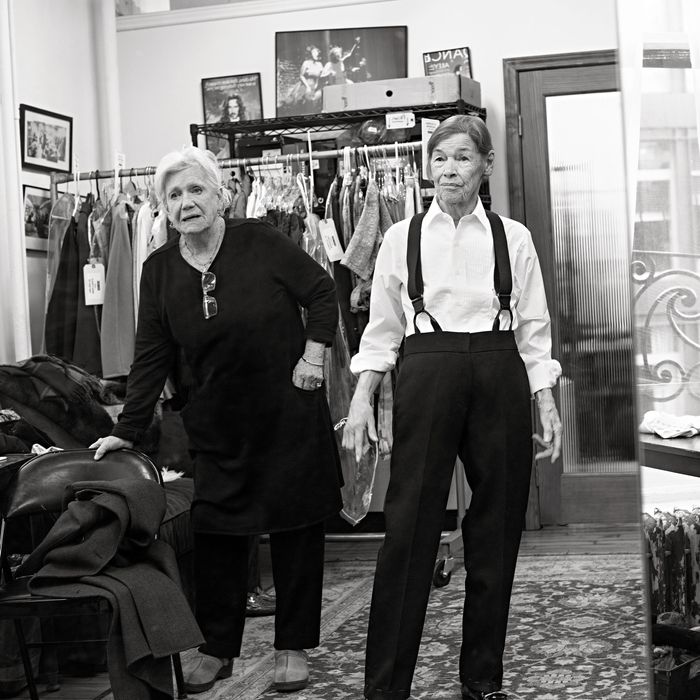 Glenda Jackson, right, with costume designer Ann Roth during a fitting for
King Lear
.
Photo: Brigitte Lacombe
"You're seeing something you'll never see again, which is one of our great actors, at 82 years old, climbing Mount Everest," Sam Gold says of directing Glenda Jackson in the title role of King Lear on Broadway. Jackson famously gave up her acclaimed acting career for a 23-year stint in Parliament, but she came back three years ago with a fury, playing Lear in London, winning a Tony for Three Tall Women in New York last year, and returning to Lear again in New York this spring with a new cast and director. "She's not doing anything that she did in that production," Gold says of Jackson's previous take on Shakespeare's tempestuous monarch. "But it meant that she came in prepared."
Like Jackson, Gold is approaching this Lear from new angles. The Earl of Gloucester is played by The Humans' Jayne Houdyshell, which "allows you to see the patriarchal aspects of the play in some relief, to see it with women playing it," Gold says. Ruth Wilson, of The Affair, is both Lear's daughter Cordelia and the Fool. And the production incorporates elements of sign language — the actor playing Cornwall is deaf. Alongside the actors, a string quartet will perform new music composed by Philip Glass.
But if there is one key figure, it's Jackson, who has to make it all make sense, even Lear's madness. "To see Glenda at that age, with that much power and that much vulnerability and cruelty," Gold says, "it's a very lucky confluence of actor and part."
King Lear is in previews at the Cort Theatre and will open April 4.
*This article appears in the March 4, 2019, issue of New York Magazine. Subscribe Now!