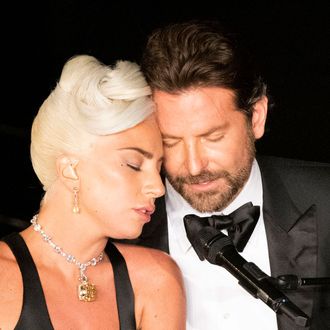 Lady Gaga and Bradley Cooper at the Oscars.
Photo: Ed Herrera/ABC via Getty Images
Lady Gaga and Bradley Cooper worked your emotions like a 9-to-5 on Oscars Sunday, which also happen to be the hours between which you now play their duet "Shallow" on repeat. Your boss might hate you, but enough people love A Star Is Born's breakout hit months after its release to send it to the very top of the Billboard Hot 100. Meanwhile, the film's soundtrack has made a similar climb, and now sits at number one on the Billboard 200. Just like on the albums chart, the Oscar-winning ballad bumped Ariana Grande from number one, in this case knocking Grande's "7 Rings" down to second place.
According to Billboard, "Shallow" is Lady Gaga's fourth number-one hit, and her first since "Born This Way" from her sophomore album, 2011's Born This Way. "Shallow" had initially topped out at number five on the charts after the album's October release, which gives you a tiny flicker of hope for "Hair Body Face" or (dare we dream??) the movie's greatest song of all, "Is That Alright?"