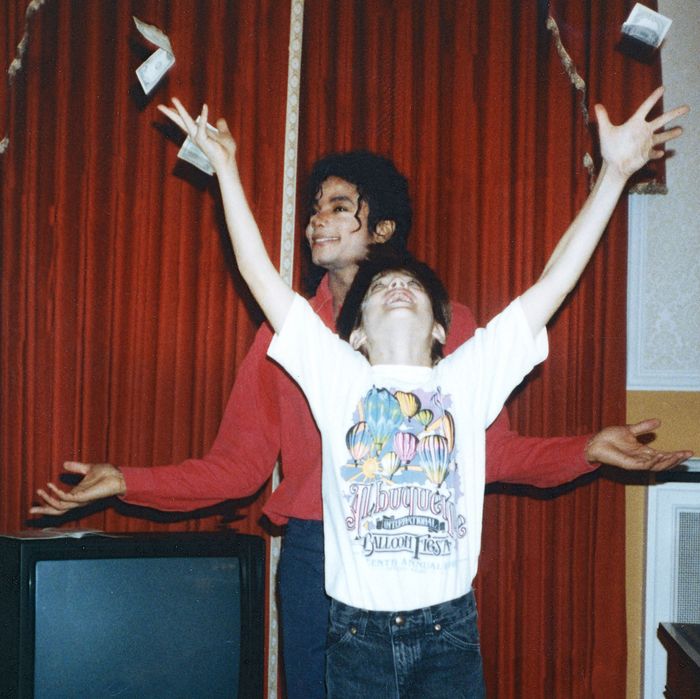 In HBO's Leaving Neverland documentary, Wade Robson and James Safechuck describe in horrific detail how Michael Jackson allegedly molested them for years, starting well before they were teenagers. Their accusations are specific, graphic, and remarkably similar — Robson and Safechuck recount not only how the late pop star sexually abused them, but also brainwashed them into believing the abuse was part of consensual, loving relationships — and the film has sparked a fierce denial from the Jackson estate, including a $100 million lawsuit against HBO.
If you're unsure if you can stomach the traumatic stories in Leaving Neverland, or you just want to know what's included in the two-part, four-hour documentary before it airs on Sunday and Monday, we've compiled this list of the most disturbing allegations made by Robson, Safechuck, and their families about Jackson.
(Note: This article contains graphic descriptions of sexual abuse.)
Allegation No. 1: Jackson brainwashed the boys and their families
Safechuck and Robson both met Jackson through show business. Safechuck, then 10 years old, starred in a 1987 Pepsi ad with the singer, playing a kid who sneaks into Jackson's dressing room. Through a local dance competition where children impersonated Jackson, 7-year-old Robson got the chance to appear onstage when the Bad tour was in Australia in 1988. Jackson promised the families of both boys that he would help their careers in show business, offering them lavish gifts and trips around the world.
Both kids eventually accompanied him on different tours, sleeping unsupervised in his bed. The parents thought Jackson was just a gentle, lonely, childish man and the boys looked up to him as a superhero. "He chose me" is what Robson recalls thinking when he became the focus of Jackson's attention. The families, enamored with their suddenly rich lifestyle, went along with it — even as they were increasingly cut off from the boys, similar to the way R. Kelly is accused of doing to his alleged victims.
Allegation No. 2: Jackson introduced the boys to masturbation and hardcore porn
While on tour, Jackson made Safechuck practice getting dressed as quickly and silently as possible in case anyone tried to get in their hotel room. At one stop in Paris, Jackson taught the 10-year-old how to masturbate and the boy did it so many times that his penis swelled up to the point that Jackson advised him to put it in a glass of warm water. Jackson, while masturbating, would also have Safechuck touch his nipples. "It felt like you were bonding," Safechuck says in the documentary. "I wouldn't ejaculate […] but Michael would. He said I was his first sexual experience."
He also says Jackson had pornography on TVs "everywhere," even in the bathtub of one of his residences. "Porn and candy, that's what he had," says Safechuck. Robson adds it was "pretty graphic heterosexual porn — oral sex, full penetration, anal stuff. It seemed like he liked it, so I wanted to like it. I just didn't know how to deal with it. It was like him pulling back the curtain on this whole other universe, but this one wasn't so fun."
Allegation No. 3: The fondling escalated to oral sex
"French kissing, he said that I introduced that to him. It evolved to kissing all over the body and then eventually to kissing the genitals," Safechuck says.
One of the most disturbing moments in Leaving Neverland is when Robson remembers having an "adult-size penis in my mouth, a little seven-year-old's mouth." Both men also recall bending over in front of Jackson as he masturbated so he could look at their anuses; Robson specifically describes a scene where he would be on all fours at the edge of the master bed, with Jackson behind him and a large cutout of Peter Pan in front of him.
Allegation No. 4: Jackson told the boys that he was 'meant to be' with them
"You and I were brought together by God. We were meant to be together and this is us showing each other that we love each other," Robson recalls Jackson telling him. Jackson also allegedly told Safechuck not to hold his hand too much when they were in public to avoid suspicion, but they had a code — scratching the others' palm to "let each other know you were thinking of them sexually."
Allegation No. 5: As the boys aged, Jackson pushed them toward penetrative sex
"It got more dirty-sexual than friends who were touching each other," says Safechuck. "He wanted to do some anal. He put his finger inside me and I didn't like it at all, so he kind of backed off on that. I think I was just kind of wincing and I was asking him not to do it and he said, 'Oh, you'll like it.' But we continued with all the other stuff."
Robson says he went through similar violations when, at age 14, he had a growth spurt and was nearly six feet tall: "Michael tried to penetrate me in my anus with his penis, trying for a while, and I guess was able to a bit, but it was really painful too painful for me, so he stopped." The day after, Jackson ordered Robson to find the pair of underwear he was wearing that night and throw it out because it had specks of blood in it — and almost certainly, Jackson's DNA.
Allegation No. 6: Jackson 'married' Safechuck
"We had this mock wedding ceremony," Safechuck says. "We did this in his bedroom. We filled out some vows and it was like we were bonded forever. It felt good. And the ring was nice. It has a row of diamonds with a gold band."
In the documentary, Safechuck, hands trembling, shows off the ring and other jewelry Jackson bought him in return for sexual favors. "We would go buy them at jewelry stores and … pretend like my small hand fit whatever female we were buying it for," he says. "Something that I enjoyed was used against me and so I think that causes discomfort. It's still hard for me to not blame myself."
Allegation No. 7: Jackson wanted Robson to live at Neverland Ranch with him for a year
"Will you leave Little One with me for a year?" Jackson asked Joy Robson, using the nickname he had for Wade. After Joy refused, per her recollection in the documentary, Jackson told her, "I always get what I want." She replied, "Not this time. I will share Wade with you, but I am not going to leave him with you."
Eventually, though, Joy took 7-year-old Wade and his 10-year-old sister Chantal and moved to Los Angeles, in the name of furthering Wade's career. After they left Australia, Wade's father Dennis Robson became increasingly unstable because of bipolar disorder and he eventually committed suicide. (The father of Jordan Chandler, the boy who accused Jackson of molesting him in 1993, also committed suicide just months after Jackson's death.)
Allegation No. 8: Neverland Ranch was designed to hide abuse
At Neverland, the encounters with the boys were easy for Jackson to hide. The hallway to the bedroom, for instance, had several doors with multiple locks and bells, so anybody walking toward them would be heard. Other areas were more secluded, like the attic and upstairs in the train station. "It sounds sick but it's kind of like when you're first dating somebody and you do a lot of it," Safechuck says.
The riskiest encounter between Safechuck and Jackson occurred in the movie theater's private viewing room, which was designed so children with immune deficiencies could watch films in isolation. His mother, Stephanie Safechuck, almost caught them in there, but Jackson had locked the door beforehand. "He always made excuses, like I forgot I locked the door," she says in the documentary. "He was in there with Jimmy in the bed, they were clothed. I still didn't think anything."
Allegation No. 9: Robson and Safechuck say they were 'replaced' by Macaulay Culkin and other kids
Jordan Chandler is one of three boys mentioned by Robson and Safechuck. The other two are Macaulay Culkin and Brett Barnes, who both deny that they were ever raped by Jackson. "Macaulay was where I was on the previous trips, by Michael's side at every moment," Robson says. "Now, I was kind of on the sideline as far as being Michael's friend, being his favorite." Adds his mom Joy, "It was like there was a pattern. Every 12 months, there was a new boy in his life."
Stephanie Safechuck says she felt the same way after Jackson explained to her that, because of his 1994 marriage to Lisa Marie Presley — a union he assured them was just for show — he wouldn't be seeing them as often. "We've just been dumped," she recalls telling her husband.
Allegation No. 10: Robson says that Jackson did 'sexual stuff' with Jordan Chandler
During a sleepover with Chandler and Culkin, Robson says that Jackson took Chandler into a bathroom. "I used to be the boy who was in there with Michael," says Robson, noting the jealousy he felt at the time. "I just knew in my gut that that's what they were doing when they were disappearing. They were doing all that same sexual stuff." The other details of Chandler's case — Jackson showering him with gifts, separating him from his parents, unsupervised sleepovers, kissing, fondling, and promises of romantic love — parallel the pattern of allegations by Robson and Safechuck.
Allegation No. 11: Jackson coerced Robson and Safechuck's families into defending him
From the outset of the sexual contact, Jackson would tell each of the boys that if anyone found out about the things they did, they'd both go to jail forever. When Chandler's father accused Jackson of molestation in 1993, the Robsons went on television to defend the star and Safechuck, after coaching from Jackson's lawyers, says he lied in a deposition to protect the singer. Robson soon became Jackson's favorite boy again while the Safechucks got their home loan paid by the singer. "He did buy us a house," says Stephanie Safechuck. "'It's just coincidental, he wasn't buying us off,' but the timing's right there. It just sounds bad."
When Jackson was tried in 2003 for molesting Gavin Arvizo, he again reached out to Robson and Safechuck, who were now in their 20s. This time, Safechuck refused and Jackson threatened him with legal action, saying Safechuck perjured himself in the 1993 deposition. They never spoke again. Robson also tried to get out of testifying, but after telling his mom once again that Jackson never abused him, she urged him to take the stand. "You and Macaulay Culkin are the only two people in the world that can save him," she said. Robson's testimony is cited as one of the key reasons for Jackson's acquittal in that trial.
Throughout the documentary, both men talk about how they still have fond feelings for Jackson after all the trauma, not uncommon for sexual abuse survivors. When Jackson died in 2009, Robson says he cried more than he did for his own father's death, while Safechuck mourned because he never got the chance to mend their friendship. It is odd that the documentary devotes such little time to both men attempting to sue the Jackson estate multiple times — the suits are currently under appeal, and their existence is only mentioned in the last few minutes — and that Robson lobbied the family to allow him to direct a Jackson-themed Cirque du Soleil show in 2011, then tried selling a book about his allegations in 2012. Still, it's clear that whatever happened, both men are deeply scarred by spending most of their youth with Jackson.
"Michael had a lot of great attributes and he was great in a lot of ways and you loved him in a lot of ways, and then Michael does these things to you that are not healthy but you still have love for him, so it's really hard to have those two feelings together," he says. "I still, today, am grappling with that."