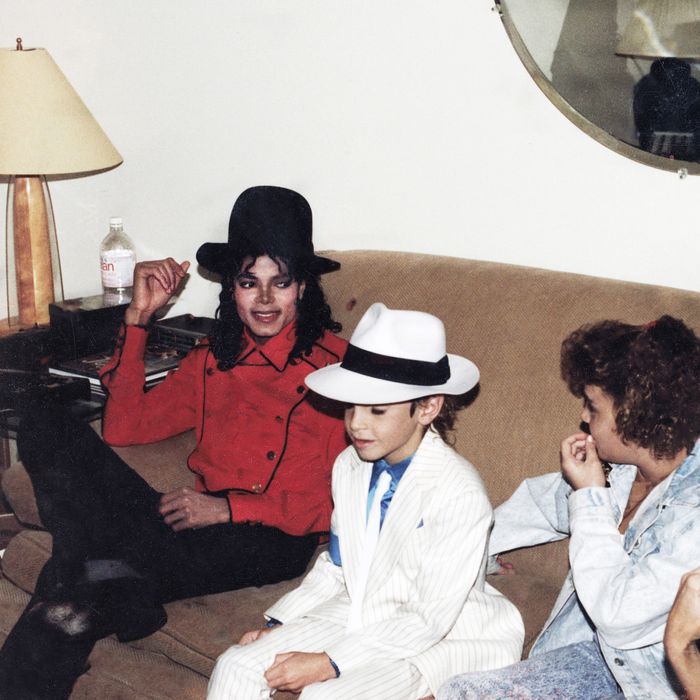 Days before the premiere of Leaving Neverland, Michael Jackson's estate filed a lawsuit against HBO. If you've read the headlines — some variation of "Michael Jackson's Estate Sues HBO for $100 Million" — you might assume that the suit is aimed at debunking the accusations in Leaving Neverland that the late pop star sexually abused Wade Robson and James Safechuck when they were children. Technically, that's true, but the lawsuit is more specifically about the violation of a single clause in a 27-year-old contract between Jackson and HBO. And, according to legal experts, it almost certainly won't be decided with showy courtroom drama.
In reality, the Jackson estate's suit is a petition to compel HBO into an arbitration hearing, where both sides will have the case decided by a panel of three retired judges, two selected by each side and a third agreed upon by those judges. As of now, the only step that will happen in a courtroom is scheduled for August, when a Los Angeles judge will likely tell HBO to agree to the estate's demand that this arbitration should happen.
The suit hinges on a non-disparagement clause in a contract HBO signed in 1992 to air the live special Michael Jackson in Concert in Bucharest: The Dangerous Tour. As part of that contract, the cable network agreed to "not make any disparaging remarks concerning Performer or any of his representatives, agents, or business practices or do any act that may harm or disparage or cause to lower in esteem the reputation or public image of Performer." HBO also had to "notify and consult with Jackson and Optimum Productions if it wishes to air additional programming about Jackson."
In the suit, the estate alleges that "HBO has disparaged Jackson's legacy by airing a one-sided hit piece against Jackson based exclusively on the false accounts of two proven, serial perjurers." The specific disparagement at question in Leaving Neverland, which the estate dismisses as a "fictional film," is when Wade Robson's mother Joy recalls Jackson not bringing Wade along on the Dangerous tour, and instead took Brett Barnes, who's repeatedly said Jackson never molested him.
Here's the crucial excerpt from the estate's petition:
"The Film expressly alleges that Jackson was abusing children in connection with and on the Dangerous World Tour. For example, during one scene of the Film, Wade Robson's mother, Joy "Joey" Robson, explains that she got very upset with Michael when he told her that he would not be taking Wade on the Dangerous World Tour. Mrs. Robson continues that she was especially upset because Michael had taken another boy and his family on the tour. Footage of the boy and Jackson on the Dangerous World Tour is then shown. Wade Robson then says that that is when he realized he had been "replaced" by that boy, i.e., any reasonable viewer would interpret that to mean that Michael Jackson was sexually abusing the boy on the Dangerous World Tour."
As for the $100 million figure? That's not what the Jackson estate is seeking, just what they're saying could be awarded if arbiters rule in their favor of the contract violation. To that end, the panel would hear evidence about how much the estate stands to lose financially because of the perceived damage to Jackson's reputation. There's no hard and fast rule to determine that damage, just the lawyers arguing that, say, the estate will lose money because fans aren't buying Jackson's music and merchandise anymore because of Robson and Safechuck's allegations in Leaving Neverland.
It's important to note that disparagement is not the same as defamation. Suing for defamation would mean proving that HBO aired a false declaration of fact, and the network has repeatedly said the documentary was examined to ensure that didn't happen. Disparagement, meanwhile, can cover pretty much any negative statement, even if it's factual. If Joy Robson said something as mundane as "I didn't like the Dangerous concert because Michael didn't hit some high notes," that would qualify.
As for why Jackson had this contractual zero-tolerance policy for negative criticism, the estate argues in its lawsuit, "He had also long been the subject of outrageous tabloid reporting: he slept in a hyperbaric chamber, he beat his pet chimpanzee, he bought 'the elephant man's' bones, etc. Because of that, it was important to him that the people he did business with not disparage him and feed these tabloids." (The suit also suggests that HBO aired the documentary because, under now-departed CEO Richard Plepler, the network has run out of quality original programming, "with the one exception of Game of Thrones," but that's really a matter of taste.)
So in that regard, according to Christine Lepera, a partner at Mitchell Silberberg & Knupp LLP who's represented the likes of Drake and Timbaland in copyright suits, the lawsuit does have merit because of Jackson's contract with HBO.
"Even though these particular stories may have been well-documented and well-produced elsewhere without any kind of claim brought against them for defamation, the fact that it's HBO who's doing it now, it's strictly a straight shot as to whether or not the contract's been violated," Lepera says, also noting that the estate can't sue another network that doesn't have a similar contract with Jackson, such as the U.K.'s Channel 4, which aired the first part of Leaving Neverland earlier this week.
Then there's the question of why the estate filed this petition in public, just weeks before the documentary debuted on HBO, when it could have been handled in private. The Jackson estate refused to comment on that and any other issue related to the film, but attorney Lisa Bloom — who represented Jackson accuser Jordan Chandler alongside her mother, Gloria Allred, in 1993 — believes it's a fear-inducing stunt.
"This is just lawyer talk for them. Somebody found a contract and this clause and they probably feel very proud of themselves, and they want to come up with strong language attacking HBO," Bloom says. "Really, it's the Jackson estate that is talking about money and trying to protect their multibillion-dollar investment and Michael Jackson's continuing image."
So, what happens next? "There probably will be a response to this filed by HBO to knock it out and say there's no need for the court to compel arbitration, there's no dispute this is an arbitrable issue, and there are no grounds for it to be public," Lepera predicts. "Then I would expect to have that decided within a six-month period of time, maybe."
Given that the next hearing on this matter is scheduled for August 20, that likely means the case — if it doesn't get dismissed — won't be settled until 2020, long after the wall-to-wall coverage of Leaving Neverland has subsided. But even if the lawsuit is intended to make a splash while the documentary is all over the news, Pepperdine School of Law professor Barry McDonald believes this case won't go away, no matter how long it drags on.
"The Jackson estate, they probably have a ton of money, so they'll probably litigate this thing as far as they can: (1) to try to vindicate Jackson's name, and (2) to try to win and get some money out of it," he says. "If they have the resources to litigate, what do they have to lose by continuing to push it and hoping to get a favorable ruling down the road?"