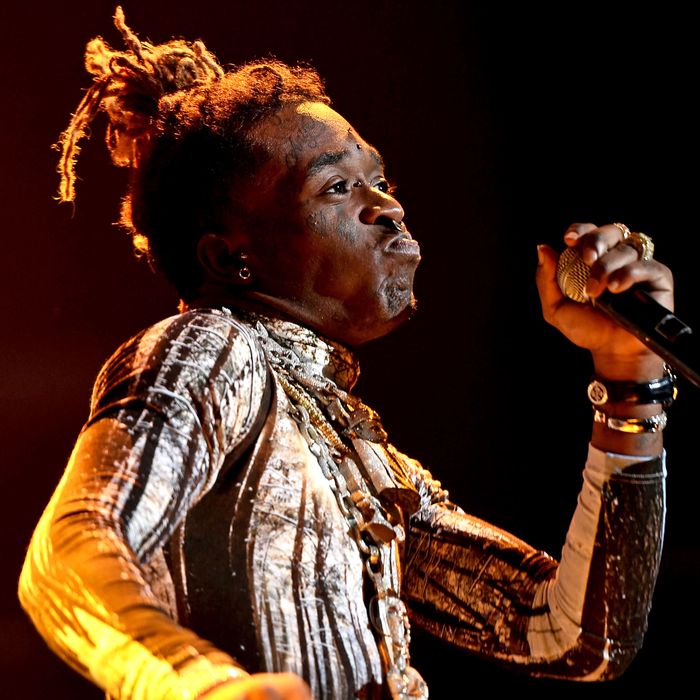 Photo: Steve Ferdman/REX/Shutterstock
At the beginning of 2019, Lil Uzi Vert announced that he was retiring. He was frustrated with his label situation and with the hoops he needed to go through to drop new music. In an Instagram post he said, "I deleted everything I wanna be normal. I wanna wake up in 2013." This frustration was not exactly new to Uzi, who preferred to release music when he felt like it, instead of adhering to the outdated and often slow release schedule the music industry typically adheres to. After losing his phone while crowd surfing at his own show a couple years ago, he more or less lost the files to an entire album, and decided to just drop some of the songs on SoundCloud instead. The appeal of the instant connection of this method is obvious, and Uzi knows how to write a hit without label interference.
In a just world, we'd have some version of Uzi's sophomore album, Eternal Atake, by now. It is still extremely odd that one of the biggest rap stars around has released such a small amount of music since the buzz around him began to surge, then surpassed critical mass. Uzi, like Young Thug or Gucci Mane or Lil Wayne, can be extraordinarily prolific, often writing and recording songs faster than a label can figure out what to do with them. It makes sense that he'd want to release songs or albums as they're finished, without any delay. In the modern rap landscape, artistic evolution happens in plain sight. Process is laid bare. Quantity is conflated with quality, and it doesn't even matter. Don't like one mixtape? That's okay, there's another one right around the corner.
Which brings us to "Free Uzi," a song that Uzi's label, Atlantic Records, says is actually a leak (notably, it's not currently available on Spotify or Apple Music) — one which Uzi himself is reportedly (and unsubtly) responsible for. (Coincidentally, he promoted the song on his previously blacked-out Instagram at the same time the song leaked and, later, shared an official music video. The song is also currently available on Tidal, which is famously owned by Jay-Z, whose label Roc Nation has reportedly intervened to manage Uzi's career going forward.) The title is self-explanatory, and the song is a furious three minutes of breathless rapping, a reminder that Uzi's got an uncanny sense of melody and timing, and is firmly part of the Philadelphia lineage of rappers who are really good at sounding like they don't really ever need to breathe.
Even without all the label drama and retirement rumors (did anyone really believe Uzi was really going to retire? How many artists in the history of music have actually stopped making music forever after they said they were going to?), "Free Uzi" is a compelling song. It doesn't feel like a single. It doesn't have the undeniable hook of, say, "XO Tour Lif3," but that also doesn't really matter. Uzi now exists in a rarified space where the demand for new music from him far outstrips the available inventory. His influence looms large enough that a song like "Free Uzi" can take on a sort of instant cult status. The story behind the song means more than the song itself. Luckily "Free Uzi" is worth more than a few listens anyway.