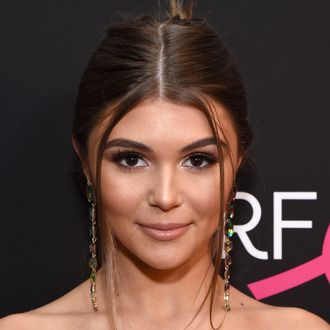 Olivia Jade.
Photo: Michael Kovac/Getty Images for WCRF
Grab all those bronze palettes you left in your dorm and run, girl! Olivia Jade, the popular "vlogger" and influencer daughter of alleged college bribers Lori Loughlin and Mossimo Giannulli, will apparently not go back to the University of Southern California when the school resumes after spring break on Monday. According to People, sources connected to the freshman say she has "no plans to return to USC" following the shocking college admissions bribery scandal that has indicted both of her parents. "She can't handle anything right now," the source adds. "She seems more and more upset every day. She just wants to stay home."
This development comes after Jade — whose birth name is Olivia Jade Giannulli — lost a handful of sponsored-content and collaboration deals with various companies, which include Sephora, TRESemmé, and the Estée Lauder Companies. "She feels she has worked very hard to get different work deals and everything is just gone. She thought she knew what the future had in store for her, and it all just crumbled," People's source added.
While court documents state no children of the alleged parental bribers are being charged with anything, Loughlin and Giannulli are dealing with a much different story. The duo allegedly paid bribes up to $500,000 to an "admissions consultant" who helped fraudulently present their two daughters as crew team recruits for the University of Southern California, "despite the fact that they did not participate in crew." Loughlin — who now lost two cushy acting jobs because of her alleged involvement — appeared in Los Angeles federal court on Wednesday, where she was released on a $1 million bail. Her next court appearance is set for March 29 in Boston.